Is Flybe on its way back to the skies?
Links on Head for Points may pay us an affiliate commission. A list of partners is here.
If you thought the Flybe story was over, think again.
The Telegraph reported on Sunday that EY, the administrator of Flybe, had opened talks with the Government over the nationalisation of the airline.
This story was denied by EY.  According to a statement given to CityAM:
"At this time, we can confirm that there are no discussions between the joint administrators and government about taking Flybe out of insolvency.  [EY] continues to be open to approaches from all parties in order to realise returns for creditors".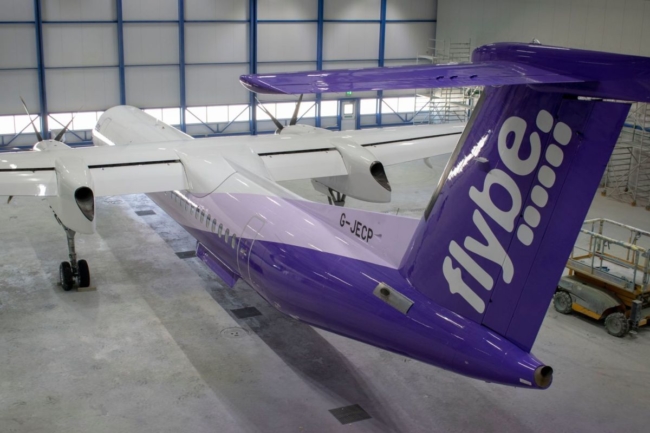 One of the emergency coronavirus measures announced by the Government last week was a change in the laws relating to company insolvency.  Akin to the US Chapter 11 scheme, it allows companies to continue trading even if they are technically insolvent and is aimed at ensuring that previously healthy businesses should be protected.  Importantly, these changes were backdated to 1st March – and Flybe collapsed on 5th March.
If the Government chose to acquire Flybe from the administrator, it could immediately rehire (to keep in place) and then furlough staff using the new Coronavirus Job Retention Scheme.  The company would also be able to access some of the emergency funding that has been made available to businesses.
This does, of course, open up a h-u-g-e list of questions:
How much of the old Flybe team could be put back together?  Very few of the staff will have found new jobs yet, I imagine.  How easily can you put an airline back together working from home though?  
I would imagine that the aircraft would be available ….. they won't have been leased to new operators yet given current demand.
Could the Heathrow slots be taken back from British Airways?
Would a Government-owned Flybe look to compete on those routes which have been taken over by other airlines?  And presumably these were the most profitable ones?
I genuinely struggle to see how this would work.  It would be great if it could, of course, but I am tempted to believe EY when they say that there is no deal under discussion.
One unknown is the position of Loganair and Eastern.  Both are believed to be on the verge of submitting their own requests for state aid.  Could the Government look to bolt these two carriers together, as well as providing finance to pick up more ex-Flybe aircraft and routes?  But if it did, are we not repeating the story of how Flybe was put together in the first place?
The key question, of course, is why the Government would want to help Flybe when it refused point blank just a few weeks ago.  Flybe was also not brought down by coronavirus – the virus was simply the final punch at the end of a multi-round fight.  I think we need to file this one under 'not going to happen'.
The original story was in the Telegraph but is behind a paywall.   Here are summaries in TTG and CityAM.