'My Favourite Hotel' review – Grand Elysee in Hamburg
Links on Head for Points may pay us an affiliate commission. A list of partners is here.
Today, our 'My Favourite Hotel' review is from the best city in the world: Hamburg! We are at the Grand Elysee.
[Rob's edit: Guess where Anika was brought up ….]
We are currently running this reader-written feature to provide some positivity and inspiration to Head for Points. We hope to run one review per day for the next few weeks. There will be a deliberate mix of European and worldwide properties, super luxury and mid market, branded and independent. You can find all of the 'My Favourite Hotel' reviews so far by clicking here.
We are back in Europe for today's hotel as we visit the Grand Elysee in Hamburg. It is reader Robert's favourite hotel and here is his review: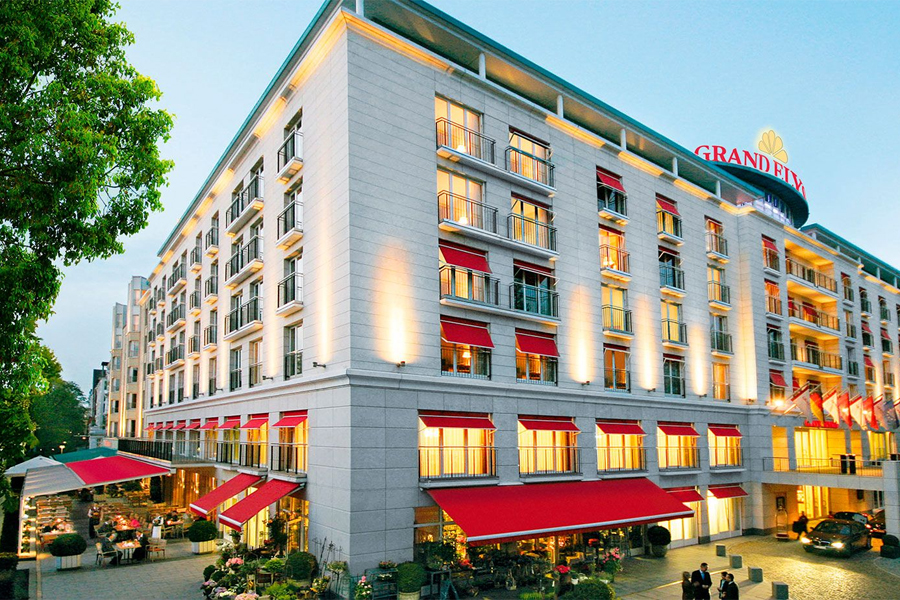 Where is the Grand Elysee hotel in Hamburg?
Tucked away in the up-market district of Rothenbaum this amazing hotel has never failed to exceed my expectations. The Grand Elysee Hamburg is located handy for the Alster, shopping and the convention centre and in my opinion this new-ish hotel is already a classic.
Hotel overview
The Grand Elysee is sort of neo-Georgian in design – in keeping with the neighbourhood – but is fantastically modern underneath. Triple-glazing, amazing wifi, beautiful beds and a great mini-bar means you never feel the need to escape your room – but you should.
The Elysee isn't part of a chain. It was rumoured to have been set up by a Norwegian shipping magnate who got fed up with over-paying for luxury whenever he went to Hamburg.
It's not the cheapest hotel in Hamburg but I always consider it the best value. I am always disappointed if it's full, which happens often and tells its own story ……
Rooms
I have stayed in several room types at the Grand Elysee from the most basic to a junior suite.
Basically, the only difference is size, such is the luxury of even a basic room. See: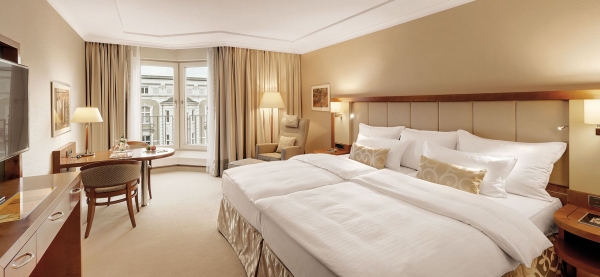 and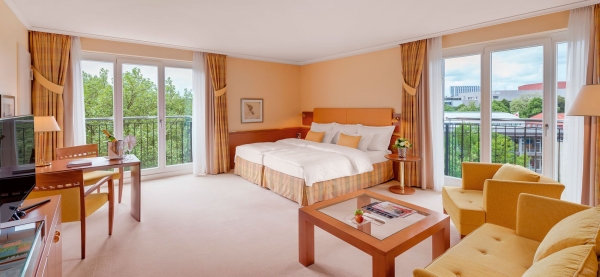 Super comfortable (and adjustable!) beds, soft cottons and a choice of pillows ensure a great sleep …… as does the triple glazing.
The workspace is well designed and each room has at least one separate easy chair and table. The rooms also have a proper minibar with a wide selection of (fairly pricey) drinks and snacks.
Fluffy dressing gowns, towels and a marble bathroom make up the package
Facilities
Firstly – the spa! Germany does spas properly – and the Elysee even more so. There's a great sauna, a pool and treatments and big fluffy dressing gowns! You could happily spend a whole day in there.
Dining
There are two ground floor restaurants – a French bistro and an Italian trattoria – with both serving amazing food and wines. The layout is such that they appear to be like normal restaurants on the side of a boulevard – the boulevard being the long thin hotel lobby.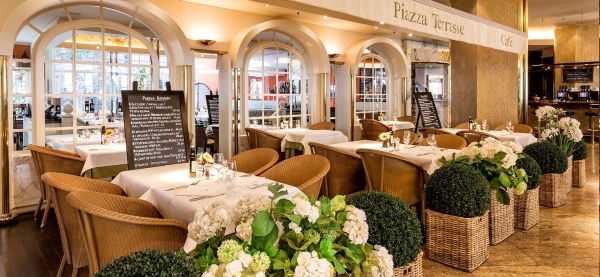 Between the two restaurants is the bar which seems to attract locals as well as guests to its nightly live jazz sessions. It's very lively – and has a stonking selection of Armagnacs!
On the other side of the boulevard is the lobby lounge where breakfast is served. Great coffee, freshly squeezed OJ, Sekt and croissants. It attracts locals who come in just to have breakfast in the hotel, giving it a very lively vibe.
Facilities at the Grand Elysee
There's a library, florist, gallery and meeting spaces but you never feel that you're anywhere other than a beautiful, intimate boutique hotel. This is despite the fact that there are over 500 rooms and 500 parking places in the underground garage.
Recently added features are a rooftop bar, al fresco dining areas (it does get warm in Hamburg sometimes) and an oyster bar.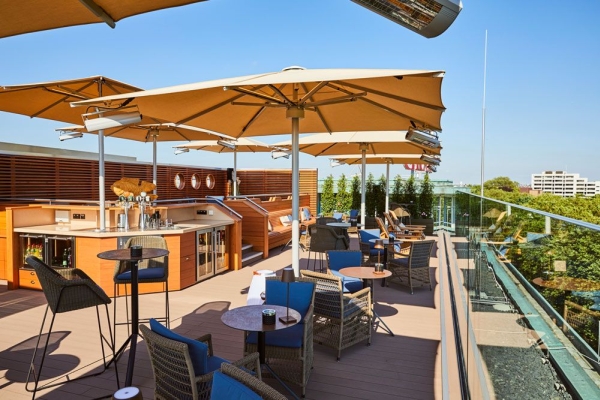 Service is as you would expect superb. It's very efficient but warm and friendly. I suspect they spend a fortune on training and recruitment.
Conclusion
I've never found rates much cheaper than offered by the hotel directly. This means that you never get the feeling that someone else has paid less than you.
Any of the reasons above should be enough to persuade you to try the Elysee but if not here's the kicker. I'm fortunate enough to travel all over the world and stay in some amazing places. Many are wonderful but this is the only hotel that I regularly use that I feel at home in, and that's something special.
And if that's not enough – at the very well-staffed reception desk – there's a big bowl of Haribo Goldbears for you. 'Nuff said…
If you want to find out more, the hotel's website is here.
Booking the Grand Elysees
If you are thinking of booking the Grande Elysees, you can get extra benefits by using Emyr Thomas at Bon Vivant, our official hotel booking partner
The hotel is part of the Preferred Hotels's Platinum Programme which can be accessed by luxury travel agents. When you book via Emyr at the Best Flexible Rate, you will also receive:
Breakfast for two daily
$75 hotel credit per stay (to be used on services such as spa, dining, or selected amenity valued at $75 or more)
Welcome amenity
Complimentary in-room internet
Room upgrade subject to availability
Priority check-in and check-our subject to availability
Whilst the Best Flexible Rate may be a little more expensive than a non-refundable rate, factoring in free breakfast and the $75 hotel credit should make a difference. If you were planning to book a refundable room anyway, using Emyr should be an easy decision. You can contact him via the form on this page of Head for Points.