'My Favourite Hotel' review – Hotel Heureka in Venice
Links on Head for Points may pay us an affiliate commission. A list of partners is here.
Today, our 'My Favourite Hotel' review is a lovely 10-room boutique hotel in Venice called Hotel Heureka.

We are currently running this reader-written feature to provide some positivity and inspiration to Head for Points. We hope to run one review per day for the next few weeks. There will be a deliberate mix of European and worldwide properties, super luxury and mid market, branded and independent. You can find all of the 'My Favourite Hotel' reviews so far by clicking here.
Today's hotel is Hotel Heureka, a hidden gem in Venice. It is reader Nigel's favourite hotel and here is his review:
"Venice away from the crowds"
Venice is a stunningly beautiful city, in my view the prettiest in Europe, and certainly one of the most unique, with neither car nor bicycle able to grace the central island. But on my first visit, I was a little underwhelmed. Arriving on a hot and busy day, I overpaid for an average meal near the Rialto Bridge, and failed to make it through the crowds to St. Marks Square. My hotel, chosen heavily with budget in mind, was a train ride from the centre but offered neither solitude nor authenticity, two of my "must haves" when travelling for pleasure.
Fast forward several years and I discovered a hotel that totally changed my perception of the city. Hotel Heureka is a small, 4* boutique gem set in a stunning conversion of a 15th Century Palazzo, in the authentic Venetian district of Cannaregio, one of the six sestieri that comprise the City of Venice.
Of the 53,000 permanent residents on the main island, a large proportion live in town houses strung along Canareggio's canals, which means of an evening you can stroll the canals taking in the smells of fresh pasta and convivial laughter from local homes, but also lively, inexpensive bars, and intimate restaurants serving authentic Venetian dishes.
Location
Let's start with the biggest upside, or downside, depending on your point of view. It's out of the way. Heureka is a 25 minute stroll to St Mark's Square, with many stunning canals, tiny bridges and buildings on the way, that provide photo opportunities aplenty.
Given that getting lost is easy, indeed one of Venice's great pleasures, it's likely to take twice that until you know your way. The hotel's more remote location does make, particularly in the evenings, for a reassuring lack of tourists.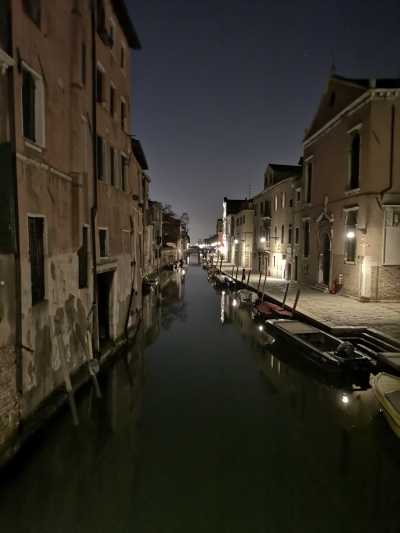 The other advantage of the location is it's as close as you can get to the main airport while staying on Venice's main island.
If you've flown into Venice Marco Polo, it's well worth splashing out for a private transfer in a water taxi, which in Venice means riding in the back of a sleek wooden launch. The hotel often offers packages including this option. Being situated at the Northern edge of Venice means it's only a 15 minute trip, and due to Heureka's waterside location, you can pull up with your luggage at the front door.
The alternative, and somewhat more economical option is to take the public ferry to Fondamenta Nova, a 5-10 minute walk away. From here, you can also visit the islands of Murano and Burano, both well worth the ferry trip.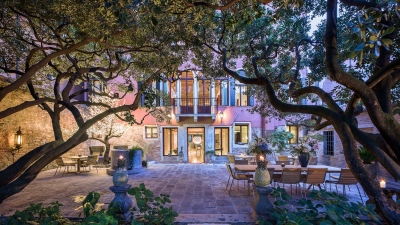 Hotel design
From the moment I entered the hotel I knew I had stumbled upon something special. The reception hall is phenomenal, ancient brickwork and beams meshed with an über-modern chandelier and polished chequerboard tiles.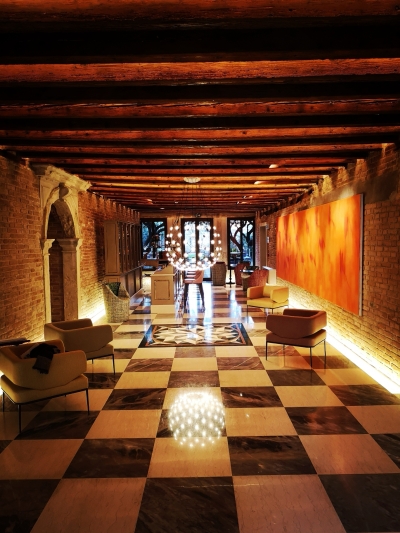 The entire hotel feels like a mosaic of differing designs and the blend of modern and historic, which can be a challenge, works better here than I have ever seen elsewhere.
The hall contains an intimate bar with just a few seats (no restaurant here) and leads to a drawing room where breakfast can be taken.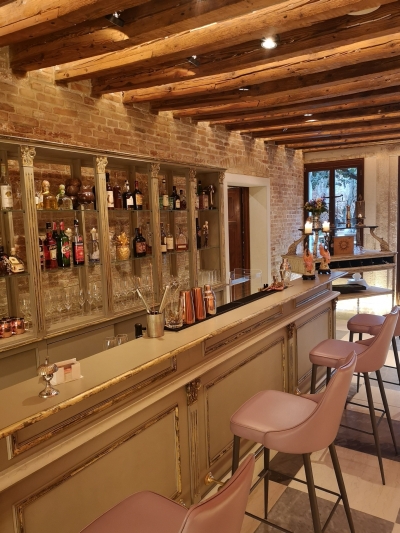 Weather permitting, most guests choose to have their breakfast in the beautiful walled garden – a rarity in Venice and an oasis of calm, filled with many exotic plants. One of my favourite things to do is to have a relaxed afternoon tea here after a busy day exploring the streets.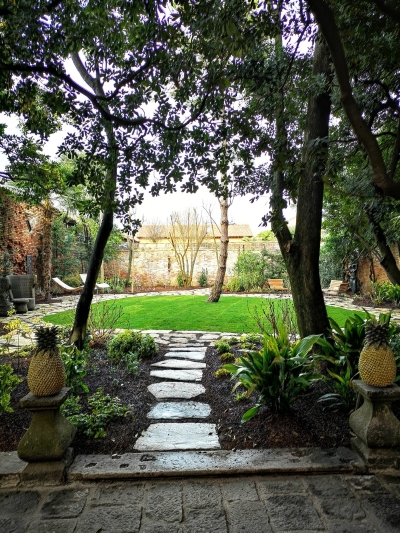 The Palazzo is a sizeable building, and a chain hotel would have found space for at least 25 rooms over its three storeys. The Austrian owners, when they bought the building, had a desire to do something very different and in the two-year conversion, commissioned just 10 unique bedrooms.
The small number of rooms means that the hotel feels extremely spacious, as well as exclusive. The owners explanation is they wanted to make guests feel like they had entered their private home. The staff (more of them later) certainly aid that perception. And whilst a very grand home indeed, the owners have succeeded.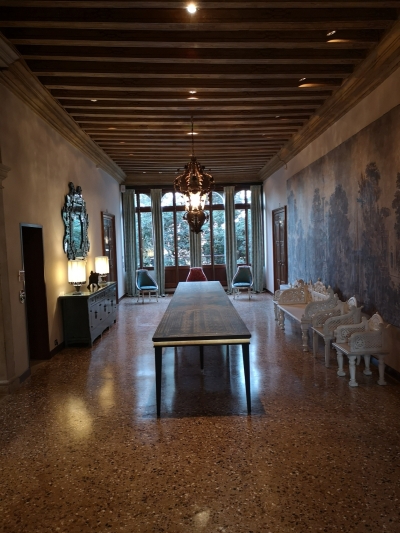 The remainder of the upstairs interior space is taken up by two huge great halls and a mix of intimate side rooms available to all guests, whether you've opted for the sole single room, or the 2 bedroom Heureka Suite.
Rooms at Hotel Heureka
The rooms are an eclectic mix of designs (and designers), a couple have an unashamedly modern look, others a more traditional style, but most marry the two. My favourite is the junior suite with garden view, although first time visitors to Venice may prefer the classic romanticism of a canal view.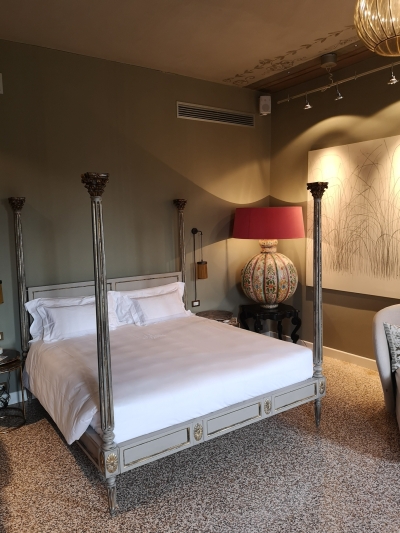 If I have one hotel obsession it is finding a great bathroom, and a range of options from double showers to designer baths within the bedroom, do not disappoint. A big advantage is you can view the rooms in great detail on the hotel website and choose your favourite, as one perhaps unusual decision the owners have chosen that the hotel is not bookable through the most common travel agencies or websites.
Conclusion
With Hotel Heureka, it is like the management took all the best elements of boutique hotels and packaged them all into one.
But what really sets this hotel apart is its staff. From the management down they are quite simply, brilliant. They offer great local knowledge, whether it be booking a table at that hard to find local restaurant, or offering a range of unusual activities with local companies – learning how to row a Gondola (Venice Row) being my favourite. They are always on hand to help, but do it without an air of pretentiousness – treating you like a family guest.
This may be technically a 4* hotel, but the interior has the look and feel of a 5* one, without the prices to match. Rooms start from around €200 a night including breakfast, not bad for Venice and in my view, an absolute steal. My only real concern about writing this review is it might just give away this little secret!
If you want to find out more, the Hotel Heureka website is here.
---
Hotel offers update – September 2023:
Want to earn more hotel points? Click here to see our complete list of promotions from the major hotel chains or use the 'Hotel Offers' link in the menu bar at the top of the page.
Want to buy hotel points?
World of Hyatt is offering a 25% discount, equivalent to a 33% bonus, when you buy points by 10th October. Click here.