'My Favourite Hotel' review – Yatama Ecolodge, Costa Rica
Links on Head for Points may pay us an affiliate commission. A list of partners is here.
Today, our 'My Favourite Hotel' review is the Yatama Ecolodge in Costa Rica.

We are currently running this reader-written feature to provide some positivity and inspiration to Head for Points. You can find all of the 'My Favourite Hotel' reviews so far by clicking here. This was scheduled to be a series of about 25 hotels, but a good response from readers means that we have commissioned another batch and are continuing the series.
Today's hotel is the Yatama Ecolodge, a private tropical rainforest reserve in Costa Rica. It's reader Cat's favourite hotel and here is her review:
Where is Yatama Ecolodge?
The Yatama Ecolodge is located near the village of Horquetas, in Heredia province, Costa Rica. The closest airport is San Jose and from there you will need to get yourself to Horquetos. You can either drive in a private vehicle, which takes about an hour and a half, or if you don't mind a more "authentic" experience, use local buses – with one change it takes just over three hours.
Pedro, the owner of Yatama, will arrange a 4WD pick up in Horquetas to take you on the ridiculously bumpy 40-minute journey to Yatama Ecolodge. Do not attempt this in your own vehicle, wrap clothes around precious electronics and, ladies, wear a sports bra!
The private tropical rainforest reserve of Yatama borders, and provides an ecological buffer zone to, Braulio Carrillo NP, which in turn borders La Selva. This creates an extensive zone of astonishing biodiversity that crosses diverse habitats, for enthusiastic naturalists who don't mind temporarily trading in some of their creature comforts for an epic adventure.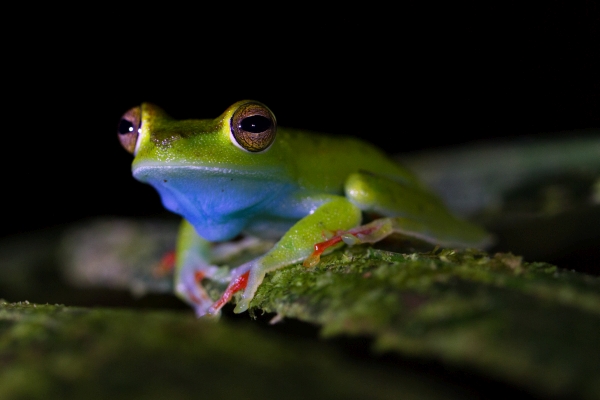 Hotel overview
Disclaimer: this is not a 5* hotel! There is no pool. You will not get cooled towels to mop your brow when the humidity gets to you (and it will). There is no free WiFi if you book through the hotel website. In fact, there is no WiFi at all, and almost certainly no phone reception, so let your loved ones know that you're going off-grid for a few days before you head out there to avoid panic and search parties being sent out.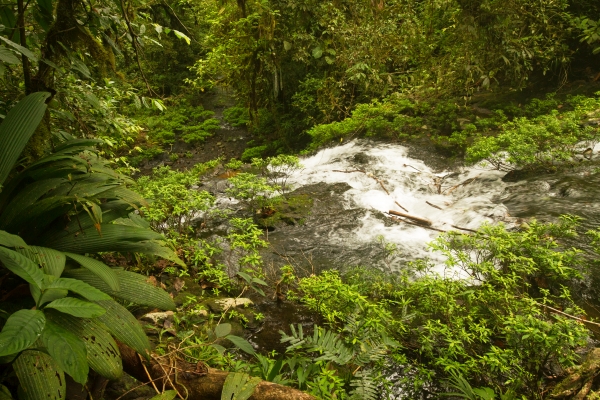 Instead, booking direct gets you a guided day hike and a night hike into this incredible, breathtakingly beautiful ecosystem, with a highly knowledgeable, enthusiastic guide each day, included in the room rate (this is as a group with any other guests of the ecolodge while you're visiting – as I went at the end of the season, I frequently ended up with a private guide).
The guided day hikes usually take between one and three hours, and might just be a tour of the extensive, jungle-swathed grounds, or there might be a trek through a variety of terrains, fording a river or two along the way to a remote waterfall, where you can expect to swim (if you can navigate the slippery rocks) surrounded by dense, verdant foliage, with morpho butterflies flitting past you on a seemingly never-ending circuit up and down the river.
My room
You can expect your dinky en-suite rustic wooden cabin (elevated on posts above the forest floor) to come with the occasional Insect Of Unusual Size (IOUSes), and intermittent hot water, although the relative frequency of each is a constantly fluctuating thing. There is also a hammock on the veranda.
I can't even tell you how much I enjoyed that hammock – every day, after my morning hike, I'd make a pot of tea in the kitchen, take it to my hammock and then just lounge there with my Kindle, listening to the din of the aptly-named howler monkeys, the calls of the great curassows that would occasionally strut past, and the faint, high-pitched "chee-dit" calls of hummingbirds as they hover momentarily, just out of reach, and then suddenly are gone. I also enjoyed the rather spectacular view of the resident green macaws' occasional flight in the middle distance, far behind my feet!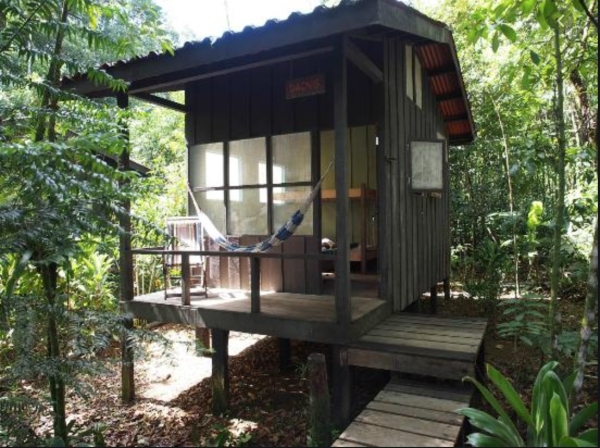 Of course, if you take sugar with your tea, I strongly recommend having a flicking stick at the ready, to get rid of the leafcutter ants (the smaller ones – they will make mincemeat of your skin) and the bullet ants (the bigger ones – they will make mincemeat of your central nervous system) who will definitely congregate. Check said flicking stick carefully before picking it up, and be prepared to fling it if the ants start to use it as a route to your arm. Or be dreadfully un-British, and add the sugar in the kitchen while it's brewing. I couldn't bear to do this.
Back to the room – the bathroom was very basic. If you are inextricably attached to your creature comforts and need a bathroom that is an ode to enamel, marble and chrome, this is not the place for you. However, the water for the shower comes from natural springs, as does the filtered drinking water, which you're welcome to refill your water bottle from. Electricity to light your room and to charge your camera (you will want to bring your camera) is available from 5:30pm – 7am, and is solar panel generated. This is a true ecolodge.
Plan in advance for IOUS removal from your room at night though – it didn't matter how long I left between switching off my headtorch and unlocking my door, you could guarantee an insect larger than my fist would follow me in. Trying to get them back out again was a challenge that's not for the faint-hearted.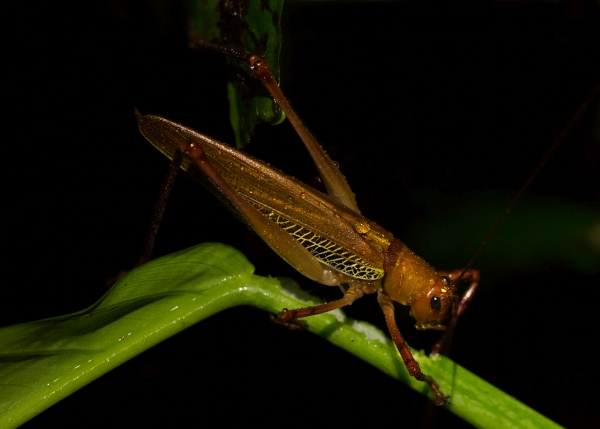 The night hikes
To be honest, if the swimming under waterfalls with morpho butterflies dancing through the air from one beam of light to another didn't instantaneously make you decide to visit, then the night hikes are unlikely to appeal. For me it's a tough call whether I'm completely smitten with this place because of said morpho-laden waterfalls, the hammock of joy, or the night hikes.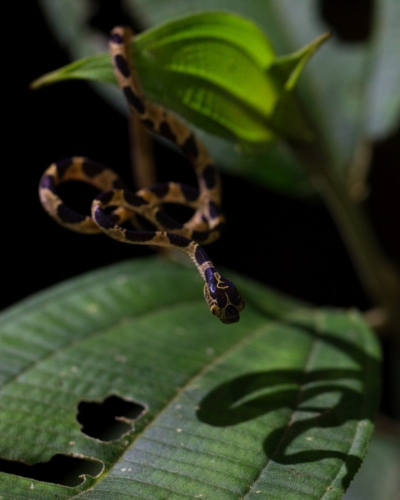 The day hikes were more about the location – the lush, liana-filled rainforest, the waterfalls that you have all to yourself, the moss-covered bridges and rivers that you ford. Sometimes we'd chance across a large bird, an agoutis, or a troop of Geoffroy's spider monkeys, but the night hikes were when the fauna of Costa Rica really seemed to come alive. The frogs make the oddest variety of noises at night and they come in crazy colours, then there's the snakes (only 3 of the 5 snakes we saw could potentially kill a human, if that's any comfort…) and the mad IOUSes – it felt like a new adventure every night.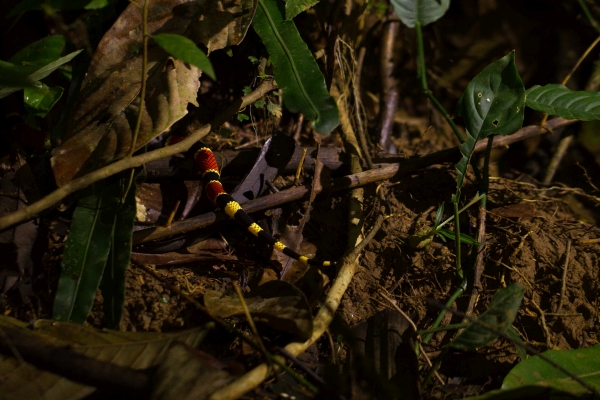 Dining
The food is simple, homely, delicious, plentiful and greatly appreciated after a hike. However, meals are taken as a group and there is no menu, you all get the same. If you have particular dietary needs, I'd discuss them in advance.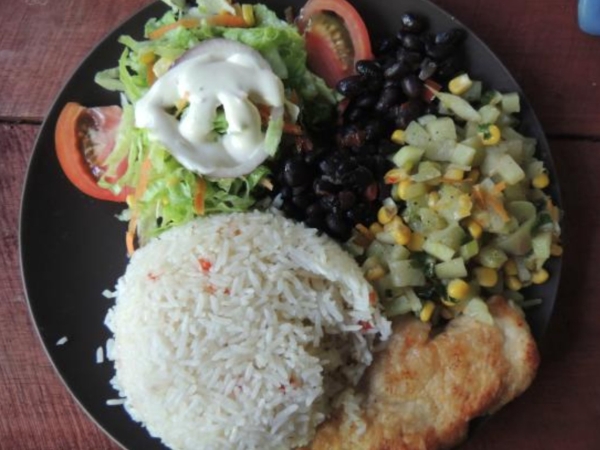 The dining room is a mesh-sided structure that allows for marvellous wildlife watching while enjoying your meal. It has comfy sofas, should you wish to lounge in a communal area, and 24-hour charging points.
Conclusion
This is not the place for everyone, and I realise that many HfP readers will be firmly in the not-on-your-nelly camp. The hikes are properly trekking through undulating jungle – as a Lincolnshire lass (albeit one who did the Tour du Mont Blanc right before this trip), Pedro's idea of a flat hike and mine differed wildly. If the idea of being off-grid, surrounded by nature in all it's creepy-crawly-slimy-flying-jumping glory fills you with joy, then this place will be your idea of heaven.
If you book direct, the $70 per person per night rate currently includes accommodation, taxes, three meals per day, fresh fruit, water, tea and coffee throughout the day and two guided hikes per day. Having stayed in various other hotels and guest houses around Costa Rica where I was paying $20-40 just for guided wildlife hikes and boat trips, this is a steal.
If you want to find out more, the Yatama Ecolodge website is here.
---
Hotel offers update – November 2022:
Want to earn more hotel points? Click here to see our complete list of promotions from the major hotel chains or use the 'Hotel Offers' link in the menu bar at the top of the page.
Want to buy hotel points?