What I found on a coronavirus-free, mask-free holiday in Jersey
Links on Head for Points may pay us an affiliate commission. A list of partners is here.
We spent last week on Jersey.  If you are interested in a corona-free, mask-free holiday with few other tourists, read on.
Historically we do long-haul holidays at Easter and October half-term and travel in Europe in Summer.  With some of our potential options off-limits, we settled – at fairly short notice – on Jersey.
Jersey is, it has to be said, one of the least rock'n'roll holiday spots in Europe.  That said, as Rhys found out in Ibiza last week, even the epicentre of rock'n'roll holidays isn't up to much this year.  I'd been to Jersey 15 years ago and knew that it has truly stunning beaches and just about enough to keep a 9- and a 12-year old busy for a week.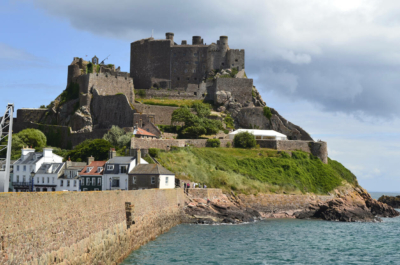 Jersey is now free of coronavirus and border testing means it should stay that way.  As you can see here, there are actually two cases on the island – from a population of 100,000 – but both were picked up on arrival.  Whilst there are technically still restrictions in place on large gatherings, the only issue likely to impact you is the closure of shared changing rooms at your hotel spa.  This actually worked in our favour as our hotel let guests pre-book the entire pool for one hour slots which lets your kids be as wild as they want.
You won't need a mask once you are out of the airport, and you're unlikely to see anyone wearing one.  Our hotel did make restaurant staff wear them, but we never saw them in any other restaurant.  You will never see one used in a shop, by staff or customers.
Entry restrictions to Jersey
To keep Jersey corona-free, you are obliged to take a (free) swab test on arrival.  We got our results within 24 hours.  There are no strict rules on what you need to do during the 24 hours although you are requested to keep away from busy areas.  You can also have a test done in the UK in the 72 hours before you arrive and present those results on arrival.
(Testing is done after baggage reclaim, so there is no benefit in being first off the aircraft unless you are only travelling with hand baggage.)
If you fail the test, you will be isolated by the Jersey Government at properties they have hired across the island.  This is a 14 day isolation.  You CANNOT leave the island before the 14 days is up, even if you only flew in for a weekend break.
The risky bit is this: if anyone sitting near you on the aircraft fails a test, you will be forcibly isolated for 14 days.  It isn't clear how many rows of seating are involved, but it appears to be everyone seated within 3-4 rows of the infected passsenger.
The exact rule has not been released, but we know that – after one person on an easyJet flight failed a test – 15 of the 72 other passengers were put into isolation.  easyJet aircraft seat between 180 and 235 people when full, so it is possible that a failed test on a full plane could see almost 50 people put into isolation.
The maths is in your favour though
The Government of Jersey is assuming 1 in 7,000 passengers is positive.  The current infection rate in most of the UK is well below this so it is a conservative number.  A British Airways A319 has around 130 seats so – assuming 100 seats are occupied – there is only a 1 in 70 chance of anyone on your aircraft being infected, and even then only a 1 in 5 chance that you would be sat near enough to be isolated.
If you're not willing to take a 1 in 350 chance of being forcibly isolated for 14 days, don't come!
You can reduce your odds further by sitting in Club Europe, in the first couple of rows of Economy or the back couple of rows of Economy, since there will be fewer passengers sitting within 3-4 rows of you.  Row 1 is statistically the safest given the 2-2 seating in Club Europe and the lack of anyone in front of you.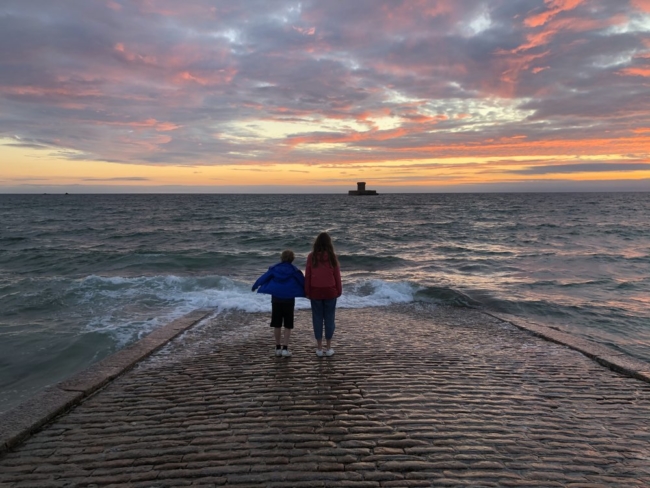 Where to stay
The two most luxurious options seem to be The Atlantic, below, where we stayed: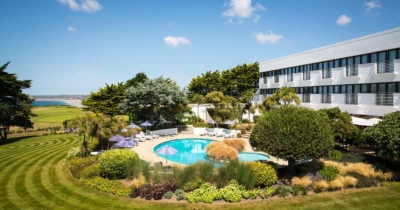 and Longueville Manor: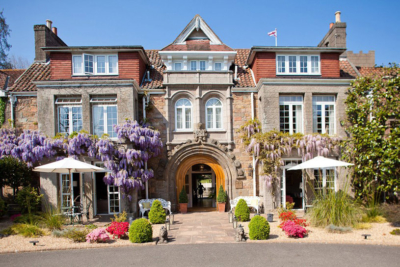 The Atlantic is on the west coast and has sea views over the largest, emptiest expanse of beach you have possibly ever seen.  It also has exceptional sunsets as you can see above, on the beach below the hotel, and below.  Longueville Manor is on the east side and is inland.  (Given that Jersey is only five miles by nine miles, nowhere is far from anywhere of course.)
Because it's Jersey, with the average visitor being fairly old, both hotels are fairly serious in approach.  Waiters at The Atlantic wear bow ties and the idea of 'casual dining' isn't one they have come across.   Our highest meal bill was over £200 including service for four, with no desserts, only a little alcohol and the four people including a 9-year old and a 12-year old.
There is a more laid back 'bar menu' but with only a tiny bar it is likely you will still need to eat it in the hushed fine dining restaurant, or on the terrace if the weather is good.  This isn't a great choice with very young children.  Room service is available but, with small rooms, not very practical.
That said, there are many other eating options within a short drive.  There is a Pizza Express in St Brelade, a seven minute drive, if your kids demand more casual fare, as well as various beach-side restaurants below the hotel.
(You need a car on Jersey, realistically, if you are there for more than a weekend although there is a smartphone app for ordering taxis.  Europcar, Hertz and Avis are in the airport but these are franchises, so don't expect any status benefits or points.  Prices seem to be lower via the direct websites rather than the brand website, ie europcarjersey.com was cheaper than europcar.co.uk and had a wider range of vehicles.  Discount codes which normally work won't get you far.)
Breakfast is a la carte only.  It is £22.50 if you are doing the maths on B&B vs room only rates.
The Atlantic has an indoor pool – which, as I mentioned above, you can only use by pre-booking it for an hour for free for your exclusive use – as well as an outdoor one, plus a tennis court.  These is a golf course adjacent to the hotel but I don't know if they can get you a round.  Rooms:

….. are on the small side but well furnished.  I'd take a sea view because the other side overlooks the car park.
The staff and service are excellent and keen to help.  When Blue Islands came over for a meeting with me, for example, they provided refreshments for free.  The only thing I found frustrating was that, because the waiting staff were wearing masks, I was interacting with the same people every day and I still had no idea at the end of the week what their faces actually looked like ….
As a member of Small Luxury Hotels of the World, you can book The Atlantic on World of Hyatt points for 25,000 points per night.  At present, with rates lower than usual (from £200 per night), you are better off paying cash.  We used Hotels.com because it worked out cheapest once we factored in Hotels.com Rewards credits.  You MUST create a Hotels.com account before searching for prices because The Atlantic offers a 'secret' additional discount for registered and logged in users.
Occupancy, midweek, was 20% when I took a look at the housekeeping rota.  It picked up at the weekends, but financially this is a disaster for them in peak season.
The only branded option is the Radisson Blu in St Helier.  This is part of the new waterfront development, a short walk from the centre of town.  If you have Radisson Rewards points it might be worth a look although a global Radisson IT issue means standard awards are not currently bookable.  Cash rates are totally bombed out – I had no trouble finding rooms in August from £120, or their top Panoramic Suite from £200.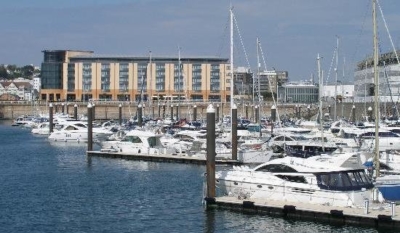 Jersey is not busy …..
If your kids like beaches, you should come here.  Let's compare Bournemouth the other week:
….. to these shots of mine from Jersey – these are three different beaches shot on three different days.  The first is the beach under The Atlantic: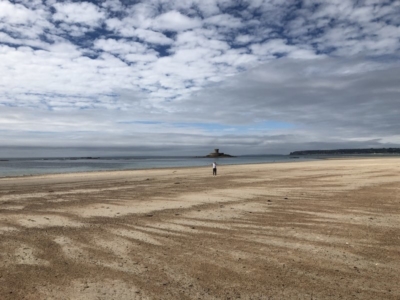 …. and Greve de Lecq on the north coast: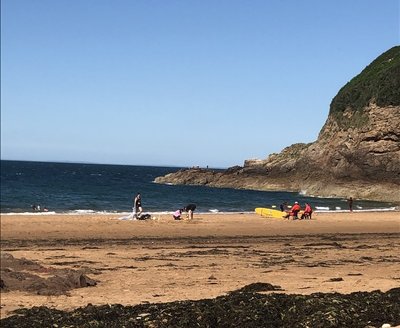 …. and St Brelade's, which is probably the most popular beach on Jersey: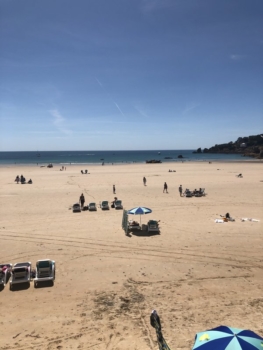 Once you've exhausted the beaches you are into what, I admit, are relatively tame attractions such as the Jersey Lavender Farm (decent cakes in the cafe to be fair!), Gerald Durrell's Jersey Zoo and the Jersey War Tunnels.  The gardens of Samares Manor are impressive (and the cafe is in Amex Shop Small!) and the castle is more interesting than you'd expect with lots of modern artworks.
We also did a Jersey Seafari RIB boat trip which the kids loved and which is probably the most exciting thing you can do on Jersey.  These seem to sell out quickly and should be booked before leaving the UK.

The real reason to come, however, is for the beaches and for the food.  Don't come for shopping, which is not very high end and – despite the 5% VAT – no cheaper than the UK.  It seems that Jersey can support a huge Porsche dealership for its population of 100,000 but no luxury clothes shops (de Gruchy is basically a House of Fraser clone) which is symptomatic of the demographics.
The real reason to come now is because no-one else is there.  It's not just that the beaches are empty.  Many of the best beaches are in small coves with very limited parking and limited catering options.  In Summer you'd normally have no chance.  We never struggled to find a prime parking spot at every beach we visited.  With one exception, we also never struggled to get a restaurant table as a 'walk in' guest.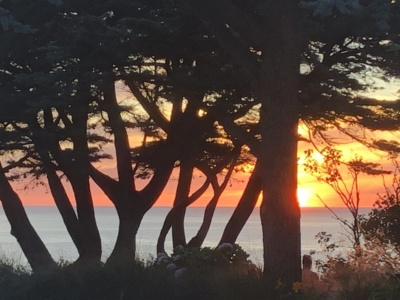 Jersey Airport
I should, as this is HFP, say a little about Jersey Airport.  easyJet and British Airways are now running daily flights from London Gatwick and London Heathrow respectively.  Blue Islands is also beginning to ramp up its services from regional UK airports.  The airport works well and, usually handling 600,000 passengers per year, is very quiet.
There is an Executive Lounge which is open.  It accepts British Airways Silver and Gold cardholders and Club Europe passengers, as well as Priority Pass and other lounge club cards.  I will do a quick review in a day or so, but you shouldn't rush to the airport early in order to visit: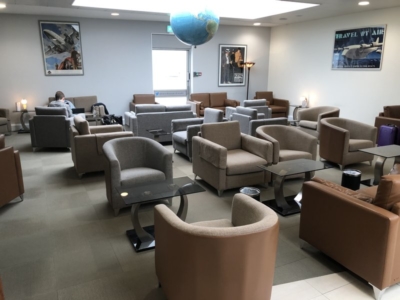 The other benefit of flying to Heathrow at present is the lack of circling.  All aircraft are landing without slot delays, meaning that flight times are laughably short.  We received our standard plastic bag containing a bottle of water, bag of crisps and bag of pretzels in Euro Traveller.  There isn't much more I can add given how quick the trip was.
You arrive in Heathrow as a domestic passenger and so do not need to use passport control or fill in the 'returning passenger' paperwork.  You do need to clear customs and you collect your luggage from the international belts.
Conclusion
If you're looking for a 'domestic' holiday this Summer, in somewhere with no crowds, I'd recommend taking a look at Jersey.  If the weather is good and you have children who enjoy beaches – or you don't have children and fancy a few days in a smart hotel with good food – it has a lot to offer, and you will never find it this quiet, or cheap, again in peak season.
And, once you step out of the airport, you can effectively forget about your face mask – and indeed the whole existence of coronavirus – until you head back to the airport on your return.