What's it like travelling in Europe at the moment? Thoughts from my Ibiza trip.
Links on Head for Points may pay us an affiliate commission. A list of partners is here.
Last week I flew to Ibiza from London City Airport to take a look at how air travel is adapting to the 'new normal' (whatever that is).
I thought it was worth sharing some feedback about how tourism has adapted on the ground.  This clearly varies from country to country in Europe, although I imagine there will be broad similarities wherever you go.
During my stay in Ibiza I was told that the airport was operating at around 30% of its usual summer capacity: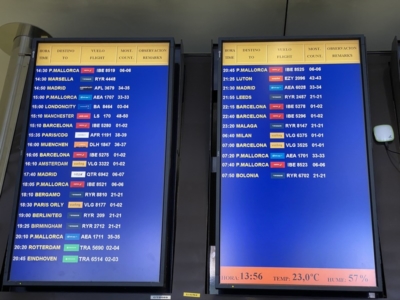 This is a lot higher than what London City Airport is currently flying, but it still marks a huge capacity reduction from previous years, and should give you an idea of how little travel there currently is.  If Ibiza isn't busy in July …..
Do you have to wear a face mask?
Masks are by and large the most significant change you will experience when travelling.
The parliament of the Balearic Islands (Mallorca, Menorca, Ibiza, Formentera) made wearing a mask compulsory in public just before our trip. This means that you are supposed to wear a mask whenever you are outside of your hotel except when at a beach, a pool or whilst eating.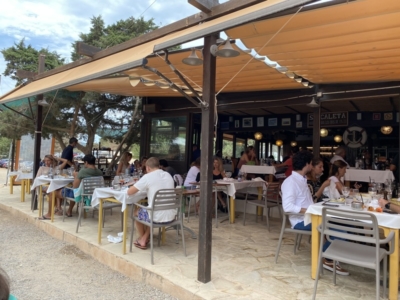 In practise, however, it is not quite as strict.  On a walking tour of the old town it was effectively unnecessary to wear a mask, as there was practically no-one around: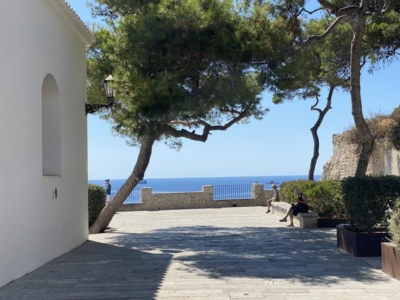 The rule wasn't strictly enforced at our hotel either, although staff were required to wear a mask at all times.  There was nobody to check that you are wearing yours when you move from the pool area to the lobby, for example, or anywhere else in the hotel.
On the whole, the mask requirement appears to be based on a common sense approach, which allows for a little flexibility when out and about.
Hotels are surprisingly normal
We stayed in an unbranded hotel at one end of Ibiza's famous Playa d'en Bossa beach called Torre del Mar, which had recently re-opened after an extensive renovation.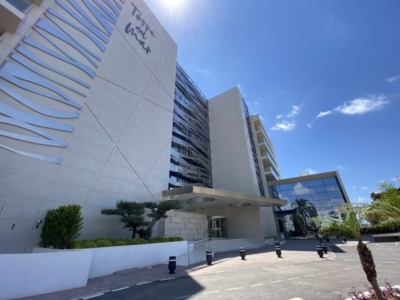 Occupancy was still fairly low, running at between 30% and 50%. However, it was surprising how normal it all felt.  Bar the plexiglass screens shielding the hotel reception: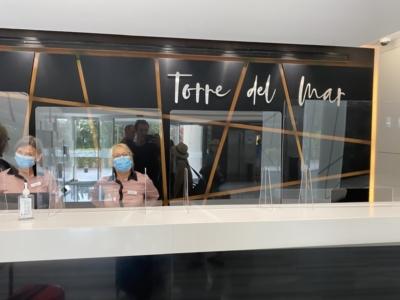 ……. as well as some distance markers on the floor: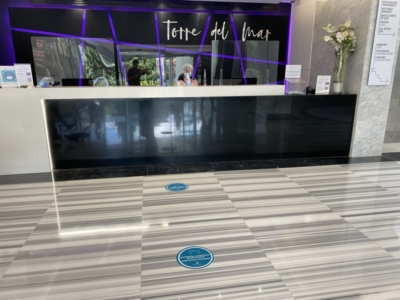 ….. it all felt remarkably normal. The indoor spa with pool and a number of sauna and steam rooms were open: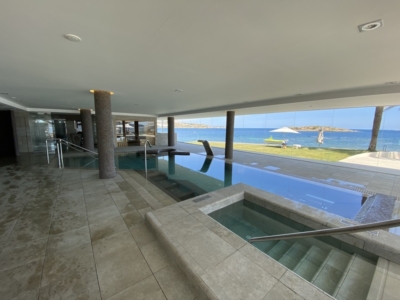 …. as was the pool and poolside restaurant: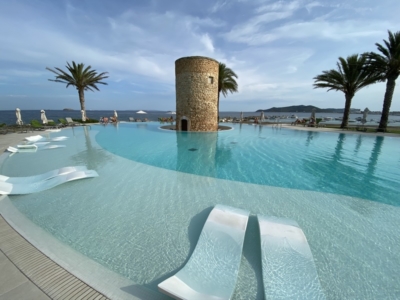 In my room there were even fewer things out of place. In fact, there wasn't a single thing that had changed as far as I could tell, except perhaps that the hotel information was loaded onto an app rather than on paper or professionally printed.  It wasn't clear if this was the hotel embracing a digital-first strategy or whether this was because of Covid-19, however.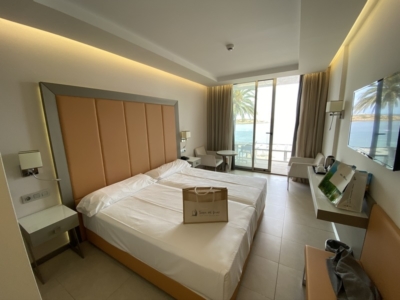 In the hotel restaurant, single use paper menus were available although most people chose to scan the QR code and load the menu on their phone. Again, this wasn't particularly disruptive.
Another minor change happened at checkout, where you would drop your keycards into a little box rather than handing them to hotel staff. I assume these keycards are then systematically cleaned, which isn't much different from the 'express checkout' service you find at many hotels.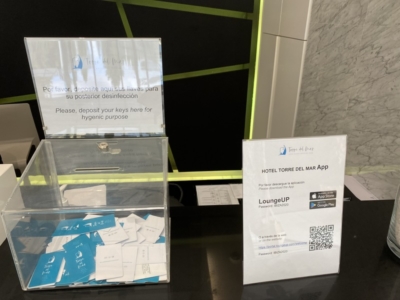 Out and about in Ibiza
In Ibiza, the biggest change is the lack of crowds. Whilst Ibiza isn't a destination I would normally be attracted to – I'm not really someone who enjoys megaclubs with 10,000 other people – I was pleasantly surprised at how beautiful and welcoming the island is.
That said, whilst restaurants, shops and hotels are starting to re-open, many are still closed. Walk down the main strip and you'll find long stretches with shuttered shops. Near the harbour, many restaurants are partially boarded up or still preparing to re-open. A lot of restaurants and bars will squirt some hand gel as you enter.
Nonetheless, unless you want to go clubbing, there is still a lot you can do.  Bars are permitted to open until 2am. You can still taste some of the spectacular local dishes and enjoy beaches and the Mediterranean. The vibe in Ibiza is the complete opposite of what I imagine it normally is: very relaxed.  It really does feel like you have the whole place to yourself.
Whilst this is the death knell for many Ibizan businesses which survive on the huge number of tourists who arrive, it makes it very pleasant for those who are there right now. On one evening we had dinner at Pikes, the legendary Ibizan hotel / restaurant / bar / club. Whilst normally it would be absolutely packed, you can see how empty it is now: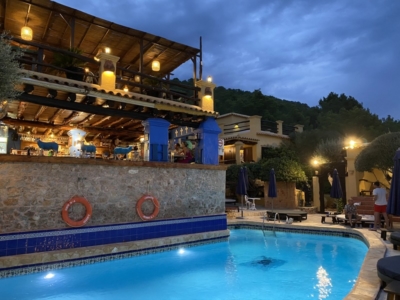 and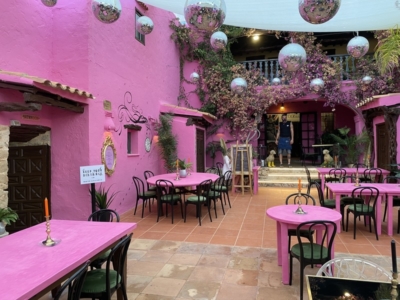 …. although again, empty isn't bad, just different.  It certainly lends itself to more of a VIP feel.
The food at Pikes is fantastic, by the way, from Gordon Ramsay-trained head chef Lee Milne. The service, however, was out of this world – possibly the best service I have ever had: extremely casual but very, very good. I cannot it recommend highly enough.
Conclusion
I was pleasantly surprised to find how little of the tourist experience has changed. It certainly felt like a privilege to experience the island during its quietest season in decades.
Precautions are in place but these are, on the whole, fairly unobtrusive. After four months of being grounded I certainly appreciated the whole experience a lot more – it has reminded me that travel is a distinct pleasure that many of us have the privilege of being able to afford.
HfP travelled to Ibiza as the guest of London City Airport, BA CityFlyer and the Ibiza Tourism Board.