Bits: Uber becoming 'fixed fare', 100% bonus buying Radisson points, Ukraine Int'l coming to Heathrow
Links on Head for Points may pay us an affiliate commission. A list of partners is here.
News in brief:
Uber will become 'fixed fare'
Uber has quietly slipped out the news that it is moving to fixed fares across the UK.
This is, I imagine, part of the deal agreed with Transport for London when it issued Uber with a new licence last month. It puts Uber's pricing model on a par with other minicab operations, with only black cabs now charging on a joint time and distance basis.
From next week, the price you are shown in the Uber app when booking a ride will be the price you pay.
The price will NOT be the same for every ride you take, however. The price shown will be based on:
"the expected duration and distance of the trip, accounting for anticipated traffic patterns and known road closures, as well as dynamic pricing when demand is high"
You can find out more on the Uber website here.
Get a 100% bonus buying Radisson Rewards points
Radisson Rewards, the loyalty scheme for Radisson, Park Plaza and Park Inn, is offering a bonus of up to 100% when you buy points. This is as big a bonus as you ever get on Radisson Rewards points.
The link is here. It runs until 25th October.
There is no taper. You receive the 100% bonus on however many points you buy. This makes the deal worthwhile even if you are just topping off your account. The cap is 80,000 points.
I tend to value Radisson Rewards points at 0.33p. My list of the best American Express Membership Rewards transfer options puts Radisson Rewards near the top. The transfer rate is 1:3 and I value that at 1p per American Express point.
Via this offer, you are paying just 0.27p per point which is far lower than my valuation. This means, in theory, there are deals to be had.
The issue, of course, is that hotel pricing is all over the place at the moment. Some UK hotels in tourist spots are going for record prices, whilst traditional tourist hot spots overseas are going very cheaply – but you can't get there!
Traditional sweet spots include the Radisson Blu Hotel Waterfront in Cape Town. It offers a two-bedroom sea-view suite as a 'family room' redemption. It is 110 square metres and usually sells for well over £700. 87,500 points (costing £238 with the 100% bonus) is therefore an outstanding opportunity.
At the moment you will pay a lot less than £700 for that room, but of course you're not getting in. Will it spike back to £700 for cash when UK tourists are eventually allowed, and South Africa comes off the UK quarantine list? Who knows.
The same goes for the new Radisson Hotel New York Times Square, pictured below. This is on 8th Avenue. The hotel website is here.
It is a new build, not a conversion, which is generally a good sign in terms of build quality. It is two blocks from both Penn Station and Madison Square Garden, in what is known as Midtown West. It has 320 rooms, of which 70 have Empire State Building views. There is also a seasonal rooftop cocktail bar which takes in the Empire State Building, the Hudson Yards development including The Edge observation deck and the Hudson River.
As a redemption, this is 70,000 points (£190-worth of points in this sale). You normally wouldn't get a decent New York hotel for this money in peak season, but you can today. Will buying points to redeem here look smart if rates are at £400+ next Summer?
If you are willing to sit on the points for a couple of years, I am certain (assuming no devaluation) that you will come out on top.
If you have a few Radisson points and want to top them up to get to the right level for an award, this is also a good time to do it.
The link to buy Radisson Rewards points is here.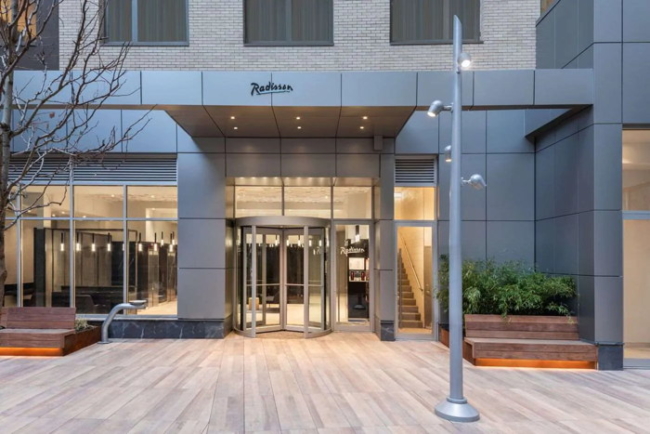 Ukraine International coming to London Heathrow
Finally …. and I know this is of very niche interest …. Ukraine International has gained slots at London Heathrow.
It will launch three weekly flights to Kiev from 17th December. Departures will be on Thursdays, Saturdays and Sundays.
The airline will use a small Embraer 190, although some services around Christmas will use a Boeing 737. The existing service to London Gatwick will continue.
Ukraine is not in any major alliance so there is no easy opportunity to redeem or earn miles from these flights.