Is air travel whilst wearing masks safer than we think? US Government study says it is
Links on Head for Points may pay us an affiliate commission. A list of partners is here.
In the last few weeks, a number of studies have been published that attempt to accurately model how easily SARS–CoV–2 viral particles spread inside aircraft cabins.
Historically, aircraft have had somewhat of a bad reputation for viral transmission. Intuitively, stuffing a narrow tube with passengers shoulder-to-shoulder seems like it would be a hotspot for contagion.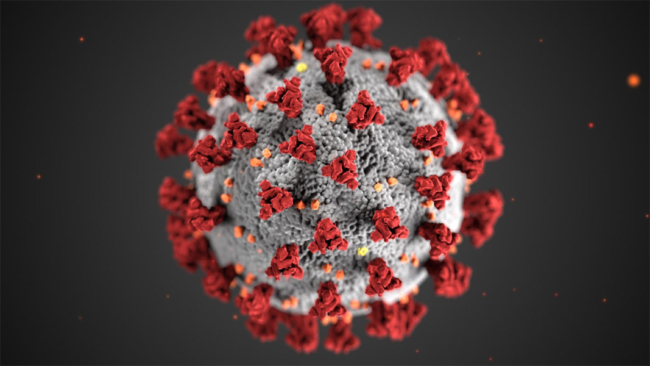 The average passenger is unlikely to know that on modern aircraft, the cabin is filled with completely fresh air every 2-3 minutes, or that all recirculated air must pass through a High Efficiency Particulate Air (HEPA) filter that is capable of removing most bacteria and viruses from the air.
I have had numerous conversations with friends and family who were surprised to find this out!
How do we establish aircraft transmission?
In the past months, several studies have been published on the transmission of coronavirus during air travel.
Three studies were published last month looking at three separate flights that resulted in 'probable' in flight transmission:
A Vietnam Airlines flight from London to Hanoi on 1st March resulted in a cluster of 16 cases
A flight from Boston to Hong Kong on 9th March resulted in a cluster of four cases (two crew, two passengers)
A flight from Athens to Tel Aviv in February or early March resulted in a cluster of five cases
All studies rely on retracing the likely path of transmission from contagious 'index' patients to the subsequently infected by calculating incubation periods, proximity to index patients and in some cases genomic sequencing to verify if the virus in index and infected cases are related.
It is worth noting that the studies are based on cases when masks were not mandatory during flight.
On the other hand, IATA, the International Air Transport Association, published a study recently that identified only 44 cases of potential flight-related transmission:
"The risk of a passenger contracting Covid-19 while on board appears very low, with only 44 identified potential cases of flight-related transmission among 1.2 billion travellers, that's one case for every 27 million travellers.
"We recognise that this may be an underestimate, but even if 90% of the cases were unreported, it would be one case for every 2.7 million travellers. We think these figures are extremely reassuring."
Computers good, real life better
Up until now, questions of flight-related Covid-19 exposure have been based on case studies or computational fluid dynamics, with Airbus and Boeing both studying how aerosols behave in a cabin environment.
There is only so far that computational models can go when modelling the dispersion of aerosols and droplets in aircraft cabins. Questions have been raised about "simplistic" models used by aircraft manufacturers:
"It is difficult to determine the potential exposure risk using available computational fluid dynamics models or contact tracing methods, due to the lack of experimental validation of aerosol transport in the aircraft environment and the lack of detailed tracking of human interactions in aircraft." (United Airlines study)
We now have something better. This week, the US Department of Defense and United Airlines published a landmark study on the safety of commercial air travel based on real-life scenarios in controlled environments.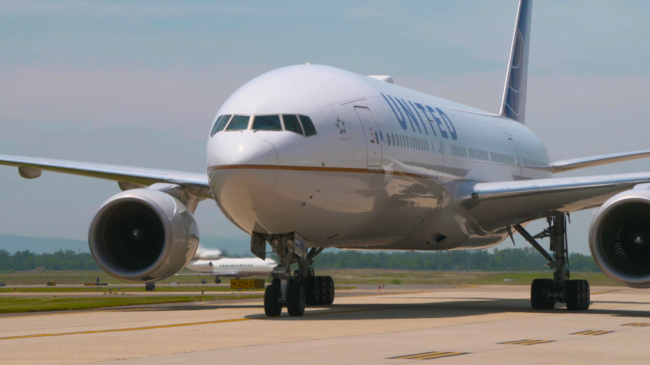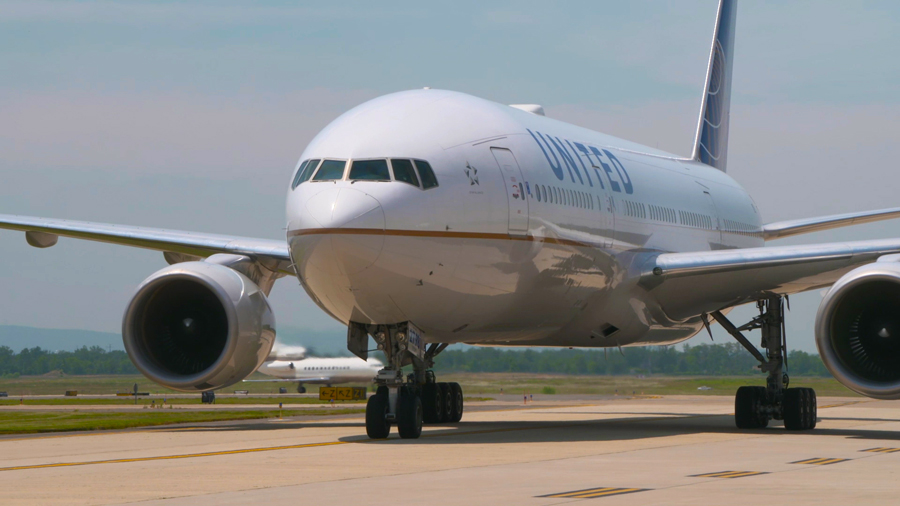 The study used two United aircraft, a Boeing 777 and a Boeing 767, across 38 hours of flight time and 45 hours of ground-based testing.
Over 300 aerosol release tests were performed, with each releasing over 180 million fluorescent aerosol tracers. The aerosol tracers were 'exhaled' by a mannequin called Ruth to best simulate the release of the virus by breathing and coughing, both with a mask on and off.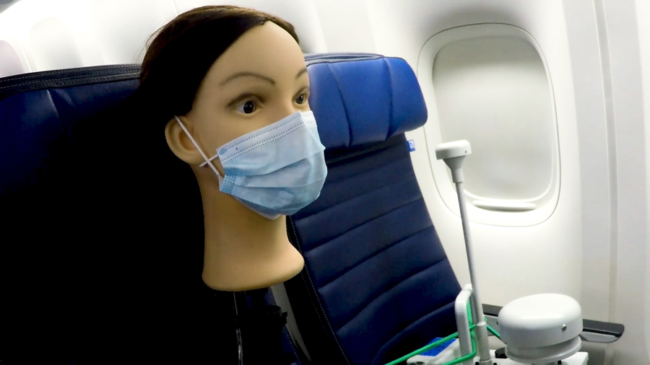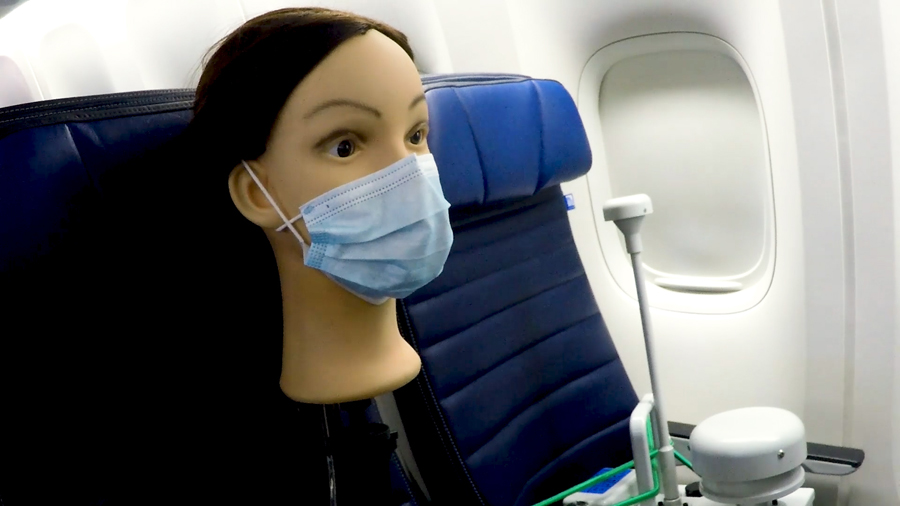 Each surrounding seat in the cabin section contained a bio-defense sensor capable of detecting the aerosols in the cabin air, representing the other passengers in the cabin. Sensors were also placed in galleys and the jetbridge during ground testing.
In addition, thermal blankets were used to simulate the body heat of passengers and subsequent heat emission and potential convection currents generated.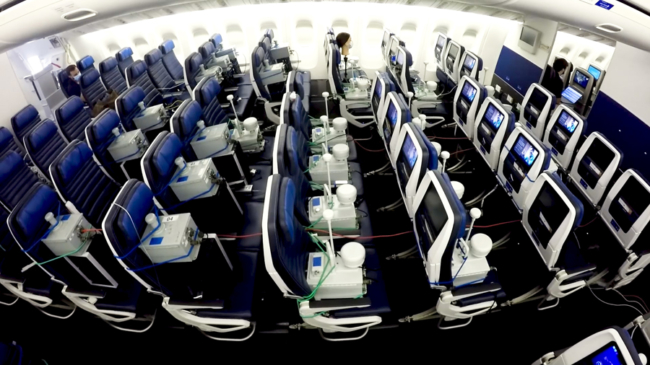 Results show extremely low rates of transmission
Once all the numbers had been crunched, the study found that only 0.003% of particles actually made their way into another passenger's breathing zone when seated and wearing masks. To put it another way, this is only one in every 33,000+ particles.
In addition, around 99.99% of all particles were filtered out of the cabin air within six minutes due to air circulation, ventilation and filtration.
Put another way, the test:
"indicates an extremely unlikely aerosol exposure risk for a 12 hour flight when using a 4,000 virion / hour shedding rate and 1,000 virion infectious dose."
With evidence mounting that aircraft themselves are very safe provided masks are worn, it now seems that other areas of the passenger experience – such as at the airport itself or public transport – are more likely to result in transmission of the SARS-CoV-2 virus.
You can read the full results here.