'My Favourite Hotel' review – a £10,000 suite at the Shangri-La Hotel, The Shard, London
Links on Head for Points may pay us an affiliate commission. A list of partners is here.
Today, our 'My Favourite Hotel' review is of a £10,000 suite at the Shangri-La Hotel, The Shard, London.
Due to a continued strong response from readers, we are running another batch of 'My Favourite Hotel' reviews over the next few weeks. This time we wanted to hear about your 'unique' experiences and we've once again received a great amount of suggestions. Hopefully you will enjoy reading these reviews. As always you can find all of the 'My Favourite Hotel' reviews by clicking here.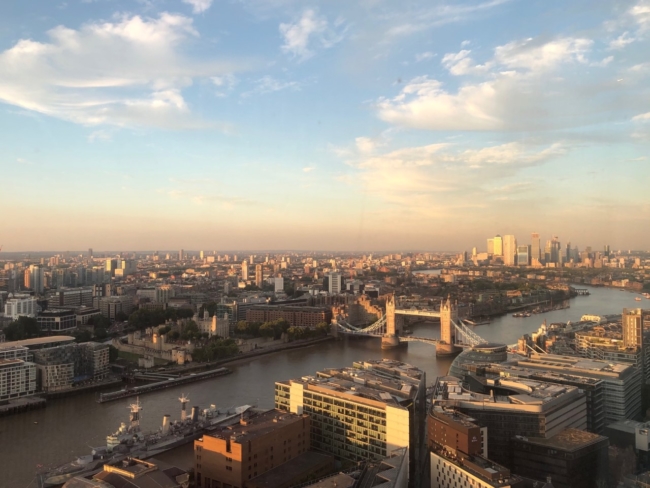 Today's hotel is the Shangri-La Hotel at The Shard in London – more specifically its £10,000 Shangri-La Suite that reader Andrew happened to stay in due to a very generous upgrade! Here is his review:
Overview
My family and I had previously enjoyed a couple of pleasant stays, in a couple of different types of room, at the Shangri-La at The Shard. These were enhanced by having Jade status in the Shangri-La Golden Circle scheme, which got us free breakfast, that we obtained through having an American Express Platinum card. More significantly, we had experienced excellent service from a number of members of staff.
Personally, I like the architecture of the building from the outside and I'm quite fond of the interior design, as well as the views from the higher floors. I'd heard that initially some of the apartments in the building didn't sell too well because those that could afford it didn't want to live 'south of the river'. That said, I've personally always found it fairly easy to get to this hotel and the South Bank is great for walks.
With one of those 'round birthdays' to celebrate, we thought we'd treat ourselves to a couple of nights and, on this occasion, book a suite using a well-priced pre-paid rate. We had also amassed a modest quantity of Golden Circle points from a summer holiday stay at another Shangri-La hotel that we planned to use towards dining credit, including celebratory birthday steaks and wine.
Check-in disaster
It didn't go as planned. On check-in day itself, following a number of different situations which I don't intend to go into in this 'service-recovery' review, we found ourselves in the lobby lounge discussing various aspects of our stay with hotel management. After checking that we were dining in the hotel that evening, they promised to give us an update later.
Dining and beverage
From breakfasts that include cooked items and pancakes to evening meals with steaks or Asian dishes such as chicken rice, we've always found the food in The Shard reliable and tasty, and the view is pretty good, too. They also have a reasonably-priced children's menu so your kids can dine with you and you don't feel like you're being gouged for their plates.
Of course, there are plenty of other places in London where you can eat, but sometimes you don't want to or can't leave the hotel in the evening and it's good to have that option.
The upgrade
At dinner, the member of staff returned and, crouching down at our table, commented that while there was nothing they could do for us this evening because the hotel was full, there was something that they could do tomorrow evening, with the news that we were being upgraded to their very best suite, the Shangri-La Suite, on the 39th floor.
Like many a good Head for Points reader, I was well aware that this wasn't marketing flimflam (having tried to identify upgrade opportunities when booking) and that the rack rate for this particular suite was £10,000 per night!
During our meal, I made the mistake of nipping to the washroom while the wine was delivered to our table and it wasn't until later that I noticed that we've been brought a cheaper bottle of wine rather than the one I had requested. However, the glass was definitely half full, as this meant that I had some points left to spend and so ordered, on special offer, a glass of Château d'Yquem with my desert.
In contrast to the regular bottle, which had simply been placed at the table, the special desert wine was delivered by the sommelier using their "by the glass" device which uses inert gas and two needles to dispense a small amount of wine from the corked bottle.

Moving into the Shangri-La Suite
The next day, after we'd enjoyed a Sunday roast at Hawksmoor, the manager with whom we'd been dealing helped us move into our new suite and gave us a tour of all of the facilities, adding that we had access to the butler that was normally included should we need it.
According to the hotel website, the suite has:
188 – 232 sqm / 2,021 – 2,494 sqf of unparalleled luxury
Sublime skyline views along the River Thames from Canary Wharf to the London Eye
Spacious living room with custom-made furniture, a private study and guest washroom
Separate dining area with crystal glassware that can accomodate up to 10 guests and a fully-equipped kitchenette
Luxurious en-suite bedroom with a custom super king-size Shangri-La Bed, walk-in closet, dressing area, two-seater sofa and chaise lounge
Extra-large marble-clad bathroom with walk-in rain shower, hot whirlpool bath, premium Washlet toilet, mirror-embedded television and heated floors
Private access via a separate lift
Bedside controls for lighting, the sun shielding panel and black-out curtains
Private 1-way airport transfer from a London Airport of your choice
A personal butler to ensure an exceptional stay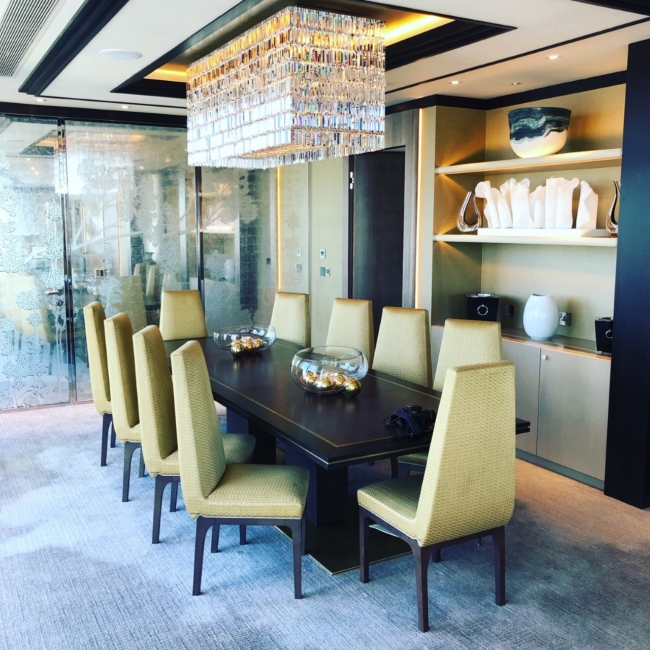 One of my children decided that they would set up their bed in the living room while the other one would make camp in the office. Admittedly, this was only after we'd said that they couldn't sleep in the walk-in closet/wardrobe room which would've been more than big enough!
Of course, you can all find that plenty of information about this suite for yourselves on the hotel website, but what was it really like to live in it?
Well, it was certainly more than your traditional suite. You could certainly have lived and worked in it very comfortably indeed! With a fully-stocked fridge freezer in the kitchen, you wouldn't need to leave the place for days.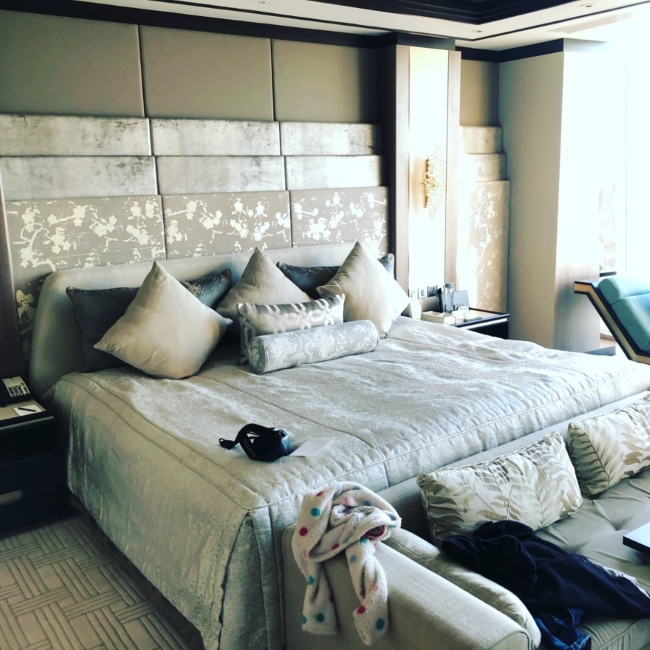 The master bedroom has a superb view looking across the river towards St Paul's.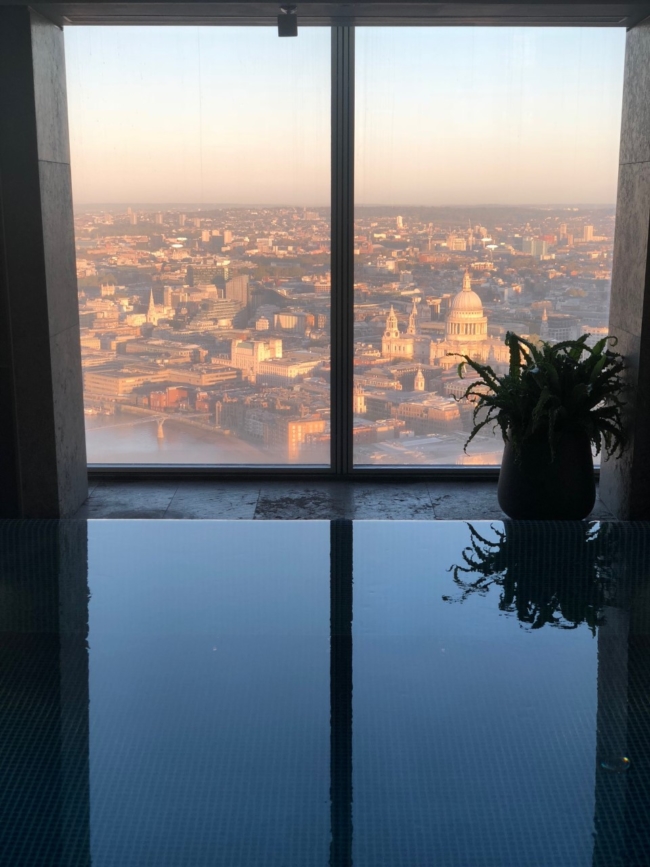 Perhaps to accommodate the privacy of its usual occupant, and unlike a number of other rooms in the property, the bathroom was interior to the accommodation and so there was to be no gazing out at the London Eye while soaking in the tub.
This suite also features Aqua di Parma toiletries instead of the usual L'Occitane products. So, when housekeeping called, I asked if they could leave a set of both. We did, however, stay well away from the 'minibar' in the kitchen which included a £400 bottle of red and a £600 bottle of champagne.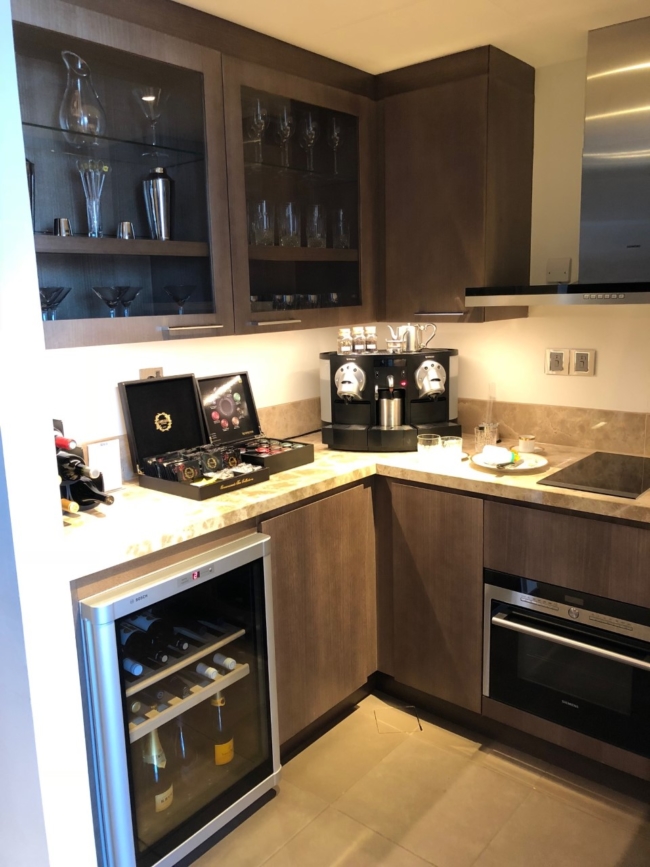 Things continued to improve when we decided to have a light supper in the hotel that evening and the staff immediately checked if we wanted the same aperitif as we'd had the night before.
Later that evening, while still wondering exactly what one would use the butler for (and whether there'd be any charges for doing so), there was a knock at the door and there he was with a silver tray bearing two rocks glasses and a premixed bottle of negroni, our 'usual' aperitif!
So, what did we use the butler for? Well, we had to call him back a few minutes later and ask him to bring us some ice! Garnishes were prepared from our extensive fruit bowl with one of the knives from the well-equipped kitchen.
One of the things that I like about The Shard, even though I've only ever stayed there with my family, is that in the morning and the evening they have child-free times in the residents-only swimming pool up on the 52nd floor.
(If you want to enjoy the same view, without staying at the hotel, you'll need to head up to the cocktail bar on the same floor for a drink.)
While the family enjoyed a lie-in, I headed to one of my travel-related happy places for an early morning paddle, coffee and newspaper, and to watch the sunrise light up the landmarks of London.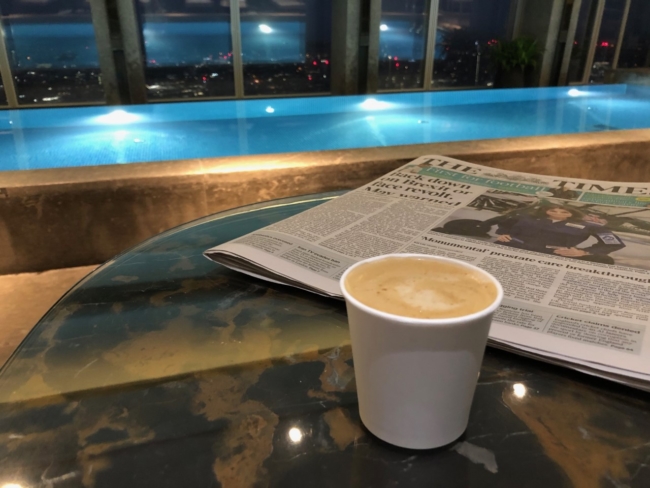 After a family breakfast, we enjoyed one final swim before taking an Uber (Lux, which turned out to be a Bentley Mulsanne, funded using the HfP-guided Clubcard to Uber conversion) to Luca for lunch.
Conclusion
I recognise that we were incredibly fortunate to be upgraded to such a suite, but it certainly highlights that if you do have issues while staying in a hotel such as this it is worth raising them at the time to give the hotel the opportunity to put things right. That said, I doubt I'll ever encounter such a staggeringly good upgrade again, but there's always hope.
You can find out more about the Shangri-La Suite here.
---
Hotel offers update – March 2023:
Want to earn more hotel points? Click here to see our complete list of promotions from the major hotel chains or use the 'Hotel Offers' link in the menu bar at the top of the page.
Want to buy hotel points?
IHG One Rewards is offering an 80%-100% bonus when you buy points by 21st March. Click here to buy.
Marriott Bonvoy is offering a 40% bonus when you buy points by 3rd April. Click here.
World of Hyatt is offering a 25% bonus when you buy points by 25th March. Click here to buy.