How safe is home-swapping during covid?
Links on Head for Points may pay us an affiliate commission. A list of partners is here.
This article is sponsored by Love Home Swap
How safe is a home swapping holiday in 2021 and beyond?
Home swapping is an excellent way to explore new places for – virtually – free and is an even safer way of travelling (once we are allowed to) than a traditional hotel stay.
Remember that Love Home Swap is offering HfP readers a FREE 3-month trial, letting you plan any trips for later this year or early 2022.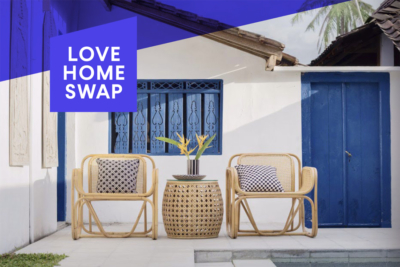 Why join Love Home Swap now?
You may not be planning a trip for a few months, but with the 3-month trial you'll be able to get a feel for, and plan, the sort of home swapping trips you might want to take.
By home swapping, you can save a substantial amount of money on your holiday. Some members even let their guests use extras beyond their house, such as sports equipment and cars. What you choose to include in your swap is entirely up to you.
Is it safe to home swap at this moment in time?
As Government restrictions look likely to ease around March – and with the Easter holidays to plan for – there will inevitably be a clamour for staycations.
For those nervous about travelling in a Covid-era, private accommodation affords you the opportunity to take back an element of control.
With enhanced cleaning guidelines in place, Love Home Swap properties provide fewer touchpoints than a hotel or regularly-booked holiday accommodation, and there is a far lower risk of coming into close contact with other people.
Sandy experienced her first home swap last summer during a period when travel was permitted. Over to Sandy:
"I just left plenty of hand wash and gels around the house for our guest. I think you have to trust that they will clean to the same standards as you do! Hotels are lovely, but if you've paid for breakfast, you have to get up at a certain time, so home swapping is a lot more relaxing. Also, you get a much better feel for the area."
'Home Swap with Confidence'
Love Home Swap is offering a no-quibble cancellation policy if Covid-19 disrupts your plans.
For example, if you plan a Points Swap to an area that is later placed under Government restrictions, your Points (which is Love Home Swap's virtual currency) will be returned to you in full, as well as any service fee (if applicable).
Likewise, if you have agreed to let someone stay in your home and they cancel because your area has been placed under restrictions, you keep the Points that you would have earned.
All Love Home Swap members have also committed to sticking to enhanced cleaning guidelines. You can find out more details about these measures by clicking here.
How does the free Love Home Swap trial work?
You can try out Love Home Swap with an exclusive free 3-month trial when you sign up by the 14th February using this link.
If you decide to remain a member after the three months are up, you can buy an annual platinum membership for just £99 (usually £288).
Even better… £99 Platinum package comes with 4 free airport lounge passes via Lounge Pass, which covers most major UK airports.
Love Home Swap also offer a no-quibble cancellation policy, so if lockdown measures mean that you can't travel, you won't lose out.