Introducing Snoop: a new money-saving and money-management app
Links on Head for Points may pay us an affiliate commission. A list of partners is here.
This article is sponsored by Snoop
Knowing that HfP readers are the savvy types, we've decided to take a look at a new, free, money-saving and money management app called Snoop.
Whilst this is a little outside our usual points and travel focus, we know some of the top team at Snoop from their time at Virgin Money and their work on the Virgin Atlantic credit cards. They are serious, reliable and experienced people who are trying to build something different in a crowded market.
Snoop comes with some fairly big claims: the team behind Snoop openly talk about aiming to save the average UK consumer at least £1,500 a year on their everyday spending and regular bills.
I downloaded Snoop a few months ago (which you can do here) and have been putting the app through its paces.
How Snoop works: all of your bank and card accounts in one place
The Snoop app works best if you connect your bank accounts and credit cards to it. This takes advantage of the new Open Banking regulations in the UK which force banks and card companies to give access to your data to 3rd parties on request.
This gives you one view of your money and spending. You can see balance and transaction info for all your connected accounts, both bank and card, in this one app.
Many of the core reward credit cards are supported, including American Express (the full range of personal cards), the Virgin Atlantic credit cards and the IHG Rewards Club cards. For HfP readers with multiple cards – which is almost all of you! – it is handy to have them in one place to cross-check and ensure you are maximising your mileage earning opportunities.
There are a number of other apps that consolidate accounts like this, but I found the interface very easy to use and it became my default app when I quickly needed to check a balance or payment.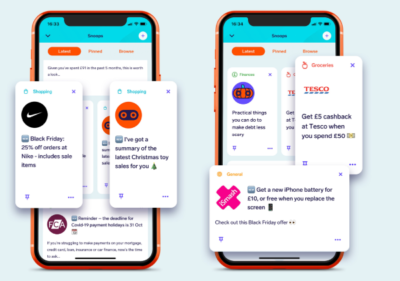 How Snoop works: personalised money saving tips
Whilst the account management tool mentioned above is handy, the real advantage that Snoop offers is the tailored money-saving ideas and insights the app can serve you.
If you connect your cards and bank accounts, the AI that sits behind the app will scan your transactions and work out ways to save you money at the places you already spend.
You'll get a fully-personalised feed of these suggestions (known as 'Snoops'). For example, like many people, I've been relying on Amazon a lot recently. Snoop has spotted that and flags various Amazon-related tips and offers.
The idea is to take something like 'Amex offers' to the next level. Amex sends you targetted offers but only based on what it knows about your spending on Amex cards. With access to all of your debit and credit card spending, you will receive offers more suited to your lifestyle.
A fresh pair of eyes on your bills
Snoop has developed some features around regular payments too. One of its key features is the 'Payment Hub'. The app shows you a list of all your regular bills, and alerts you if there are big swings (up or down) so you can take a look.
On a Sunday, Snoop will also send you a 'look ahead' summary of all the payments going out over the next week, which can be very useful.
You can use the 'Payment Hub' to setup dedicated overviews of your core bills such as car insurance, energy and mobile phone bills. You can tell Snoop when any contract is due for renewal, and Snoop will then send alerts and notifications at the right time to get the best deal (which research suggests is 3-4 weeks before renewal, not right at your renewal date!). If you don't tell Snoop the dates, the App will try and work them out for itself to be super-helpful, based on your payment transaction patterns.
Snoop not only identifies savings you can make, it has embedded features that allow you to quickly compare prices on energy, mobile and broadband, motor, home and life insurance. Mortgages, credit cards and loans are to follow this year.
The team has recently added a Credit Card Checker, which scans your transactions, spotting where you're paying interest when you don't need to, falling foul of foreign transaction fees or missing out on rewards.
Although not available right now, Snoop has said that in the future this feature will expand to help you switch cards too if it's right for you.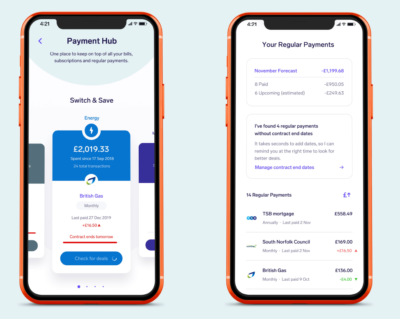 Is my data secure and what is Snoop doing with it?
This was one of the first questions we asked at HfP, particularly as we found the name Snoop a little off-putting from a data sharing perspective.
However, from a security perspective, linking your accounts to Snoop is pretty clear-cut.
The app uses the latest secure tech via the Government-sponsored Open Banking initiative and is just as secure as any of the 'traditional' banking. Crucially, the app will never ask you to share the password or login details for any bank accounts or credit cards you connect. These stay strictly between you and your provider. Your bank and credit card company strictly control what data is available via Open Banking.
Snoop is authorised and regulated by the Financial Conduct Authority.
In terms of how your data is used by Snoop, their privacy policy states that personal data held by Snoop is never sold. It does use anonymised data pools to 'identify big trends in areas like consumer spending' but they again state that any personally identifiable information is never used in this data analysis. The link to the privacy policy is here if you want to dive into this a bit more, it's actually refreshingly easy to read.
A community of 'Snoopers'
Snoop encourages users to share their own money-saving tips too. Mixed in with the suggestions from Snoop on your feed will be things that other 'Snoopers' have spotted at the places they spend. Little money hacks that worked for them and they want to pass on to other consumers. As Snoop's customer base builds, the team expect the community-generated ideas to expand even further.
New features are being added all the time
Every couple of weeks, the app gets updated, often with new features to add to Snoop's skillset. Having had Snoop for several months, I've seen various helpful additions pop up since I first started using it.
Conclusion
The super savvy amongst our readers will probably be on top of many of money-saving features that Snoop offers. However, Snoop does take a lot of the legwork out of keeping on top of bills and ensuring you are getting the best deal on various utilities and service.
I've discovered new apps and interesting offers thanks to the 'Snoops' I've been sent and the continual updates and improvements to the app are really promising.
At the moment loyalty and rewards-based content is largely limited to Nectar and Tesco Clubcard. We understand from Snoop that this is an area they are actively exploring.
Snoop is free to download and use, and you can download it here.