How do Emirates 'My Family' household accounts work?
Links on Head for Points may pay us an affiliate commission. A list of partners is here.
Most people don't realise that the British Airways style of family or household account is actually very rare.  Few other airlines let you pool 100% of the miles earned by your wider friends and family.
Until 2018, Emirates had a family policy that could best be described as a token gesture.  Your family were allowed to credit their miles to your account, but only at a rate of 20%.  All of the other miles were lost.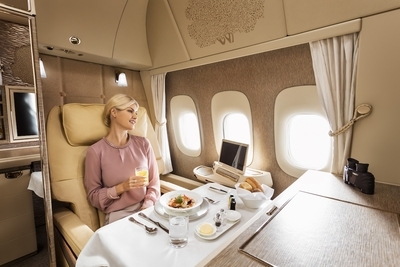 You had the situation where, for example, you and three family members could individually earn 10,000 Skywards miles each from a particular flight, or one person could earn 16,000 miles (10,000 + 2,000 + 2,000 + 2,000).  Hmmm …..
Emirates dropped that idea for 'My Family'
Emirates now has a programme called My Family.  You can find the details here.  
Up to eight family members can come together.  They do need to be family and there is a list of acceptable relationships:
"Husband, Wife, Partner, Son, Step‑Son, Daughter, Step‑Daughter, Mother, Mother‑in‑Law, Step‑Mother, Father, Father‑in‑Law, Step‑Father, Brother, Sister, Granddaughter, Grandson and Domestic Helper."
Going forward, you can agree that either 25%, 50%, 75% or 100% of your miles earned go into the pooled 'My Family' pot.
It is not possible to return miles back to individual accounts once they have been placed in a 'My Family' account.  If someone leaves the account, the Skywards miles they contributed remain in the family pot.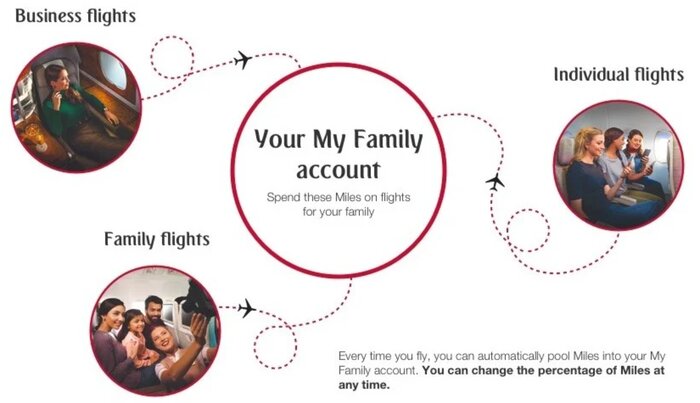 How does 'My Family' work?
When we last looked at 'My Family', just after it launched, it was equally as quirky as the previous scheme.  Emirates was only allowing you to pool miles from flights and NOT from partner activity such as credit cards.  As well as being hugely confusing to administer, this was also not practical for most people.
This has now changed.  Emirates now allows you to pool ALL miles, however they are earned, in your 'My Family' pot.
There are still some snags though:
You cannot pool your existing miles
You will end up with two balances – your total before 'My Family' was set up (plus some of your future miles earned if you choose not to contribute 100% of future earnings to 'My Family') plus the new pool
Some types of redemption are not possible from a 'My Family' pool
Only the nominated 'Family Head' can make redemptions from the 'My Family' account
The usual Emirates expiry rules apply, with a 'hard' expiry after three years regardless of activity in the meantime
One potential option would be to have 100% of miles from the flights of your children dropped into a 'My Family' account, whilst contributing nothing or only a small amount yourself.  It would give you easy access to the miles from your children whilst preserving your own flexibility.
Conclusion
It is interesting to see Emirates taking a fresh look at family account structuring, but I'm really not sure this approach is much better than the previous one. 
The British Airways model is cleaner and simpler, and to be honest it is something that BA doesn't get much credit for. 
You can learn more about 'My Family' on the Emirates website here.
PS.  If you want to learn about the BA equivalent, we published this long article on how British Airways household accounts work.
---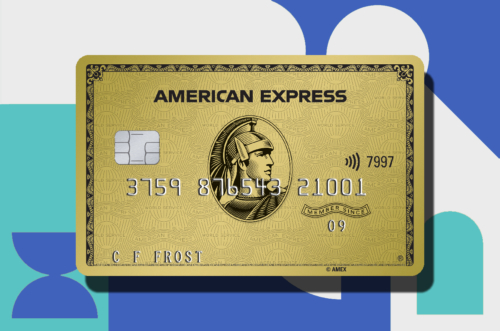 How to earn Emirates Skywards miles from UK credit cards (May 2022)
Emirates Skywards does not have a UK credit card. However, you can earn Emirates Skywards miles by converting Membership Rewards points earned from selected UK American Express cards.
The Platinum Card has doubled its sign-up bonus to 60,000 Membership Rewards points, which convert to 60,000 Skywards miles, if you apply by 1st June 2022.
Cards earning Membership Rewards points include:
Membership Rewards points convert at 1:1 into Emirates Skywards miles which is an attractive rate. The cards above all earn 1 Membership Rewards point per £1 spent on your card, which converts to 1 Emirates Skywards mile. The Gold card earns double points (2 per £1) on all flights you charge to it.