New travel rules released – bad news for the unvaccinated, good news for everyone else
Links on Head for Points may pay us an affiliate commission. A list of partners is here.
The Government has just published its latest review of the UK travel testing regime.
As per usual, this was originally published via Grant Shapps' Twitter feed but the details are now on gov.uk here. The press release is here.
Here are the changes. If you are not fully vaccinated, I would be cancelling your travel plans because even a quick hop to Paris will still require 10 days of quarantine …..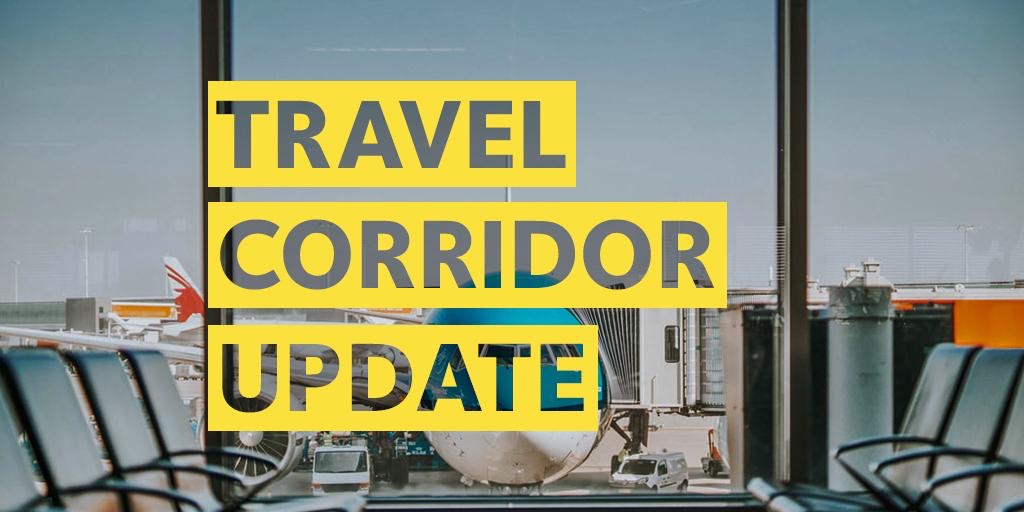 These changes only apply to England, remember, unless the devolved authorities choose to copy the English approach.
From Wednesday 22nd September:
Eight countries will be removed from the 62-strong 'Red List' and placed on the 'Amber List':
Bangladesh
Egypt
Kenya
The Maldives
Oman
Pakistan
Sri Lanka
Turkey
From Monday 4th October:
The 'Amber List' is to be scrapped for arrivals into the UK. The only 'named' list will be the 'Red List', plus everywhere else.
'Fit To Fly' tests will be scrapped for passengers who were fully vaccinated at least 14 days before arriving in the UK.
If you are not fully vaccinated you must quarantine for 10 days on your return to the UK from a non-'Red List' country and take Day 2 and Day 8 tests. 'Test To Release' will continue at Day 5 for those who wish to pay extra. You will also be required to take a 'Fit To Fly' test.
'Fully vaccinated', for the purposes above is defined as having received, for those outside the UK, EU and US vaccine programmes:
"a full course of the Oxford/AstraZeneca, Pfizer BioNTech, Moderna or Janssen vaccines from a relevant public health body in Australia, Antigua and Barbuda, Barbados, Bahrain, Brunei, Canada, Dominica, Israel, Japan, Kuwait, Malaysia, New Zealand, Qatar, Saudi Arabia, Singapore, South Korea or Taiwan"
Unvaccinated children will continue to be treated as fully vaccinated if travelling with fully vaccinated adults.
You will still need to fill in a Passenger Locator Form before returning to the UK.
You will still need to book and pay for a PCR 'Day 2' test before returning to the UK.
The hotel quarantine regime continues for people returning from 'Red List' countries.
From 'later in October' (by half term, in theory)
PCR tests dropped:
PCR testing will no longer be required on your return to the UK from a 'Green' country IF you are double vaccinated.
You will be still be required to take a lateral flow test within two days of returning to the UK – it is not clear if these will need to be supervised tests.
The test must still be purchased in advance and a reference number added to your Passenger Locator Form.
Transit changes:
There are plans to change the 'Red List' rules so that passengers can transit in those countries without triggering hotel quarantine.
This is unlikely to have any real impact given that the major transit hubs have all moved off the 'Red List'.
Industry response
Sean Doyle, British Airways CEO, said in a statement:
"We welcome the simplification of the traffic light system, and the changes to the testing requirements allowing UK travellers to benefit from our world-leading vaccination programme and finally giving customers and business the confidence to book the journeys they've been waiting for."
"Based on the scientific evidence, with fewer than 1% of people returning from low-risk countries testing positive for Covid (lower than the UK's rate), we urge ministers to keep this policy under review, eliminating all testing for fully vaccinated travellers as soon as possible in the future, in line with most other European countries."
Shai Weiss, Virgin Atlantic CEO, said:
"The overdue simplification of the Government's rules for international travel will deliver a significant boost to consumer confidence and UK economic recovery.
"However, to ensure that Britain's global ambitions are met, the vaccination status of those travellers receiving a full dose in countries like India and Hong Kong must be recognised, ensuring they are able to take advantage of the simplified travel rules. Additionally, the Red list should focus purely on Variants of Concern, in order to protect public health, therefore it's imperative to rapidly and continuously remove countries that don't pose a threat, in order to open travel back up to countries like South Africa."
"We urge the UK Government to use the Prime Minister's upcoming visit to the USA to work with the Biden administration to remove transatlantic restrictions for UK citizens, just as the UK has done for US travellers, helping loved ones to reunite safely and businesses to restore ties with our largest trading partner. The US already allows entry for travellers from Dubai, Turkey and much of South America for example. With the high rate of vaccination in the UK – 81% of UK adults have received both jabs – there is no reason to deny UK citizens from entering the US safely, and no reason to delay."
Sir Tim Clarke, President of Emirates, said:
"It's critical that the travel sector and governments across the world continue to work together to rebuild traveller confidence and today's announcements are a hugely important step towards that. Making international travel simpler and more affordable will not only benefit those desperate to reconnect with loved ones, but will be instrumental in the recovery of the economy."
"Since the UAE was moved to the UK's Amber List, we've seen a huge surge in demand and Emirates quickly resumed operations across the UK with plans to operate 77 flights a week between the UK and Dubai by the end of October. Dubai is open and we're ready to welcome travellers thanks to the comprehensive measures that have been put in place in the air, on the ground, and throughout Dubai. We have been working closely with partners around the world, including IATA, to help passengers easily and securely manage their travel in line with any government requirements for COVID-19 testing or vaccine information."
"We will continue to work with the UK to meet all of its criteria, and hope that those vaccinated in the UAE will soon be considered in the same manner as those vaccinated elsewhere."