easyJet quietly drops 'Hands Free' and its 'you can't use the overhead lockers' cabin bag policy
Links on Head for Points may pay us an affiliate commission. A list of partners is here.
There are many contenders for the title of 'most stupid airline policy ever', but easyJet's new baggage policy – which launched this February – was in strong contention for a medal.
The airline banned passengers on standard tickets from bringing on larger bags which would have to go in the overhead locker. This was potentially acceptable if the benefit was sold as an extra, but it wasn't.
Anyone who turned up at the gate with a large piece of hand baggage had to pay £55 to put it in the hold.
easyJet has also dropped its 'Hands Free' service which let you check in your hand baggage and which tended to be cheaper than paying for a seat which allowed a free cabin bag.
Change 1: easyJet will now allow large carry-on bags, if you pay
Under the current easyJet policy, which launched in February 2021, the only passengers allowed to bring larger bags onto the aircraft were those who paid for 'Up Front' (ie to sit in the first few rows) or extra legroom seats.
There were also exceptions for easyJet Plus (see our review of easyJet Plus here) and FLEXI fare holders.
This led to the ludicrous situation where the overhead lockers in the front of the aircraft were overflowing with hand baggage because anyone who refused to check in their bag had no choice but to pay for 'Up Front'.
The overhead lockers in the rear of the aircraft were empty.
What happened if you turned up at the gate with hand baggage?
It was impossible to pay to bring a piece of hand baggage on board if it wouldn't fit under your seat (45cm x 36cm x 20cm).
If you turned up at the gate with a bag which could not fit under the seat in front, you were charged £55 to place it in the hold.
Don't believe me? Here is what easyJet published at the time:

Passengers who would have willingly (well, perhaps not willingly) paid an extra few £ for the 'privilege' of putting a bag in the overhead locker could not do so. They had to buy the full 'Up Front' package as you can see here: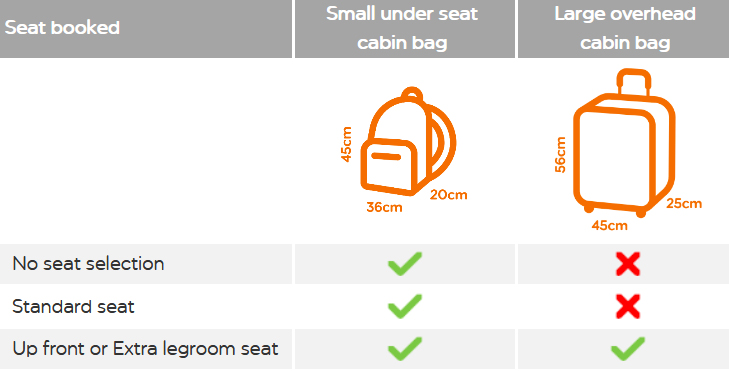 You weren't necessarily able to buy 'Up Front' if you wanted to
'Up Front' seats were capped at between 42 and 63 per flight.
This meant that, even if you were willing to book an 'Up Front' seat in order to bring hand baggage into the cabin, you may not have been able to do so.
Once the 'Up Front' and extra legroom allocation was gone, that was it. No additional passengers would be allowed to bring larger pieces of hand baggage onto the aircraft, even if willing to pay.
You can now pay to take larger pieces of hand baggage on board
With, unsurprisingly, zero publicity, easyJet has scrapped this idea.
The new easyJet hand baggage policy is outlined here.
You can still buy 'Up Front' and extra leg room seats, which will include the ability to bring a larger bag on board for free.
For everyone else, you can now add a large piece of cabin baggage by paying for it during booking or later via the easyJet app. You cannot add a cabin bag via the website yet.
Prices allegedly start at £5.99 each way. That said, comments below suggest that the actual cost is £15+ each way, albeit that £15+ is still cheaper than the typical £30+ cost of 'Up Front'.
Change 2: easyJet has dropped 'Hands Free'
I never saw the point of 'Hands Free', but some readers did find it useful. easyJet would let you check in your hand baggage for £7 and give you free priority boarding on top. You could book a 'family bundle' which reduced the cost to as little as £2.67 per bag. 'Pay monthly' customers on the '3' mobile network got the service for nothing at one point as part of a tie-up with the airline.
'Hands Free' was initially available on a walk-up basis at the airport, but was later changed to require pre-booking.
It was sold to passengers on the basis that they could experience the freedom of walking around the airport without a bag in their hands, or on their shoulders. The real benefit was that it was cheaper than booking an 'Up Front' or emergency exit row seat (a requirement to bring a bag into the cabin) and also cheaper than paying to check in a large suitcase.
'Hands Free' worked best for people who had small 55cm suitcases (the largest size allowed for 'Hands Free') which did not contain laptops and who were happy to queue at a bag drop on departure and wait at baggage reclaim after landing. It was also useful if you were carrying liquids.
It didn't work well if you had a soft cabin bag (the risk of damage from checking it in was too high), if you were carrying IT equipment which was too fragile to check-in or if you were looking to minimise the time spent hanging around at the airport.
'Hands Free' has now gone as this page of the easyJet website confirms.
Conclusion
Banning passengers from bringing larger items of hand baggage on board, even if they were willing to pay to do so, was a strategic mistake. It opened up clear water between British Airways and easyJet.
My wife, for example, is not allowed to check in her work laptop. It must stay with her at all times. If she wanted to take an easyJet flight and there were no 'Up Front' or extra leg room seats available, she couldn't book it. There was no other way of being allowed to bring the bag onto the aircraft, plus a handbag, since her employer would not pay the premium for a flexible ticket.
At the same time as easyJet was stopping you bringing larger items of hand baggage, British Airways was reintroducing free water and light snacks on short-haul flights, along with the launch of the Tom Kerridge pre-order food menu.
By removing the ability to pay to put a bag in the overhead bins, easyJet also put itself behind low cost rivals Ryanair and Wizz Air. It's hard to understand how easyJet ever allowed this policy to come to market in the first place.