NOW LAUNCHED: Join 2,500 readers in the new HfP forums
Links on Head for Points may pay us an affiliate commission. A list of partners is here.
We have launched the Head for Points forums. Please join us!
Many of you will know that we have been planning to add forums to the site for some time. Initially, we planned to do it soon after we launched the new site design in August 2020, but life got in the way.
Sinead went on maternity leave and I took over the commercial side of the business for nine months, leaving Rob to do the majority of the writing. This left us with little time to work on bigger projects. Luckily Sinead is now back which has freed me up to work on this, with the help of our IT partner Neil Barrett @ Enbecom.
We launched the forums this week. Over 2,500 readers registered in the first 10 days and we have ironed out most of the bugs and glitches.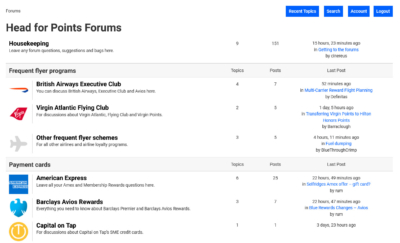 How to join the Head for Points forums
You can register for the HfP forums here. Note that your forum login can also be used to comment across the site.
Your first post / comment to the site will go through moderation to avoid spam registrations. If you cannot see your post immediately please bear with us as we process these.
If you have any problems registering or encounter any bugs or other technical issues, please leave a comment below. We have also created a dedicated topic on the forums where you can leave any suggestions you have here. Of course, if you have trouble registering then you won't be able to post there 🙂
If your comment would require sharing any personal data, email your query to rhys@headforpoints.com instead.
How to navigate the forums
If you head to www.headforpoints.com/forums or click the link which will appear in the navigation bar later today you'll see we have a number of forums dedicated to miles, points and travel in general. This should make it easier to find the information you are looking for versus searching old chat threads.
We have also added a 'London life' thread for off-topic questions about restaurants, going out, property or whatever. We may add other non-travel forums if there is demand.
If you want a quick overview of active conversations then I suggest using the 'Recent Topics' page. This is linked in the top right of the dedicated forum menu (or you can access it here) and lists all topics by most recent response. It's a particularly useful way of keeping abreast of the entire forum.
Have we got the categories right? Only time will tell. We have done our best to second-guess what you will want to ask about. We will keep an eye on things and delete / add sections as necessary.
We have deliberately kept the forum 'light'. You cannot have a linkable online profile, you cannot have a signature, you cannot upvote or downvote replies etc. From our side, we will keep your reading experience clean by not placing any advertising in the forum.
What you can do, for five minutes after posting, is edit what you have written – this was a much-requested feature in the old chat threads.
What will happen to the daily chat threads?
A daily chat thread will be opened each morning IN THE FORUM and not in the main news feed. There will be a new 'daily discussion' thread each day which will work in the same way as the current chat thread.
It will appear at the top of the forum listings so you won't need to scroll down to see it.
The daily chat thread in the forum is a good place to, for example, post links to an interesting new offer you have found. However, we strongly suggest that any questions which can be asked in a dedicated forum thread are asked there. This will allow us to build up a strong Q&A database for the benefit of future readers.
It will obviously take a while for the forums to gain momentum, but we hope that we can create something that is both informative and entertaining. As with the site relaunch last year, you will see tweaks as the system beds down – readers have already given us some good ideas.
There are links to the forum in the HfP menu bar. We are working on ways to show a feed of current activity on the 'news' side of the site.
Thank you for your continued support of HfP.