Review: What does a £1.79 Wizz Air flight get you? I try it out (Part 2)
Links on Head for Points may pay us an affiliate commission. A list of partners is here.
This is part 2 of my review of my recent Wizz Air flight. Part one of our Wizz Air review – click here – covers the difficulty in booking the free-bag-only no-extras £1.79 flight itself. Wizz Air doesn't make it easy, but I did get away with just paying £1.79 in the end.
How was my Wizz Air flight?
All things considered, my flight with Wizz Air was fairly comfortable, mainly because the flight was virtually empty. There were only a handful of passengers on board an aircraft that Wizz crams with 180 seats.
The good news is that Wizz Air flies an exclusive A320-family fleet, which means marginally wider seats and aisles than on the Boeing 737s operated by Ryanair. Although the difference is small I find it makes a BIG difference to the overall experience and always prefer the A320 to the 737.
Check in
I used the Wizz Air app to check in for my flight and have to admit that I was impressed.
During the check-in process you are given a short list of all the documents you need to bring for your flight. In my case, this included a test and vaccination certificate. Having this in the app and during the check-in process is extremely helpful and should be what all airlines do.
The app also asks you to upload your proof of vaccination, which was again extremely simple to do. I could do it all within the app, without being taken to a separate page in my browser. The process was extremely slick.
Unfortunately, due to the remaining document checks (such as the Austrian requirement for a test certificate) I wasn't able to complete online check. I did, however, find the whole experience much better than almost any other airline, British Airways included.
I made sure to get to Luton Airport the requisite two hours prior to my flight because I was extremely wary of long queues at check-in due to the document checks. I needn't have worried, because this was what welcomed me: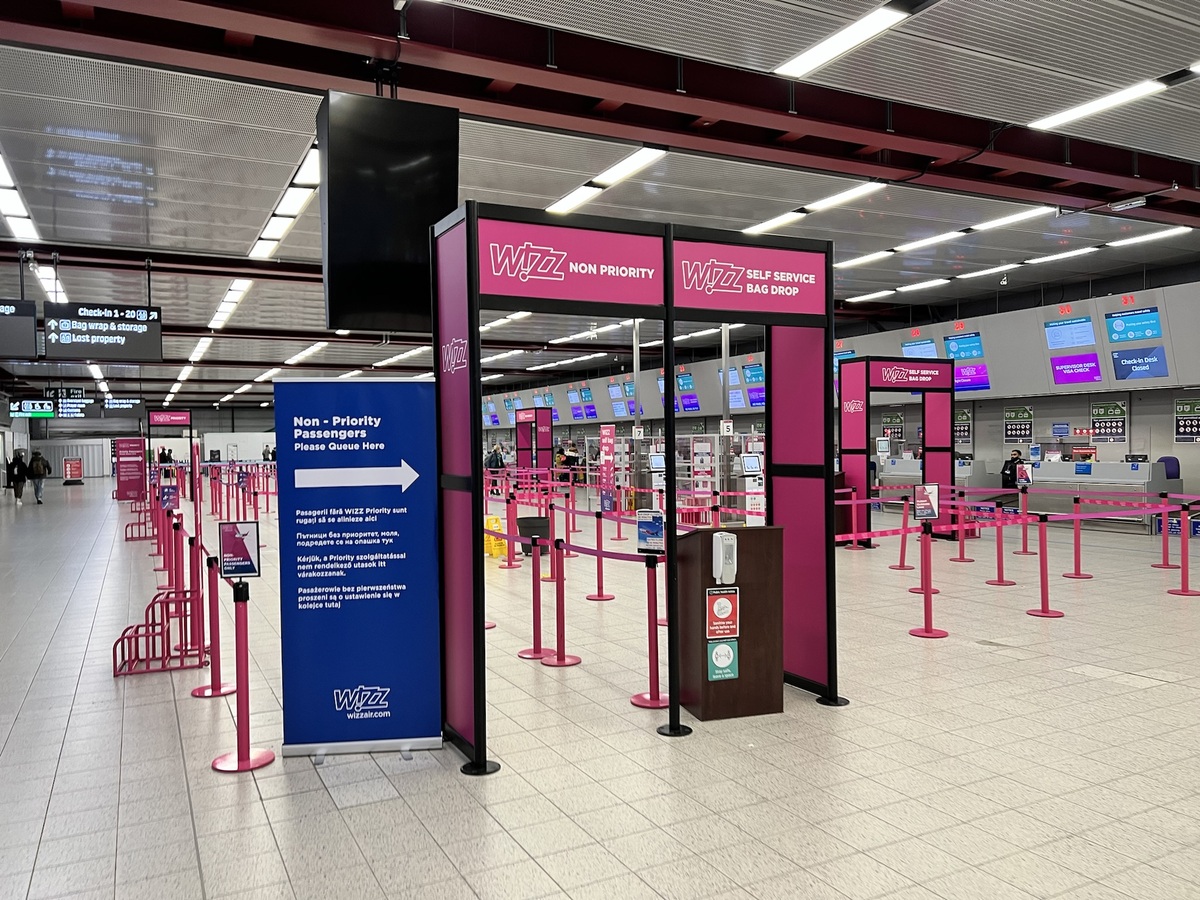 There was no-one waiting whatsoever, and I managed to duck under the ropes and get to the desk in no time. I was glad I arrived early however – it is impossible to predict what these things are like. If you have booked Wizz Priority then you do get to queue jump.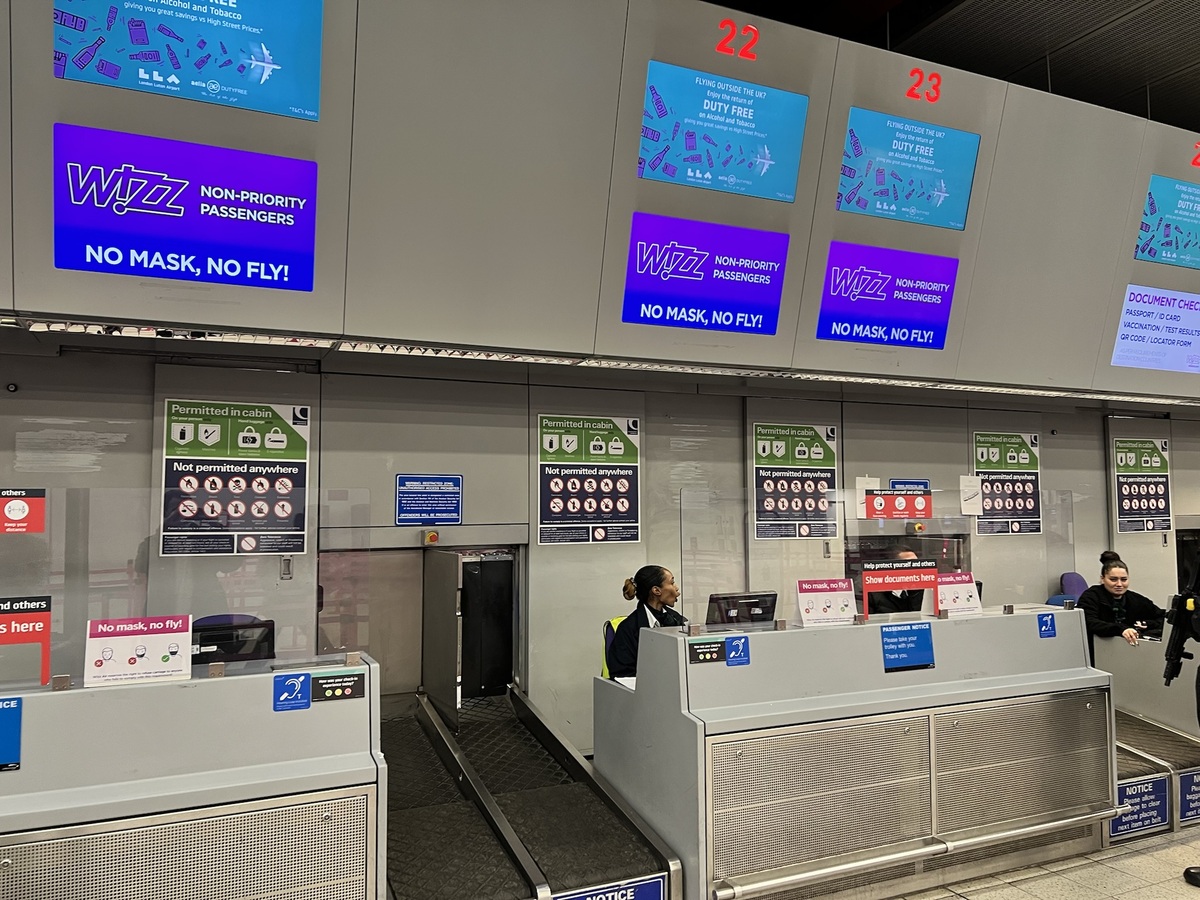 I found the 'No mask, no fly!' slogan particularly entertaining.
Having been allocated my seat (25B, at the rear of the aircraft) and given my boarding pass I then breezed through Luton's normally nightmarish security: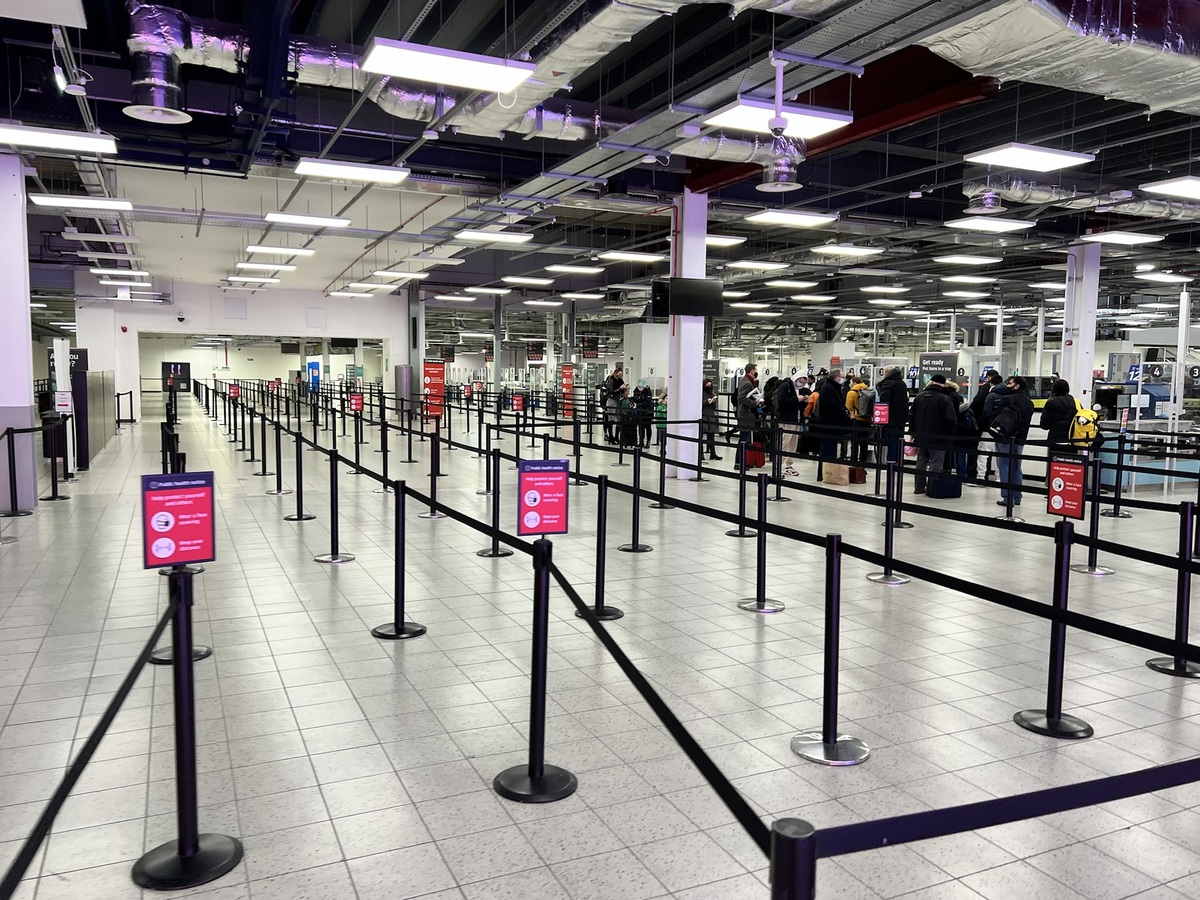 The queue was small although it did take 5-10 minutes to get through as there was only one security lane open. The clientele at Luton Airport also tend to be infrequent travellers who are unfamiliar with security protocols which can increase processing times as they realise they have to decant all their liquids into a single plastic bag etc. (One person asked whether a glue stick counted as a liquid. I will leave that particular query to a popular vote in the comments.)
10 minutes is not bad for Luton, and I was quickly through into the duty free zone. Luton has, I admit, improved in recent years. The main terminal building now feels very modern and there is a greater selection of restaurants and boutiques than you would otherwise expect to find at a similar low-cost airport elsewhere.
Still, during peak times, Luton Airport can be heaving. When I was there 50% of the shops were closed and it was eerily quiet, which made for a fairly relaxing time.
Unfortunately the Aspire lounge is currently only open in the mornings and the Clubrooms lounge is permanently closed. I had to make do with the public seating which isn't the most comfortable, especially when it turns out your flight is delayed by 30 minutes.
(My recent review of the Aspire lounge at Luton Airport is here.)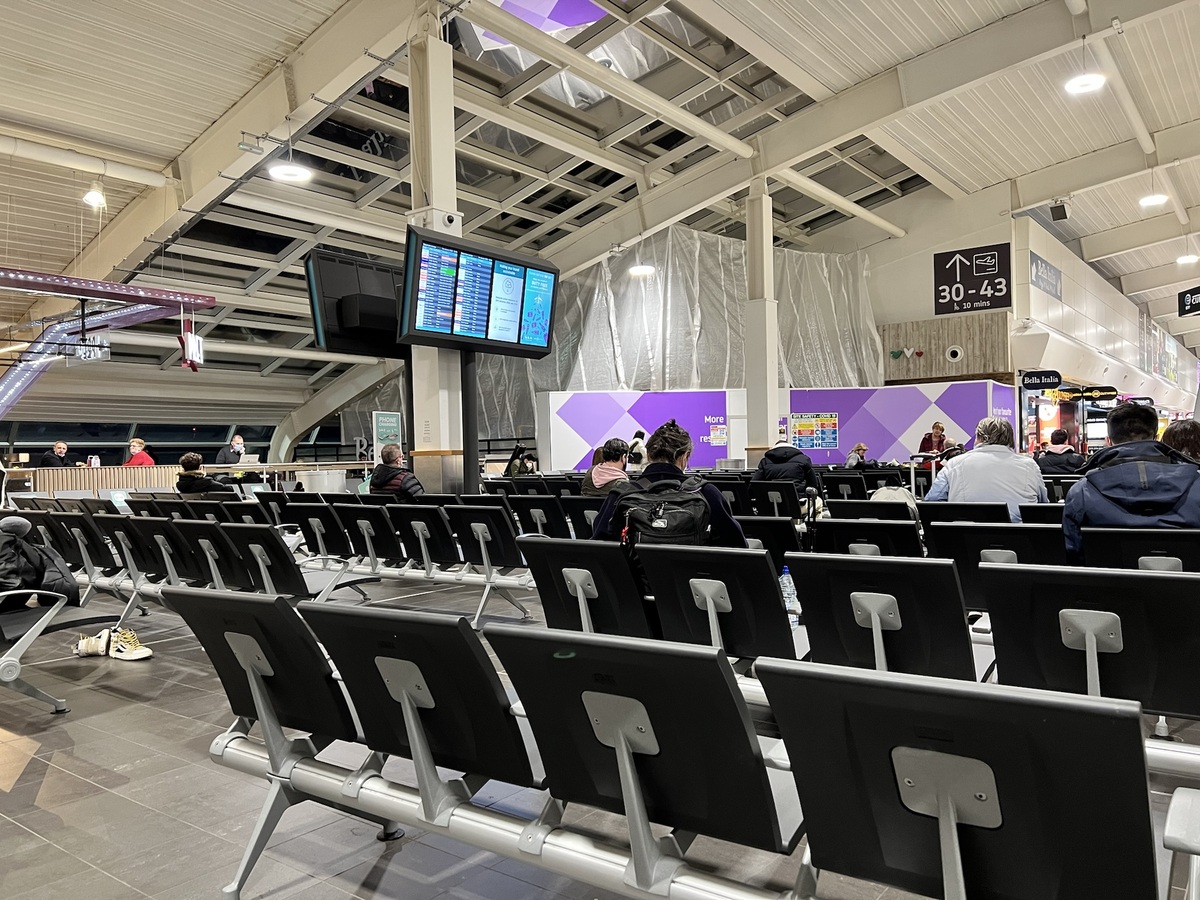 Boarding
Eventually, the gate was announced and I headed over to the aircraft. It was at this point that it became clear just how empty my flight would be, with just a handful of people queuing at the gate:
Anyone with Wizz Priority gets the Priority queue, which you can see on the right hand side.
I was one of about 35 passengers in total, it turns out, and quickly boarded the aircraft. There was no jet bridge so you are exposed to the open elements, which is miserable in bad weather: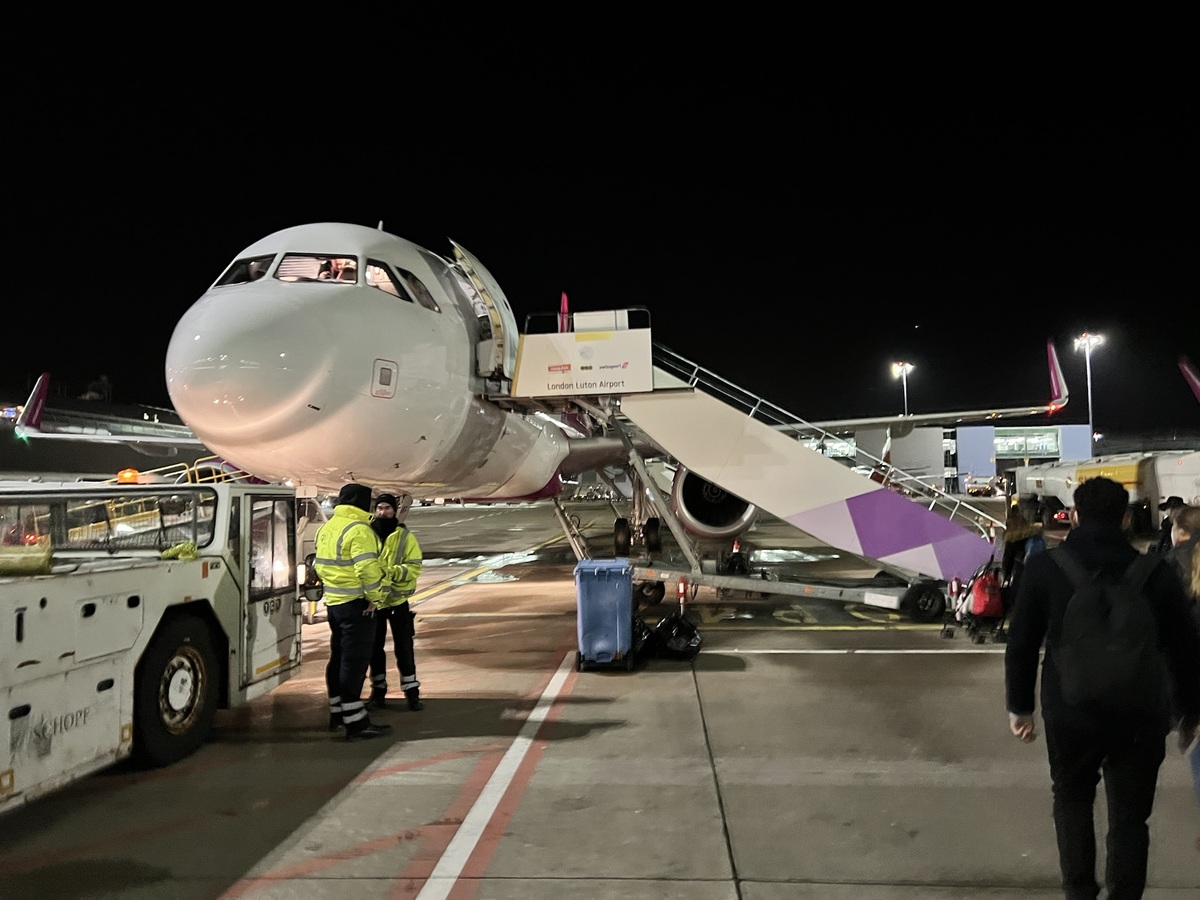 Inside Wizz Air's A320
I was assigned seat 25B but had a whole row to myself and consequently sat in the window seat instead. The Wizz Air seats are quite smart, if a little garish, in blue and pink: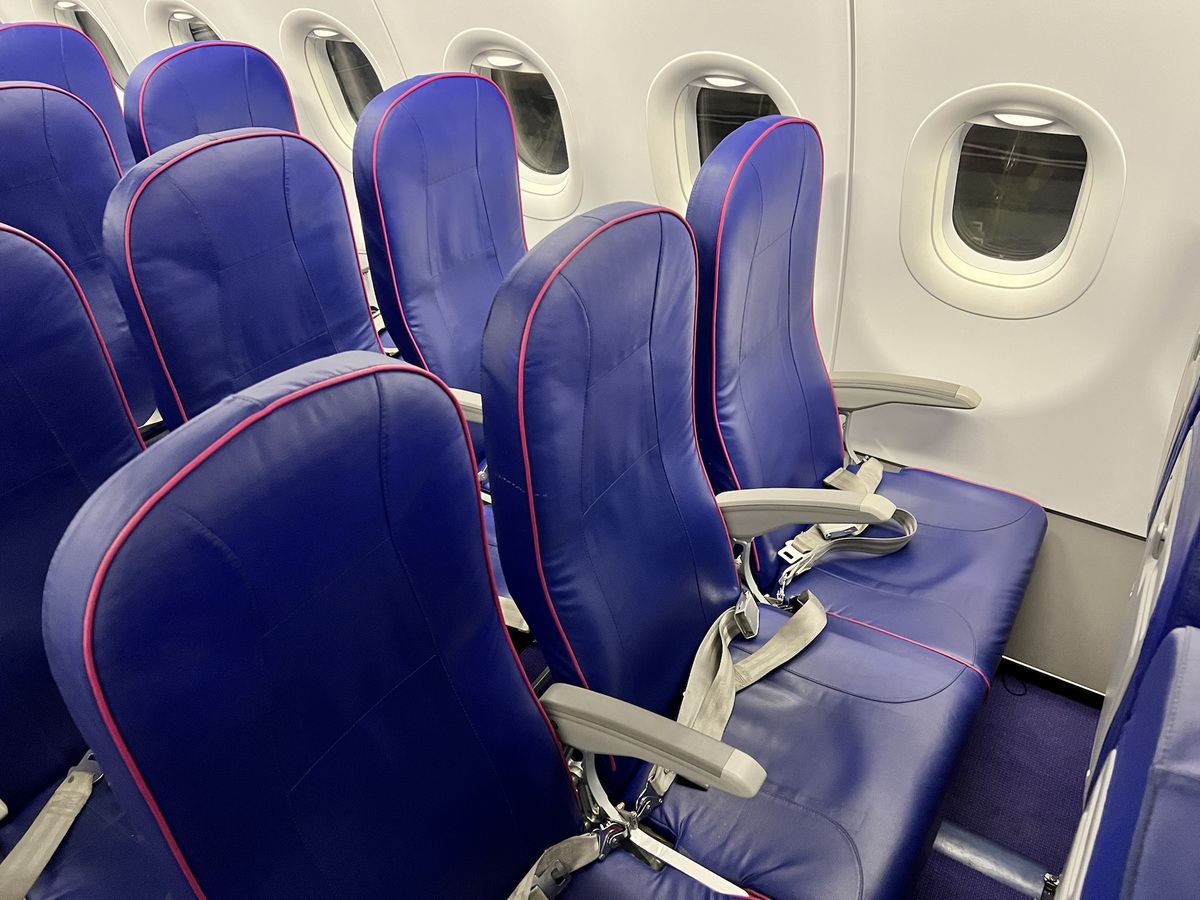 Leg room, as you would expect, is pretty tight. For reference, I am 6'2″ (188 cm):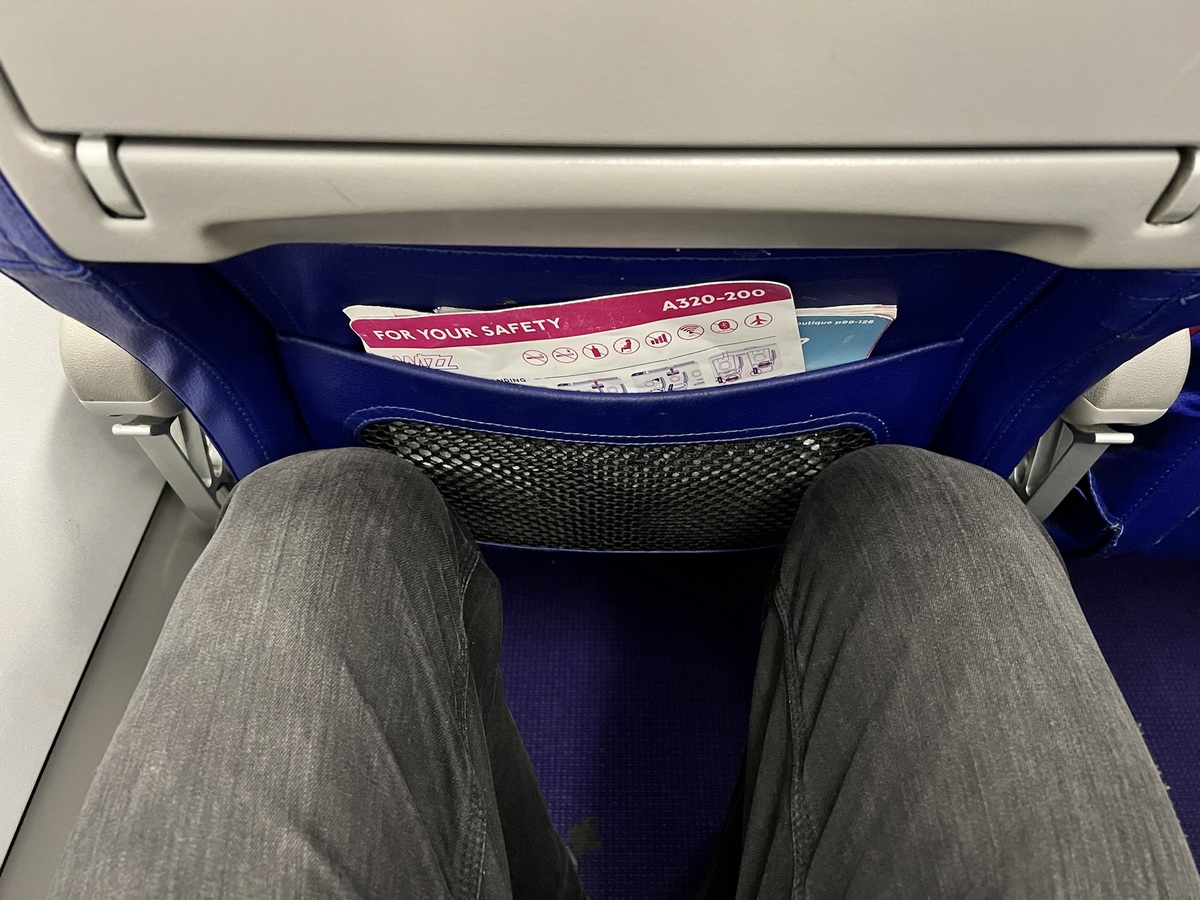 A safety card, sick bag and in-flight magazine are in the seat pocket: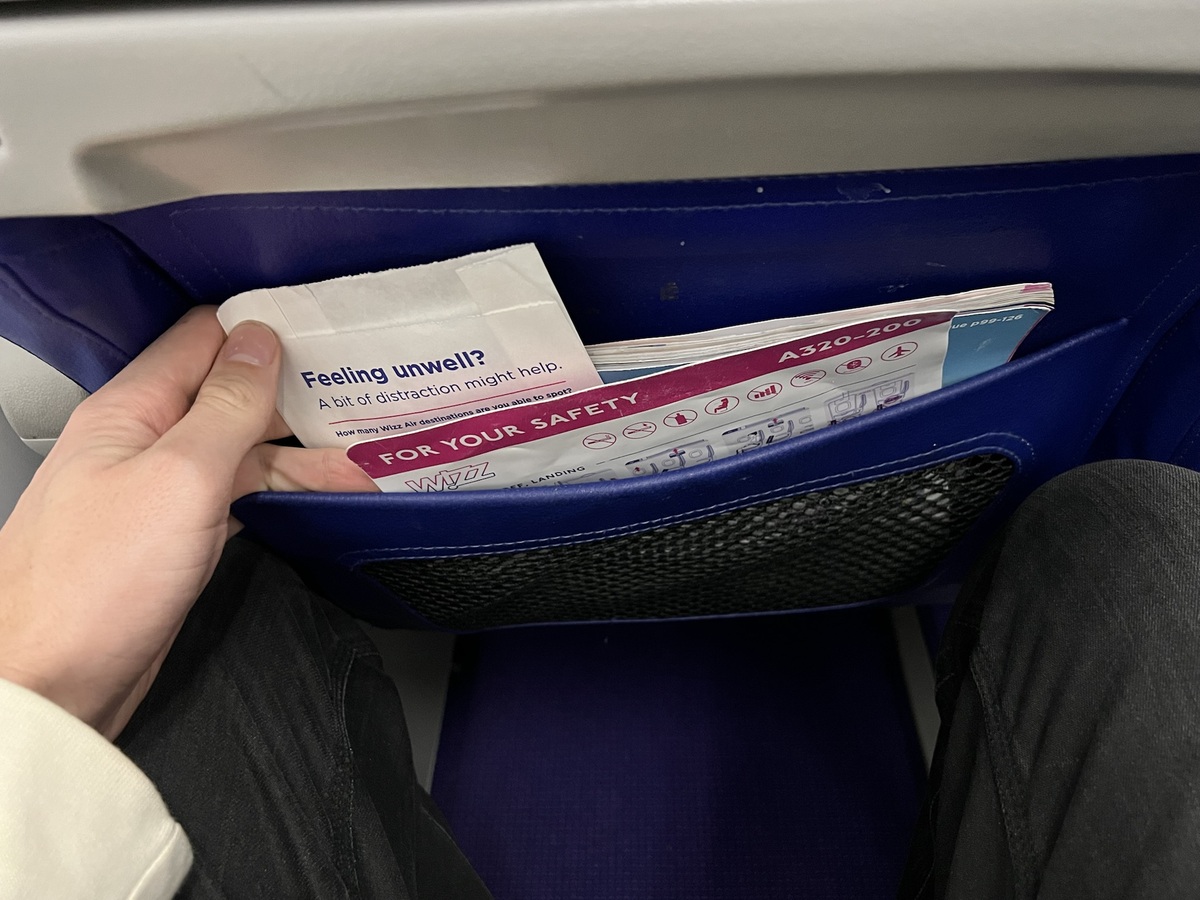 The in-flight magazine also outlines the buy-on-board dining options, which include meal deals for €7.50: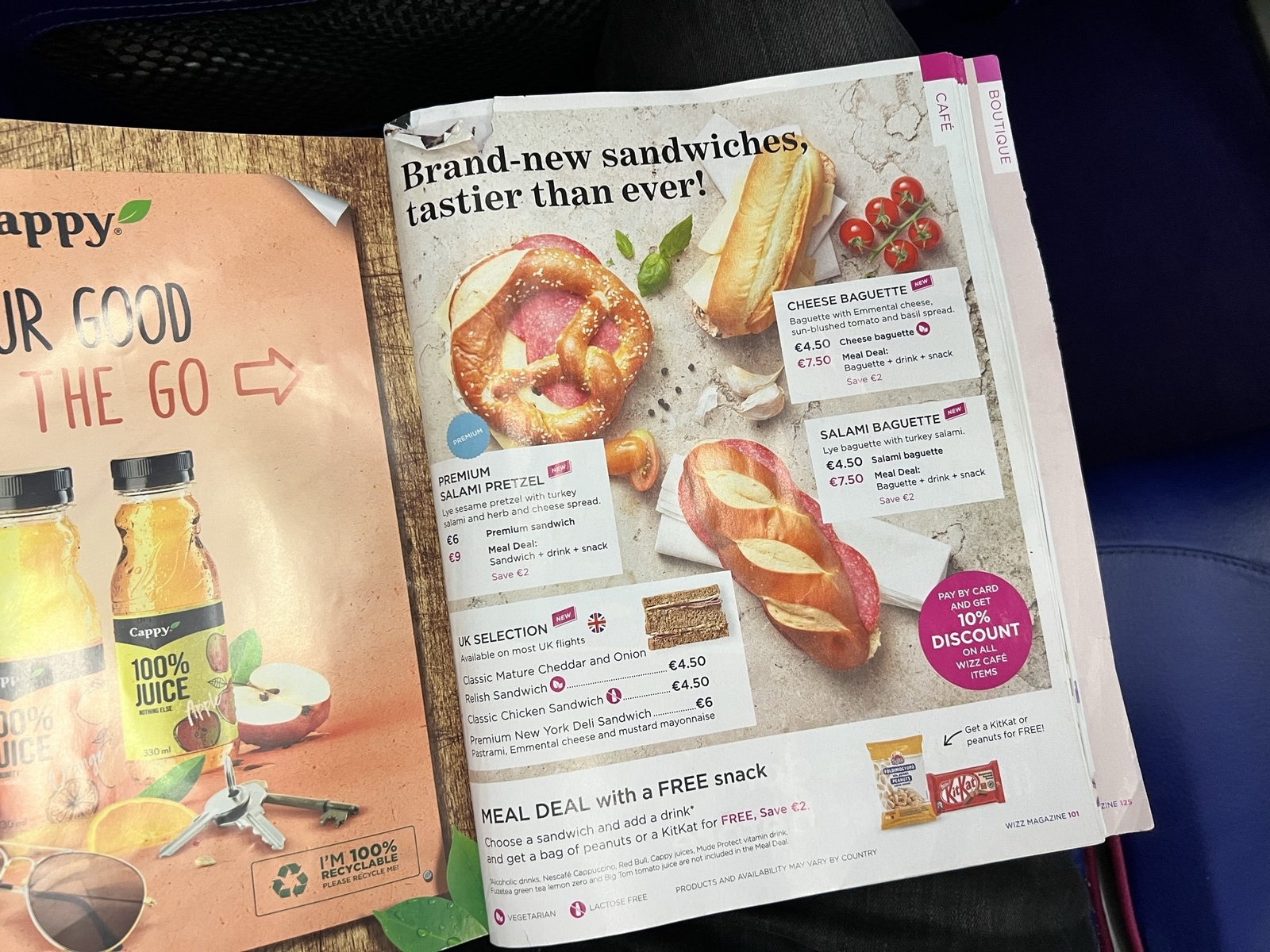 and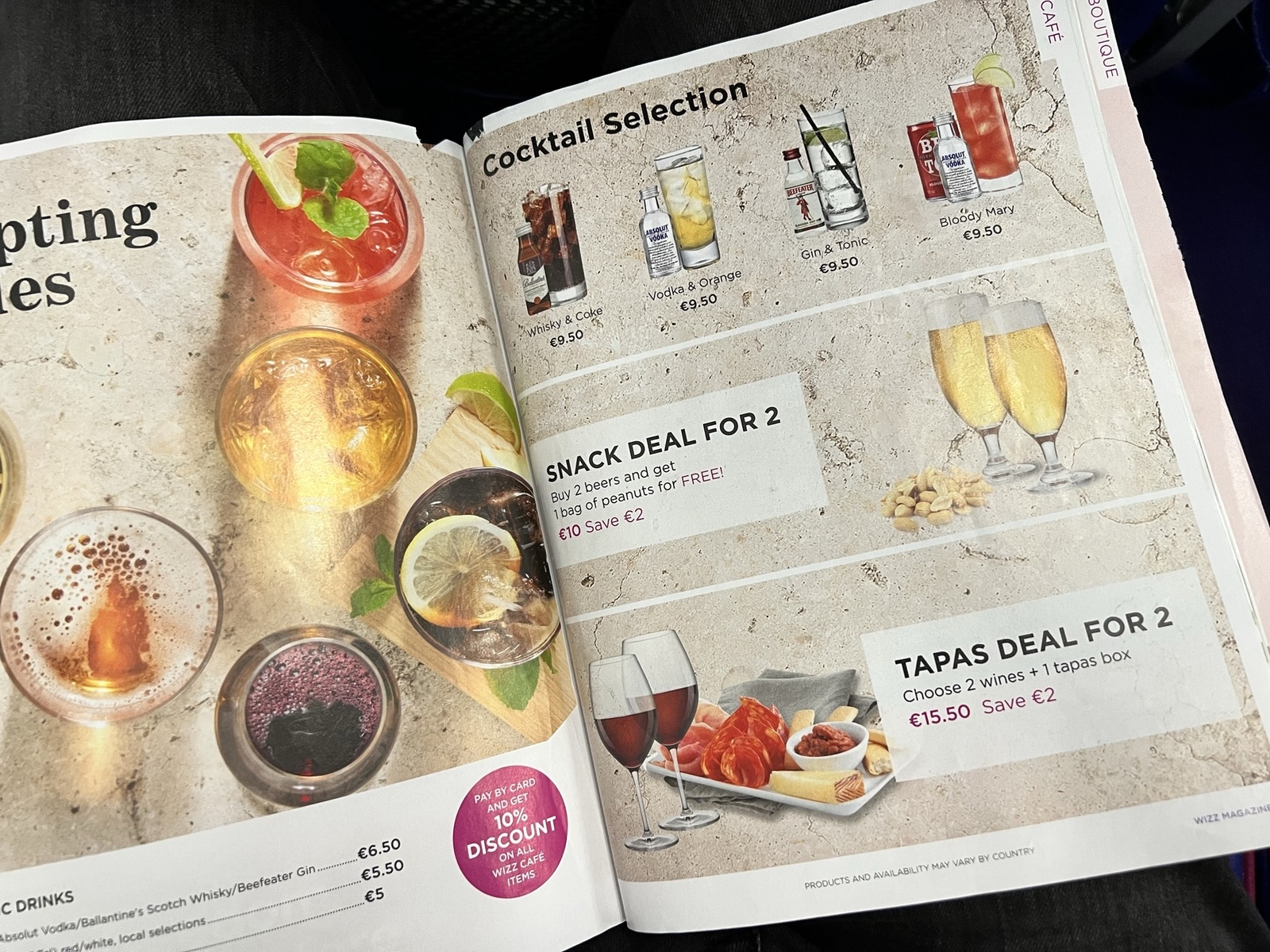 No hot food appeared to be on offer, not even a warmed panini. I can't review the food as HfP had banned me from buying anything in order to stick to the £1.79 total cost!
The tray table is fairly small and surprisingly highly placed, although I'm sure it suffices for the small amount of food available: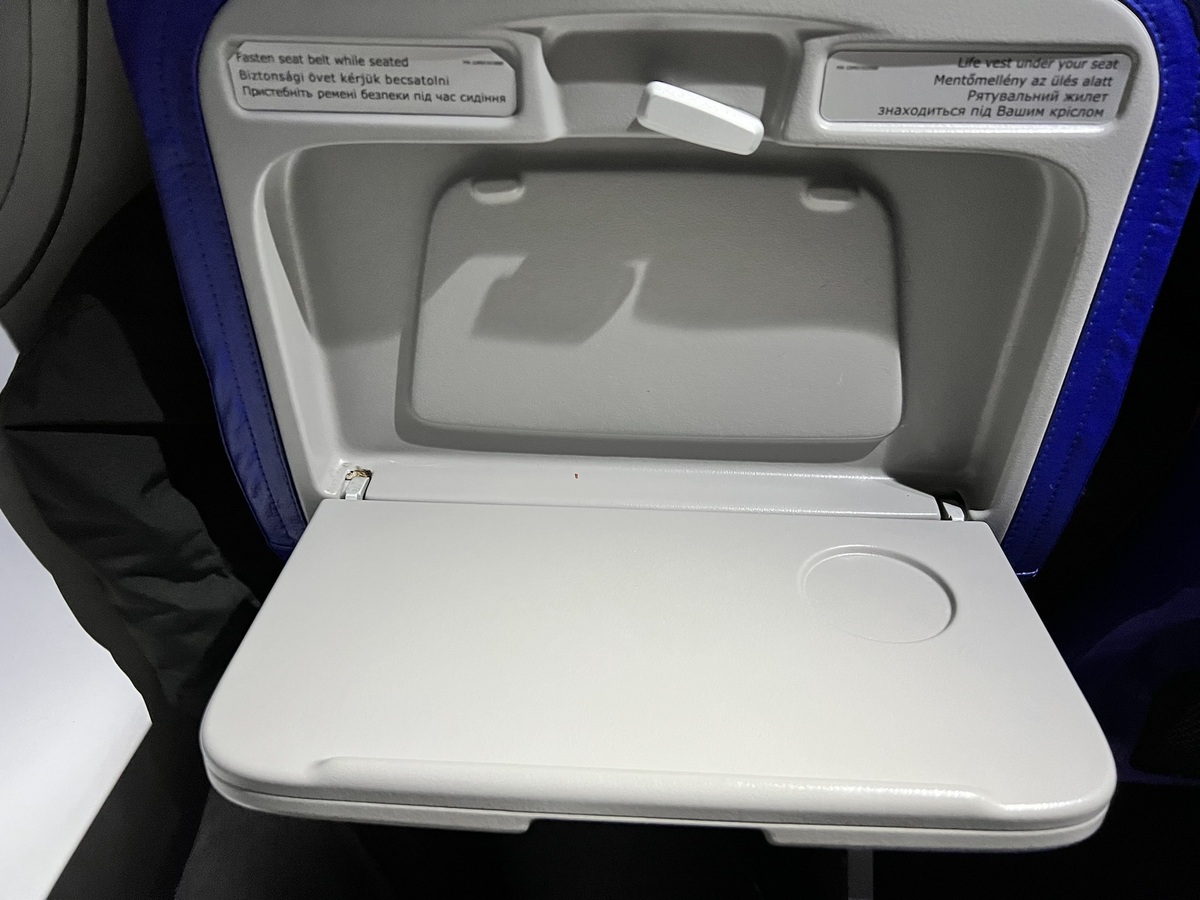 I am glad I did not have a passenger next to me, however. I have been on full Wizz Air flights in the past and the experience is very different.
On those flights, boarding queues were a nightmare and staff were VERY fussy about luggage size, forcing anyone who had more than they had booked to pay the chunky at-airport fee. This, followed by a jam-packed 180 seat aircraft, makes for a far less comfortable flight.
All in all, I managed to get a solid 2.5 hours of reading in on my flight and was only mildly disturbed by the nursery vibes coming from the large family a few rows behind me ….
Conclusion
My quiet flight was, I admit, not typical of Wizz Air, particularly during normal times.
For £1.79 it's hard to go wrong although, in reality, you are likely to pay much more. Without a larger cabin bag I was restricted to my Eastpak backpack and I ended up wearing the same clothes for my entire trip, bar a change in underwear. For any longer stays, or where you want a choice of outfits, you will have to pay significantly more for luggage – at least an extra £20 one-way.
Once you factor in all the extras you are probably spending just as much as you would flying a legacy airline such as British Airways, which lets you take a trolley bag on for free. Plus, you'll also benefit from any status benefits you have and the ability to collect Avios and tier points. These days, BA can be just as cheap (if not cheaper) than any low cost carrier.
That said, British Airways can learn a LOT from the slick in-app check-in and travel processes that both Wizz Air and easyJet have. You can't even check in properly within the BA app – you end up being diverted to the website and then need to restart the app to access your boarding pass.
Would I fly Wizz Air again? For the right price, absolutely, especially as Wizz is about to start 14 new routes from Gatwick. That said, the hassle of booking the ticket is enough to make me think twice. With Wizz Go, Wizz Priority, Wizz Flex …. there are so many different bundles it can get a little overwhelming. Sometimes, simpler is better.
Next stop …. I went from my £1.79 flight to one of the most luxurious hotels in Europe, indeed one of the very best I have visited anywhere. More to follow.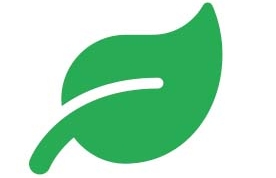 Head for Points made a financial contribution to the Woodland Trust as part of this trip. The Woodland Trust creates and manages forests in the UK in accordance with the Woodland Carbon Code.