Bits: Marriott drops Travel Packages, BA / Avianca partnership coming?, 6250 Avios via pet insurance
Links on Head for Points may pay us an affiliate commission. A list of partners is here.
News in brief:
Marriott to scrap 'Travel Package' redemptions next week
It appears that Marriott Bonvoy is scrapping its 'Travel Package' redemptions next week. An update to the programme terms and conditions online, now removed, said that packages will not be offered after 19th January.
A 'Travel Package' allows you to redeem a large chunk of Marriott Bonvoy points for a seven night hotel stay plus either 50,000 or 100,000 airline miles.
Here is the price list, taken from the Marriott website here:

Importantly, there was no obligation to use the airline miles in conjunction with the hotel booking. The miles were dropped into your frequent flyer account and you could do whatever you wanted with them, whenever you wanted.
Back in the old days, before Marriott bought Starwood and the programme was called Marriott Rewards, 'Travel Packages' were – slam dunk – the sweet spot. The savings you could make over booking a seven night hotel stay and swapping points for 50,000 or 100,000 miles were significant. The only snag was that, pre the Starwood acquisition, Marriott didn't really have many hotels where you would want to spend seven nights.
When Marriott Bonvoy launched, 'Travel Packages' were repriced and most of the value was removed. When peak and off-peak pricing launched, 'Travel Packages' staged a minor revival. Because the price was fixed irrespective of when you used it, there was some value if you redeemed it for seven 'peak' hotel nights.
Redeem off-peak, of course, and you were clearly out of the money. For example:
7 nights in a Category 8 hotel off-peak (one night free) = 70,000 x 6 = 420,000 Bonvoy points
100,000 Avios = 240,000 Bonvoy points
Total when purchased separately = 660,000 Bonvoy points
Alternatively:
Cost of a Category 8 travel package + 100,000 Avios = 750,000 Bonvoy points
This isn't why Marriott Bonvoy is scrapping the packages, however. It is scrapping them because from March, Marriott Bonvoy will move to revenue-based redemptions, with no category charts. With no category charts, you can't price travel packages.
It isn't clear what will happen to anyone with an unused 'Travel Package'. Marriott will, apparently, be making a formal announcement next week – it looks like it never intended to give advance notice of this change.
Is BA about to announce a partnership with Avianca?
It seems that British Airways may be gearing up to announce a codeshare deal with Latin American airline Avianca.
As pointed out by an eagle eyed reader, Avianca (under the now-merged TACA brand) appears in the dropdown box on ba.com when you input a frequent flyer number. Is this a new thing? We don't remember seeing it there before: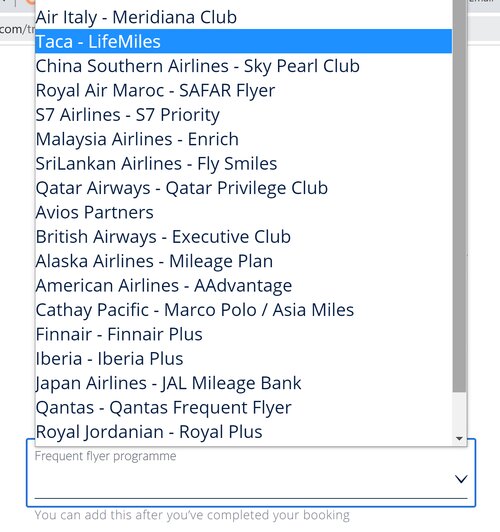 That said, Air Italy still appears in that box and that airline went bankrupt some time ago ….
A codeshare deal with Avianca would not be a surprise, of course. Iberia has had such a deal for many years, and there are gaps in the oneworld network to Latin America since LATAM quit the oneworld alliance in 2020.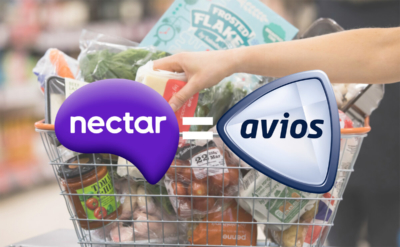 Get 6,250 Avios with Sainsbury's Bank pet insurance
Whilst I don't have this personally, it appears that some users of the Nectar app are getting a targetted offer of 10,000 Nectar points for taking out pet insurance by 28th February.
10,000 Nectar points converts, of course, into 6,250 Avios.
Policies are relatively cheap if you only have something small like a rabbit – under £10 per month. The points are promised after 60 days, although with previous pet insurance offers they have posted more quickly. You can cancel your policy at any time without penalty
As an extra benefit, you will earn double Nectar base points on all of your Sainsbury's shopping for as long as you keep your policy.
The Sainsbury's Bank pet insurance home page is here although you can only get the 10,000 Nectar points offer if it is showing in your Nectar app.