The new Expedia Rewards is here – what has changed?
Links on Head for Points may pay us an affiliate commission. A list of partners is here.
This article is sponsored by Expedia Rewards
On 1st February, Expedia made some major changes to their Expedia Rewards loyalty programme. We originally flagged these changes last year when they were announced, but now they are live, we want to take another look at what Expedia Rewards offers and how the new scheme works.
What is changing with Expedia Rewards?
The changes to Expedia Rewards, which take effect from 1st February, are outlined on the Expedia website here. Click the link at the end of the first paragraph for a summary of the key changes.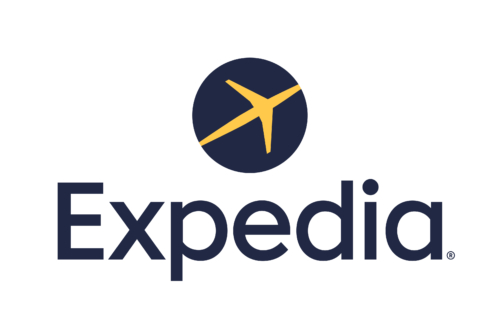 In a nutshell ….
The redemption rate is changing
The value of Expedia Rewards points have changed, which makes the program slightly easier to understand.
Previously, you could redeem 140 points for £1 of savings. From 1st February, this has changed so that 100 points are worth £1. In other words, 1 point = 1p – easy.
You may have noticed fewer points in your account on 31st January, but it is important to note that you didn't lose out, your existing value stays the same.
If you previously had 140 points (worth £1 in the old scheme) you have ended up with 100 points (worth £1 in the new scheme). This change does not affect the fundamental value of your points balance.
There are also changes to how you qualify for Silver and Gold status which – due to the impact of the status bonus – make comparing the old and new schemes even more complex.

How you earn Expedia Rewards points has changed too
The number of points you earn when you book via Expedia has also changed.
It's a bit of mix. The hotel, flight and hotel package and car hire rate have reduced slightly whilst the return has increased for flight-only bookings. In summary:
Hotels, flight and hotel packages, excursions and car hire:
Previously earned 2 points per £1 (1.4% return)
Now earn 1 point per £1 from 1st February (1% return)
Flights:
Previously earned 1 point per £5 (0.14% return)
The earning rate has not changed, but your return has improved to 0.2% now that you only need 100 points to save £1
You will continue to earn double base points when you book with the mobile app.
Status bonuses have gone up sharply to reward loyalty
Expedia Rewards is making it even easier to earn further points by increasing the bonus rate for its status tiers.
Previously, Silver members got a 10% status bonus whilst Gold members got a 30% bonus. This has now changed:
Silver members now get a 100% points bonus on hotels, flight and hotel packages, excursions and car hire, taking their total return to 2%
Gold members now get a 200% points bonus on hotels, flight and hotel packages, excursions and car hire, taking their total return to 3%.
However …. Silver and Gold members will no longer receive a status bonus on flight bookings.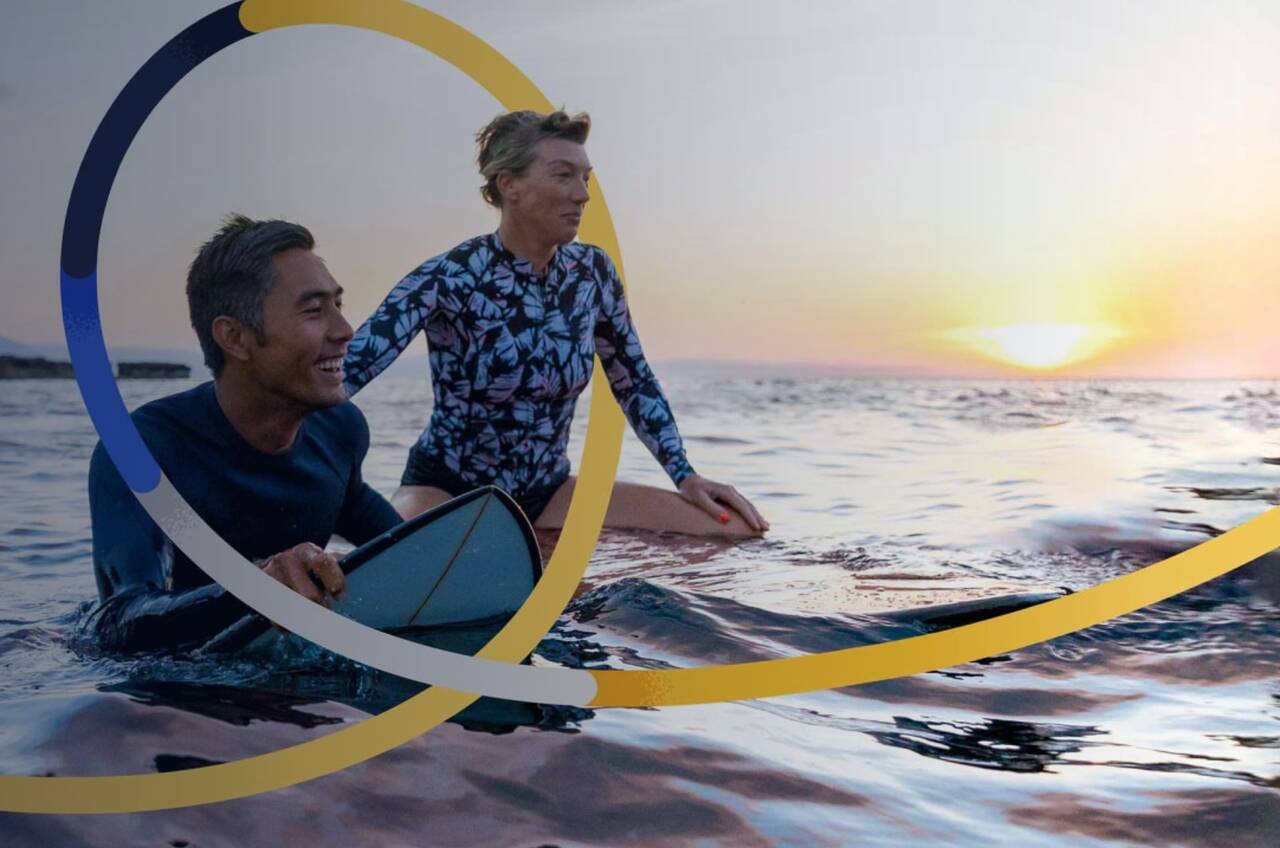 Earning Expedia Rewards status is now easier
Expedia Rewards is making it easier to earn Silver and Gold status, which should increase the number of members who receive status bonuses.
Previously, status was based on the number of hotel nights booked or your total spending with Expedia. It was tough to qualify on spend – Silver required £5,000 whilst Gold required £10,000.
Expedia Rewards status is now based on something called a 'Trip Element':
Silver status will require 10 Trip Elements in a calendar year
Gold status will require 25 Trip Elements in a calendar year
A 'Trip Element' is defined as:
a flight (one Trip Element per person on the booking)
a hotel stay (one Trip Element per room per night)
an accommodation rental (one Trip Element per night)
a car hire (one Trip Element per booking)
an activity/excursion of at least £20 (one Trip Element per £20+ ticket)
The move to 'trip elements' means you will now also be rewarded more for booking holiday packages and other ancillaries such as activities and events.
Here is an example of how you pick up a lot of Trip Elements from a single holiday (click to enlarge):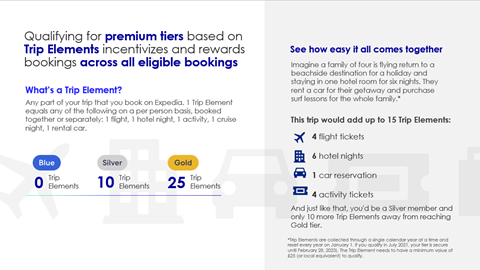 If you play it smart you could gain Silver or Gold status relatively easily. You could, for example, book activity tickets via Expedia as an easy way of picking up Trip Elements, given that you earn per ticket and not per booking. Buy tickets for two attractions for a family of four and that is eight Trip Elements which is almost enough on its own for Silver status.
Booking flights may also be an easy way of picking up Trip Elements easily. You WILL earn airline miles and status points when you book flights via Expedia – it makes no difference to booking directly with the airline.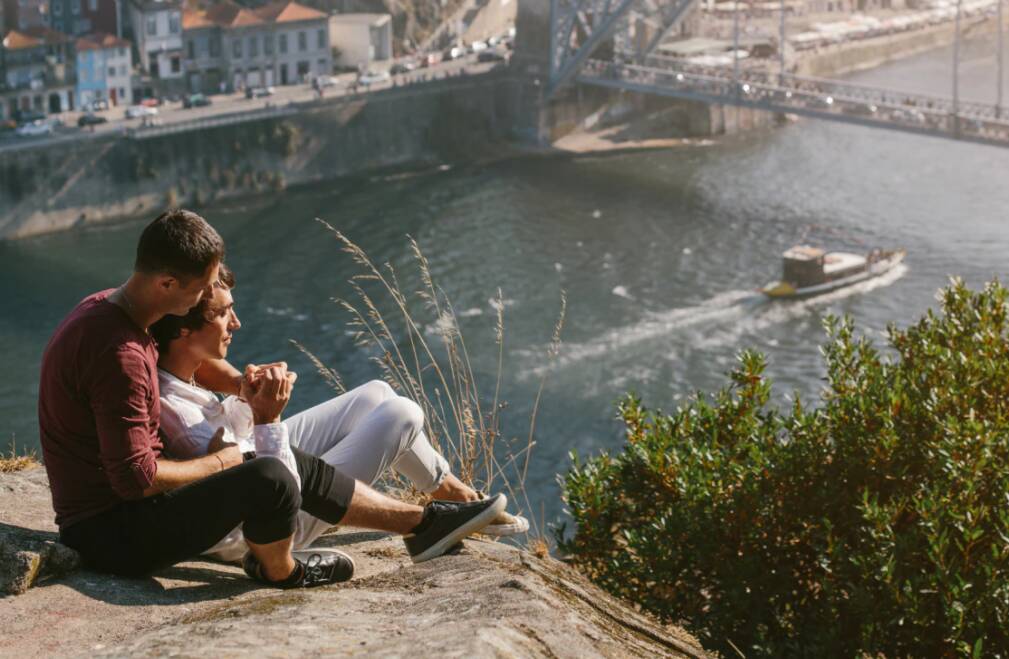 Status members continue to get VIP hotel benefits
ALL Expedia Rewards members benefit from savings with 'member' rates at selected hotels.
It is important to remember that booking hotels via Expedia will stop you earning hotel points and elite night credits as they are treated as third party bookings.
However, Expedia has negotiated VIP Access perks at over 10,000 hotels worldwide for Silver and Gold members – that's more properties than any chain of hotels. These could include free breakfast or free parking.
Gold members do especially well – free upgrades where available, guaranteed 2-hour late checkout and early checkin where available.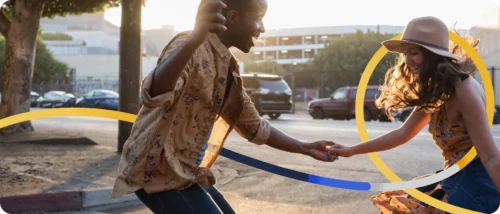 Conclusion
The biggest change in the new Expedia Rewards scheme is the change to the value of the points themselves. Moving to '100 points = £1' should make the value of your points balance easier to understand versus the previous arbitrary threshold.
The new scheme should also become more rewarding to existing Silver and Gold members, who should see their points earn rate increase with the new, higher status bonuses. A Gold member of Expedia Rewards will now receive 3% back on hotel bookings (4% if booking via the Expedia app).
The changes to the tier thresholds and the move to 'Trip Elements' will also be rewarding for anyone who uses Expedia for more than just hotel or flight bookings. Silver status should be within reach even if you just book a couple of activity tickets for a family holiday every year.
You can find out more about Expedia Rewards on its website here.