Review: flying to Oslo from Gatwick in Norse Atlantic Premium – from £149 return on a 787
Links on Head for Points may pay us an affiliate commission. A list of partners is here.
This is our review of Norse Atlantic's Premium cabin and service, when flying short haul from London Gatwick to Oslo.
Last Monday, we published Rhys's review of Norse Atlantic's inaugural flight from London Gatwick to New York JFK.
Using Norwegian's old fleet of (new) Boeing 787 aircraft, with the Norwegian seating, Norse is hoping to succeed on low cost long-haul where Norwegian failed.
There is a coda to this story though. Until it gets full UK registration, Norse is actually flying Oslo – Gatwick – New York JFK using 'fifth freedom' rights to sell tickets from London to New York.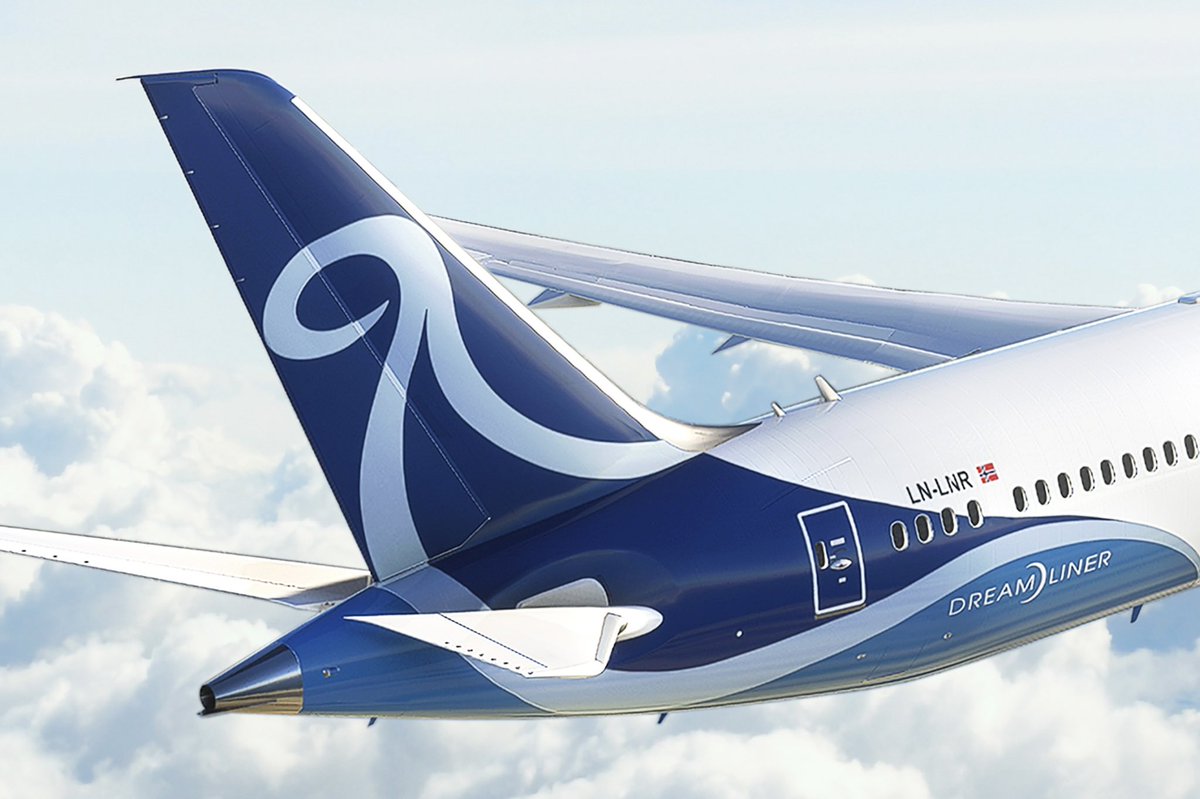 Whilst it isn't being heavily advertised, you can also buy tickets between Gatwick and Oslo. It is exceptional value in Premium. Ticket start from £88 one-way and £149 return from London if you don't take checked luggage, and you're getting well over 40 inches of legroom in a 2 x 3 x 2 cabin for that.
It is a l-o-n-g time since I was in Oslo and it has started to get interesting, especially with the new Munch and National Museums opening and the major leisure developments around the harbour. How could I resist?
Booking Norse Atlantic could be easier
As Rhys was on an organised press trip, he didn't have to book his own ticket. I did. It's messy. Let me count the ways:
the default currency of the flynorse.com website is US$, so you have to manually switch to Sterling (for clarity, your credit card is charged in GBP if you set the website to GBP – you don't pay any FX fees)
at no point are you told you are flying from Gatwick's South Terminal – even your ticket and boarding pass don't specify the terminal
the benefits shown whilst booking Premium between Gatwick and Oslo are totally wrong – you don't get two free meals, unsurprisingly
you need to enter your passport start and end dates in US date format, which is not made clear
there is no Norse Atlantic app
you can't check-in via your mobile and you can't save a boarding pass to Apple Wallet. You need to visit the desktop site via your phone browser, get the boarding pass to display and then take a screenshot which includes the bar code.
I couldn't compain though. Because I wasn't flexible on dates I ended up paying £236 return rather than the cheapest possible £149 return, but even that is an astonishingly low price for Premium.
I should add, since I posted the screenshot below on social media last week, that after I refused to pay £13 to select a seat in Premium, Norse allocated me this one: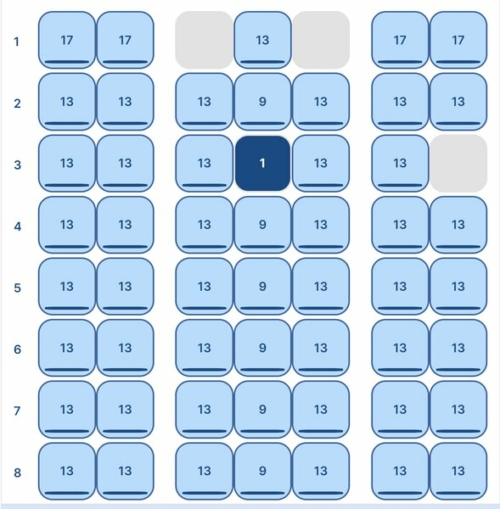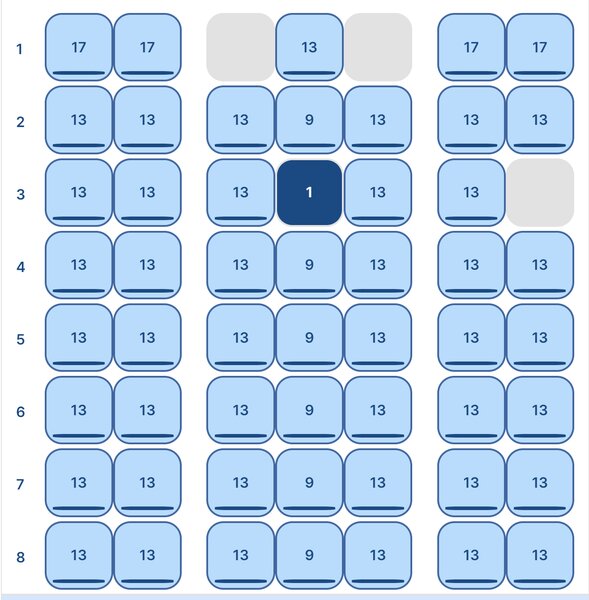 On the return, it gave me this seat: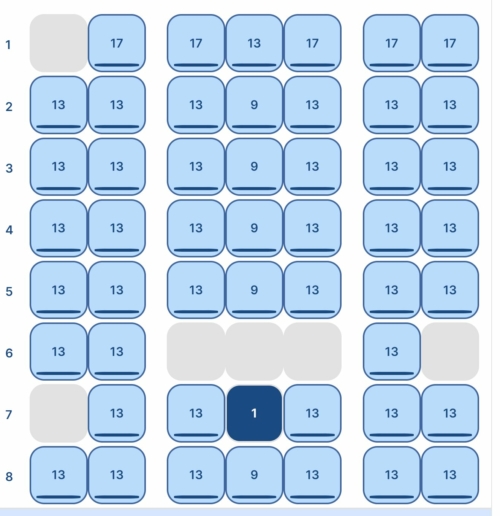 If that's not extracting the urine then I don't know what it.
To be clear, these screenshots show the full loading for my flights. Only four out of 56 seats were sold for the outbound and only seven out of 56 for the return – and one of those didn't show up.
Departure times
One thing to note is the flight times.
The flight TO Oslo is OK for a short break. You leave Gatwick at noon and land in Oslo at 3.20pm.
The return flight to London, however, departs at 9.20am. It lands in Gatwick at 10.40am. I'd be tempted to take the late afternoon British Airways flight instead and have another eight hours to sightsee, even if it does mean British Airways legroom …..
The flight
Because Rhys has just done a huge review of Norse Atlantic's Premium cabin I don't plan to repeat it.
However, I have to show you the legroom I had. Everyone gets this much legroom, irrespective of which row you're in. Remember that I am 6'2′: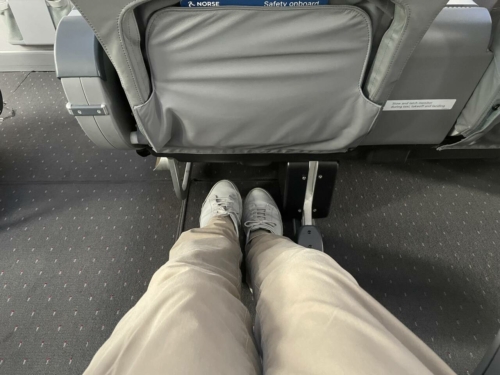 On the outbound there were just four of us in the 56 seat Premium cabin with no-one in rows 4-8 at all …..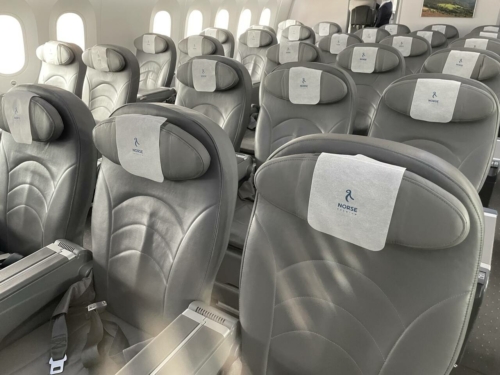 You don't get a meal although you are welcome to pay for a sandwich or hot item from the menu. You do get a free soft drink before take-off and a free alcoholic drink (from a limited selection) after take-off. I had a mini-bottle of white wine: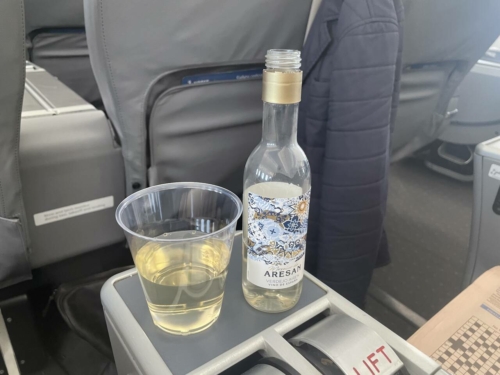 The crew are still in training mode. One tried to charge me for the wine before another crew member told her to stop. On the return flight, one of the other passengers tried to order a sandwich but apparently no fresh food had been loaded.
The IFE system is operable but Norse wasn't giving out the free headphones you get on a long-haul flight. I forgot to bring my own unfortunately.
The lack of wi-fi on these aircraft is frustrating. With so much space in Premium, along with a 90 minute cruise and no meal service, there is plenty of opportunity to get some work or personal admin done.
Arriving in Oslo
Oslo's airport is a thing of beauty, it has to be said. It was also very quiet, with literally no-one at passport control.
I was first off the aircraft, to be faced with my fourth grilling since Brexit about what the heck I was doing in [insert country name here] given my short 24 hour stay and the fact I was travelling alone with a laptop bag. With no EU work visa, any impression that I might be doing the 'wrong sort' of work (basically anything except meetings or trade shows, but rules vary by country) means I risk being sent home.
Having finally talked my way into the country, the £18 one-way price tag for the airport train got me into the mood for Norwegian pricing and I was on my way. Cheaper local trains are available as per the comments below.
I had found an exceptionally good way of slashing my hotel bill to – by Norwegian standards – virtually nothing. More on that soon ….
Conclusion
The Norse Atlantic Premium service between Gatwick and Oslo is, £ for £, the most luxurious way to fly intra-Europe at present.
Yes, you can get a fully flat bed between London and Madrid or London and Helsinki if you want, but those flights tend to be pricey. You also don't need a flat bed. Getting Norwegian Premium to Oslo and back for £149 return is an exceptional deal.
That said, remember that the return flight time is not necessarily ideal. You may be tempted to fly back on another airline and trade off the extra 8 inches of leg room vs British Airways Club Europe for another 10 hours in Oslo.