How I successfully applied for Global Entry to get fast track US immigration
Links on Head for Points may pay us an affiliate commission. A list of partners is here.
If you have ever been stuck in the queue at immigration at the US border and wondered if there is a better way, there is.
Called Global Entry, it is a Customs and Border Protection program that allows low-risk travellers to gain pre-approval and enjoy expedited clearance.

Instead of queueing to be seen by a border officer, you use special kiosks (see photo below) to scan your passport and fingerprints, or do facial recognition. You receive a receipt that you hand to an officer as you proceed to the baggage hall.
As everyone using Global Entry is pre-approved you can generally get through within five minutes or less; you're not stuck behind someone getting grilled for fifteen minutes. The program's apt strapline is "What are you waiting for?"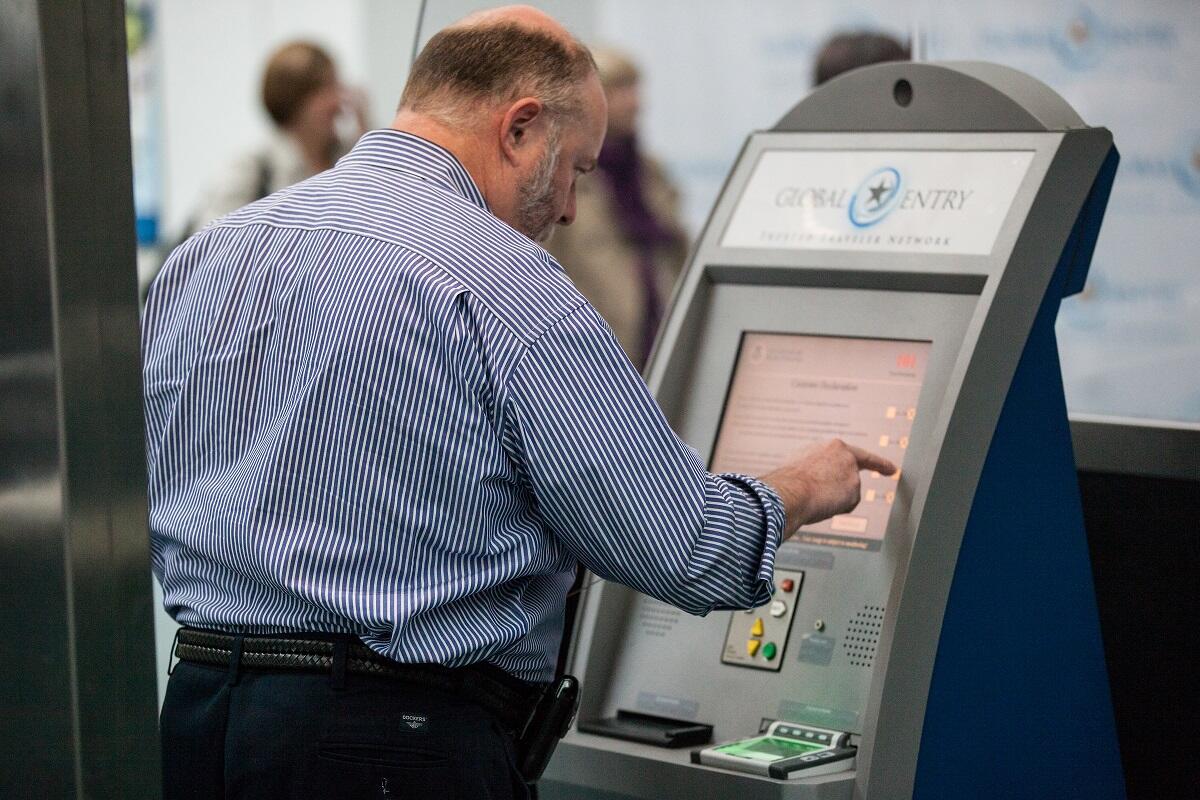 Who is eligible for Global Entry?
The good news is that citizens of 14 countries outside the US, including the UK, are allowed to apply for Global Entry.
I had been meaning to enrol in Global Entry since I joined Head for Points. Unfortunately, by the time I'd settled in the pandemic meant that there was little point until I could travel to the US again. Once the borders reopened in November last year I submitted my application.
I thought it would be interesting to document my experience applying for Global Entry from the UK.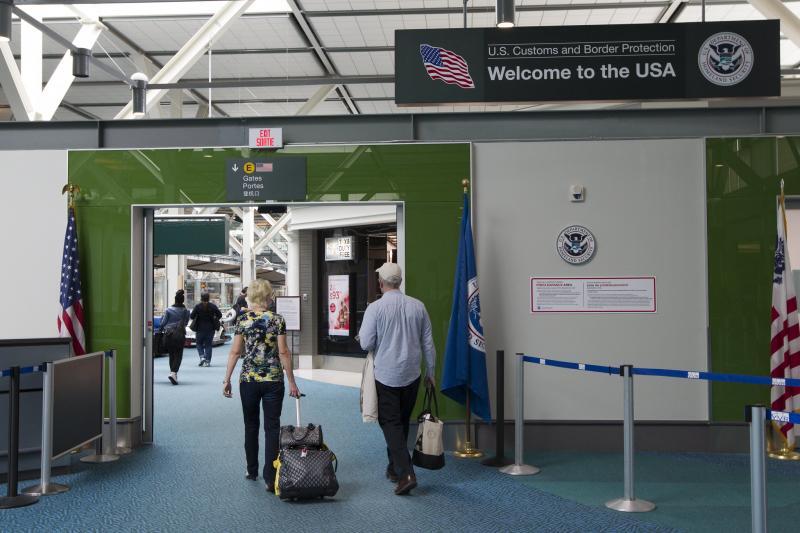 Step 1: UK background check for Global Entry
Before you can apply to US Customs and Border Protection you need a UK police report. You can get this from the gov.uk website here.
The UK background check takes about five minutes to complete. There are nine sections online, most with just a couple of questions. In addition to your passport and identity details, you'll be asked:
Whether you have a criminal record
If you've ever been restricted on travel to or from the UK
If you've broken UK customs law or regulations
You have to pay a £42 fee. Fortunately the Government takes Amex!
I submitted my background check on a Friday evening and was surprised to find that I had passed it when I woke the next morning. The official guidance is that it can take up to ten days.
If you are successful you are given a nine-digit check code so that you can register for the next stage with the US authorities. It is impossible to proceed without this code.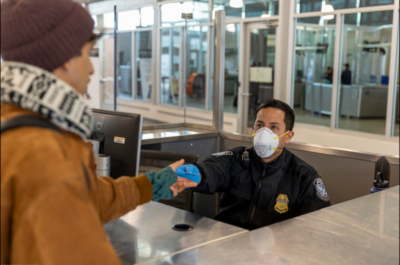 Step 2: US customs check for Global Entry
The US customs check is slightly more involved but should still only take around 15 minutes if you've got all the details to hand. The CBP Trusted Traveler website is here. You'll be asked:
Your employment history for the past five years
Your address history for the past five years
All the countries you've visited in the past five years
Your citizenship status and how many passports you have, as well as your driving licence
For your address and employment history you need to give an uninterrupted history. I was able to enter 'student' for part of the time.
I was prepared for a full-on deep dive but the travel history is surprisingly basic – I was only asked which countries I had travelled to. I didn't need to give specific dates for travel, unlike for my student visa application a few years back.
You'll be charged a $100 fee when you submit your application. You will find out if you've passed within two weeks.
Step 3: Be patient and wait ….
Don't expect to get conditional approval within the two week turnaround promised, however. Applications seem to be taking 2+ months. In my case I received conditional approval 104 days after submitting my application.
You should receive an email stating that your application has had a change in status. When you log back into the CBP portal you can check if you have been approved or denied (hopefully approved!):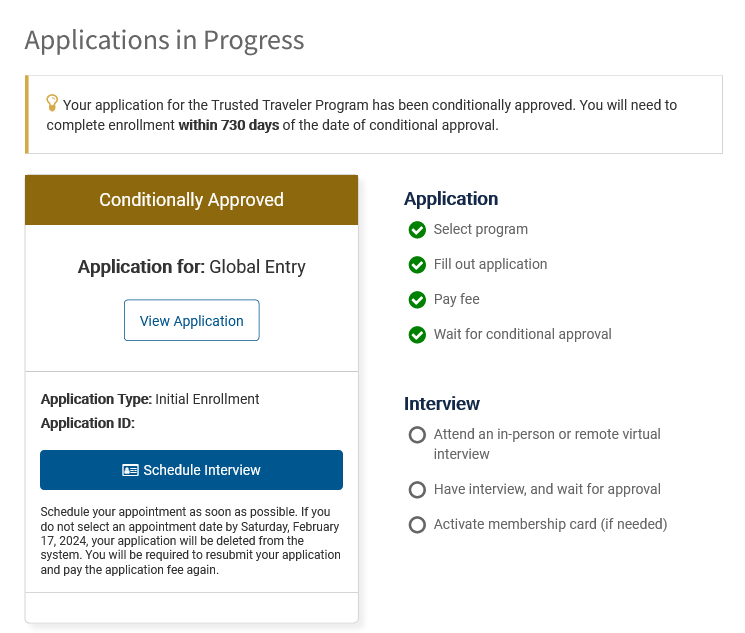 You will now be able to schedule your interview.
Step 4: Schedule your interview
Once you have conditional approval you are able to schedule an interview for the next time you arrive in the United States. The CBP has enrollment centres all over the US, including in the arrivals halls at major airports.
You must enrol within 730 days of conditional approval, which gives you plenty of time.
However, trying to schedule an interview isn't particularly easy. Appointments are booked months in advance – and some airports like New York JFK are fully booked for the foreseeable future.
The good news is that you don't need an appointment. The CBP offers a service called 'Enrolment on Arrival' that lets you walk-in for an interview when arriving at an international terminal or airport.
"Enrollment on Arrival (EoA) is CBP program that allows Global Entry applicants who are conditionally approved to complete their interviews upon arrival into the United States. The EoA program eliminates the need for a Global Entry applicant to schedule an interview at an enrollment center to complete the application process.
When landing in an international terminal follow the signage directing you to CBP officers who can complete your Global Entry interview during your admissibility inspection."
A full list of Enrolment on Arrival locations is on the CBP website here. It includes a number of international locations with their own US immigration facilities, such as Dublin and Shannon, plus some Canadian, Caribbean and Middle Eastern airports. All of the major US airports are listed.
Step 5: The interview
I chose to enrol on arrival given that scheduled interviews were booked out 6+ months in advance.
My first attempt was at Austin Bergstrom International Airport, on the Virgin Atlantic inaugural flight. There was just one problem: Austin is not set up for international arrivals. There is just one luggage carousel and just a handful of immigration officers.
With British Airways, Virgin Atlantic, Lufthansa, and KLM all arriving within hours of each other it is predictably busy, to the extent that the officers won't do any Global Entry interviews until they have processed all passengers. Frankly, I didn't have the time or the inclination to wait an hour or two for all the European flights after ours to arrive and disembark ….
My next opportunity was at New York JFK, arriving from the Norse Atlantic's inaugural flight from Gatwick. This proved to be much easier.
For your enrolment interview you still have to clear the normal immigration channels first. The good news is that this is hopefully the last time you'll be stuck in a queue to enter the United States!
Once you are called up by the immigration officer, make sure to tell them you would like to complete your 'enrolment on arrival' interview. They will direct you to the right place – in this case, a small office just behind the immigration desks.
They took my passport and told me to sit down. This room also appears to be where they do any further questioning. I saw one guy get an extremely thorough grilling.
After ten minutes or so I was called up by an officer who double checked my application – name, email address and main home address. I had moved since I lodged the application but this wasn't an issue as he simply updated it. This is important because they send you a physical card for land border crossings in the post – you don't need the card at airports.
I was given a leaflet outlining my responsibilities as a Global Entry holder, how long it would be valid and a reminder that, since my passport expires before the end of the 5-year validity date, I could come back in 2026 with my new passport. He also handed me my 'Known Traveler Number' that I need if I want to use TSA PreCheck domestically.
And that was it. Less of an interview and more of a rubber stamping exercise. I got an email confirmation a couple of hours later and logged in to the portal to see it approved: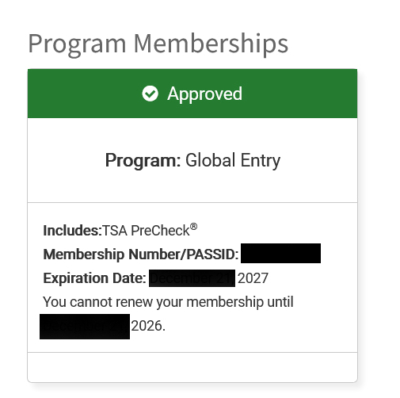 Conclusion
Now that my Global Entry has been approved I'll be able to waltz through immigration on future trips to the US. Having spent 2+ hours in queues there before I'm looking forward to a smoother experience.
At approximately £120 in total for a five year duration Global Entry seems well worth it for anyone who travels to the United States on a semi regular basis.
For anyone considering applying, there are a few other details that are worth knowing:
If you Global Entry application is rejected, you become ineligible for the ESTA visa waiver scheme. This means you would have to apply for a 'proper' visa. This is the biggest risk with the scheme.
Travel to certain countries automatically prevents you from getting Global Entry. This includes Iran, Iraq, North Korea, Sudan, Syria, Libya, Somalia and Yemen
Children are also eligible to get Global Entry, but have to go through the exact same process as adults.
Global Entry comes with TSA PreCheck benefits, which means you get expedited security at US airports when flying with participating airlines – virtually all the major ones.
If you have any questions, please ask in the comments below.