When Rhys met Michael O'Leary, CEO of Ryanair ….
Links on Head for Points may pay us an affiliate commission. A list of partners is here.
I was at the Andaz Liverpool Street hotel on Tuesday, where Ryanair's CEO Michael O'Leary was announcing its biggest winter schedule ever, with flights from 21 UK airports.
(By a crazy coincidence, I was also staying at Andaz Liverpool Street on Tuesday night to review it for HfP. This was arranged before the Ryanair invitation appeared.)
Arriving 20 minutes late (from a Ryanair flight…?!) O'Leary rushed into the room ripping off the bubble wrap from a blue-and-yellow sign heralding the announcement. He began telling his assistant to sort out his laptop whilst he handed out paper copies of the press release for journalists.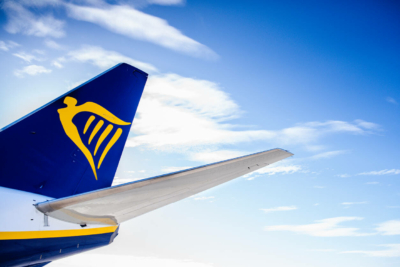 I have a lot of respect for Michael O'Leary. Most airline CEOs tiptoe around questions and harp PR platitudes. O'Leary doesn't. After mucking in to get the conference set up he immediately launched into an impressive, fast-talking 10-minute presentation, hammering home everything he wanted to cover. He's direct, gets the job done and gets on with it.
It's rare to be at a press conference that's interesting. O'Leary actually makes it fun, firing zingers left, right and centre.
So, whilst we wouldn't normally write about Ryanair, we thought it would be an interesting opportunity to write about what Michael O'Leary thinks about the issues plaguing the airline industry in 2022.
The Gospel According to Michael O'Leary
On Heathrow ….
Ryanair doesn't fly from Heathrow, and doesn't have any plans to. This didn't stop O'Leary from letting us know his views on the UK's biggest airport.
Branding it 'Hopeless Heathrow,' he admonished airport management for failing to fix their staffing issues and instead choosing to implement a passenger cap right through the summer and into the winter.
Of course, Heathrow wasn't the only airport that experienced delays at the start of the summer. Gatwick and Manchester were also affected, although O'Leary claims that both airports have now recruited to eliminate those problems and are operating much more smoothly.
Not so for Heathrow: instead of recruiting more staff, "the visionary way to serve your customers is to cap them".
He did offer a solution to the problem. Shareholders "could start by firing John Holland-Kaye [the CEO] out of Heathrow." I am genuinely shocked this hasn't happened already, to be honest.
On Her Majesty's Government ….
"Scrap Air Passenger Duty and scrap hard Brexit" is what O'Leary said when asked what his top priorities would be for the new Prime Minister. "Grant Shapps would be no loss to the transport sector" either ….
O'Leary takes a pragmatic view on Brexit. Whilst Brexit won't change, he did rail against "Johnson's hard Brexit" which has resulted in what he perceives as the most difficult labour market in Europe. "At least put in place some free trade agreement with Europe to allow UK and European citizens to move to and from Europe to work …. do a Brexit deal that makes sense for UK consumers and the UK economy."
The Civil Aviation Authority wasn't spared either. "What have the CAA ever done for us?" O'Leary's view is that the CAA is fundamentally powerless – although "I wouldn't give the CAA any more power, I would ban them."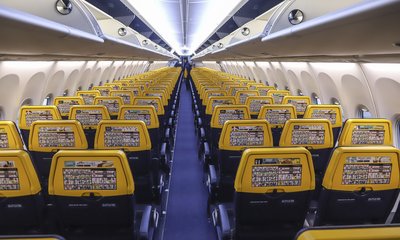 On a recession ….
The 'R' word was at the tip of everyone's tongues, although O'Leary was remarkably bullish on the subject. "We will grow stronger in a recession, as we have in every other recession before."
Instead of cancelling holidays, O'Leary sees passengers trading down to cheaper carriers, which inevitably means flying Ryanair. "It's BA and easyJet that will struggle."
Fears of cratering demand and increased oil prices have meant many airlines are reducing schedules. Ryanair, meanwhile, is increasing them, and is hoping to mop up all the demand left on the table. Wizz Air, for example, is trimming its schedules by 25% because it failed to hedge its fuel costs.
Ryanair has hedged 90% of its fuel requirements to March 2023 at around $63/barrel and 40% at ~$93/barrel until March 2024. Whilst Ryanair's average airfare will rise in the single digits over the next 3-4 years the airline will continue, claims O'Leary, to grow to 225 million passengers in 2025, from around 166 million this year.
Ryanair is also getting good deals from regional airports, where there is a golden opportunity "replacing aircraft and capacity that has disappeared from their airports as a result of covid or the financial collapse of airlines."
Overall, he predicts that European aviation in 2023-2024 will lag pre-covid numbers but that Ryanair will be bigger. That's not a hard target to achieve given that the airline is already opearting at 115% of 2019 capacity this year. "I've never tempered a growth plan in my life – it's full steam ahead."
On Boeing ….
Ryanair's growth will depend on the arrival of aircraft it has ordered, however. The airline has a total of 210 737MAX on order, which it will use to replace and expand its network. The planes will deliver massive savings, as they can take eight more passengers than the older 737s whilst being 16% more fuel efficient.
The only question is whether Ryanair gets them on schedule with just over 50 due to arrive this winter. Right now, O'Leary thinks the jury is out on whether Boeing can deliver. "You'll get more excuses than aircraft deliveries [from Boeing] this winter."
He says "Boeing are running around in fucking denial," with surplus engines and surplus wings waiting for aircraft on the final assembly line to move out. He places the blame firmly on Boeing's mismanagement of the program: "it's not supply chain issues, it's bad management in Seattle."
On Ryanair ….
Of course, his main reason for being in London was to trumpet Ryanair's winter schedules.
With flights from 21 airports, it will be Ryanair's biggest winter schedule ever, with five new bases opening including Belfast. In total, Ryanair will operate over 2,000 routes from October to March, with fares starting from £29.99.
"The era of low fares is not over but the £9.99 fares, really cheap and cheerful fares, are over for a couple of years."