Review: Wyndham Grand Residences Costa Del Sol, a new 'adults only' luxury apartment complex
Links on Head for Points may pay us an affiliate commission. A list of partners is here.
This is our review of Wyndham Grand Residences Costa del Sol.
Whilst Wyndham is the largest hotel franchiser in the world and has a significant presence in the US, it is lesser known in the UK. Wyndham has just 68 hotels in the UK that trade under the following brands:
Days Inn (often found at motorway service stations)
Ramada (including Ramada Encore, Ramada Plaza and Ramada Resort)
Trademark (a new 'soft' brand – contains Trafford Hall in Manchester and Staindrop Lodge in Sheffield)
Wyndham
We have not historically worked with Wyndham, so when we were offered the chance to see the new 'adults only' apartments at the Wyndham Grand Costa del Sol resort we thought it was worth a look. Whilst the resort provided my stay, HfP paid for all of its other costs as usual.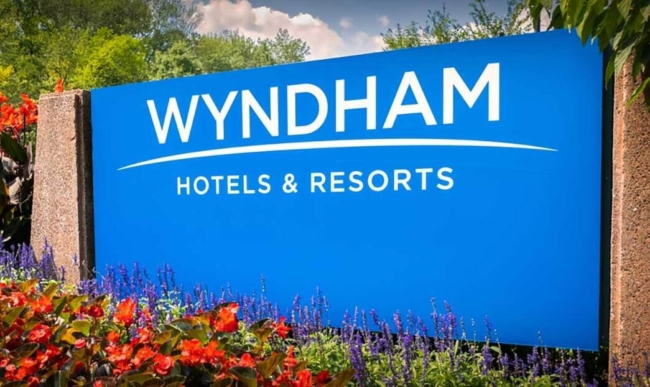 This review is for an adults-only two bedroom suite accommodation at Wyndham Grand Residences Costa del Sol.
My two-bed suite is available to book at bookaresidence.com, a site which offers apartments with the comfort and space of private, self-catering accommodation combined with the services of a hotel.
Location
Wyndham Grand Residences @ Wyndham Costa del Sol is situated, unsurprisingly, on the Costa del Sol, between Malaga and Marbella, and just outside the town of Fuengirola. The resort is a 30-minute easy drive or taxi ride from Malaga Airport.
Fuengirola beachfront isn't the prettiest place on earth, although if a pint of Guinness and a full English breakfast is your bag, you are spoilt for choice. The town behind the beachfront façade has a bit more charm to it and some decent tapas in Plaza de los Chinorros. Malaga and Marbella, however, are well worth the visit and the pretty town of Mijas is less than 20 minutes' drive away.
Wyndham Grand Residences is part of the larger Wyndham Costa del Sol resort, which sprawls across two hillsides. It comprises of a range of accommodation, split between the Ramada, Wyndham and Wyndham Grand brands. The full resort is huge, with a number of restaurants, bars, shops and even a riding stables spread within its well-kept grounds. It is sizeable and hilly enough to warrant a small train that runs every hour with stops around the resort.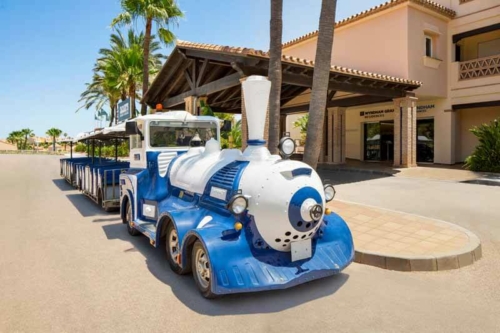 Whilst it's a rather steep on the way back, you can walk to the beach from the resort. The beach itself is nice enough, but backs onto the main coastal highway in places, so is worth walking along the beach to find a quieter spot. There are underpasses dotted along the road that will take you safely under the highway to the beach.
Check-in and arrivals
We checked in at the main Wyndham Grand Residences reception area, although our accommodation was in the adults-only section, situated a little further up the hillside in a standalone complex with its own pools and fitness centre.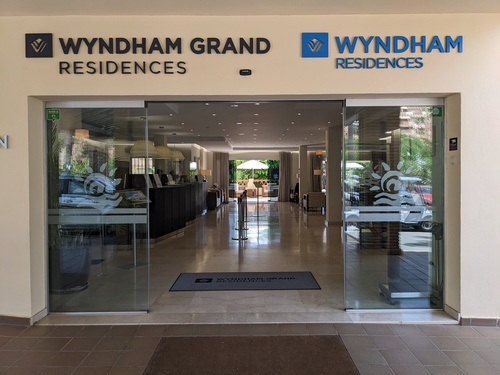 Reception was busy and we did have to queue for a little while, but the queue was well managed. There were three check-in desks open and a further two customer service desks for property / timeshare owners. The gentleman that checked us in was helpful and efficient and he clearly explained how the resort worked.
Our room wasn't ready (we were there before check-in time) but we were shown to a poolside restaurant and given a complimentary glass of cava whilst we waited, which was very pleasant.
Accommodation
Once our suite was ready, we were taken by golf cart up to Wyndham Grand Residences adults-only accommodation, although it was a relatively short walk away. This is a very recent addition to the resort and very much is the jewel in its crown.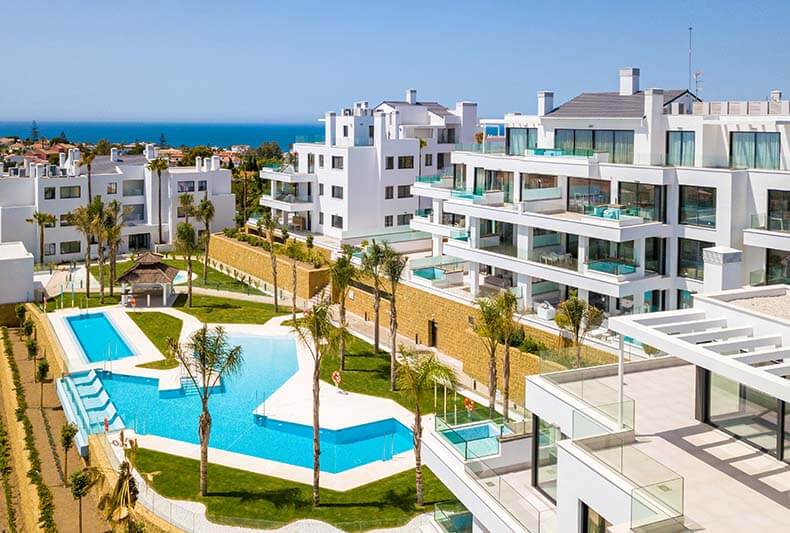 Modern, ice-white apartments, each with a private plunge pool, overlook the whole resort and are markedly different in style to the more traditional terracotta-coloured buildings that make up the remainder of the accommodation.
The golf buggy was parked in a private basement parking garage and a lift took us to our suite's floor.
I think it's important to point out that whilst it is called a suite, the accommodation is very much a self-contained apartment, with a fully functioning kitchen and living area, alongside two ensuite bedrooms and an extra washroom.
These apartments have only been open to guests for just over a year, and they felt brand-spanking new.
Bedrooms
Both bedrooms aren't huge, but a perfectly useable size, with large king-size beds and large picture windows.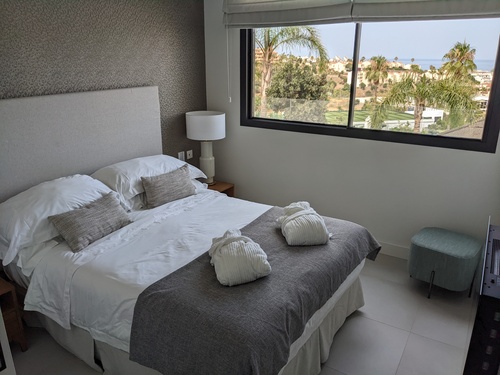 The master bedroom looks out over the patio and resort towards the sea, whilst the second bedroom has a less exciting view towards the side patio and some other apartments.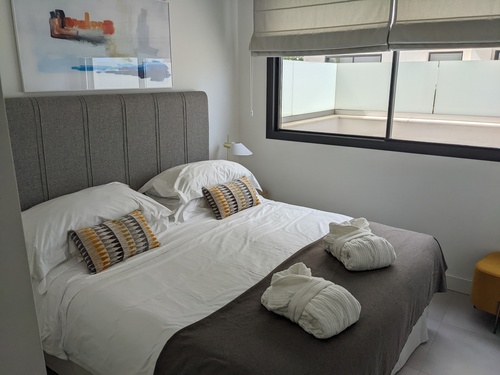 Mattresses and bedlinens were incredibly comfortable with excellent pillows. The linens were clean but could have done with an iron. It sounds pernickety, but I do feel that first impressions count for 5* accommodation and as you can see from the images, they look a little like I've just made the bed myself (which I promise I haven't)! However, this does not take away from the fact that the apartment was spotlessly clean and very well presented overall.
Both bedrooms had blinds and electronic black-out shutters. Combined with the lovely beds and the absence of a toddler, meant I slept exceptionally well during my stay.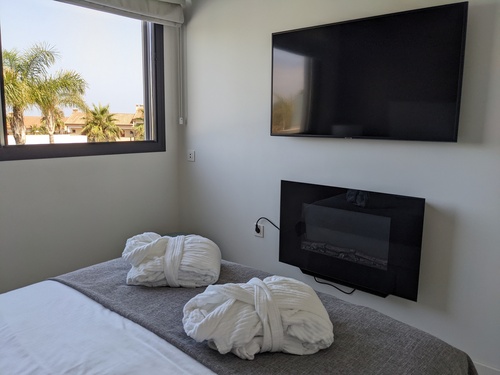 The bedrooms both had wardrobes, with the master bedroom having plenty of space for storing suitcases as well as clothes, and each room had a large wall-fixed tv. The master bedroom also had a wall-mounted electric fire, but don't let this conjure images of a 1970s sitting room – this electric fire was a sleek, LED-lit fixture and as contemporary as the rest of the apartment. As the weather was 32°C, I can't say I actually tried the fire, but it looked great.
Bathrooms
The master ensuite had a large bath, complete with whirlpool bath and a strong shower. I liked the storage unit under the sink and found it very useful for storing make-up and toiletries. There is no standalone shower, unfortunately – you are stuck with an 'over the bath' fitting.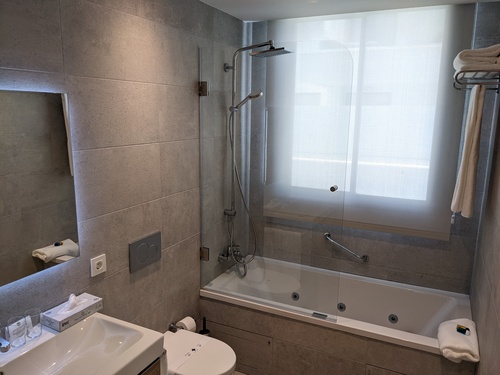 The toiletries provided by the resort were CLC World branded and consisted of soap, shower gel, shampoo, a hair covering, dental kit and sewing kit. They weren't the highest quality, but useful if you'd left something at home.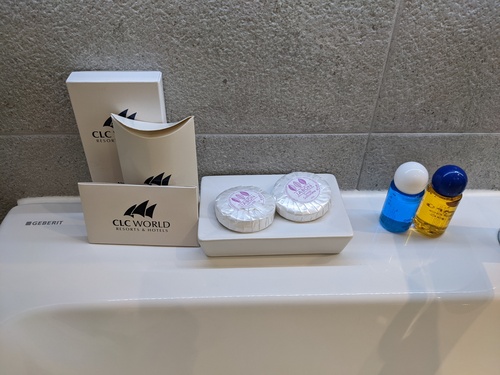 The second bathroom had a shower rather than a bath so was smaller, but was still sizable. There was also a small washroom with toilet and sink.
Kitchen
What impressed me throughout the apartment was the quality of everything, from the fixtures and fittings through to the glassware in the kitchen.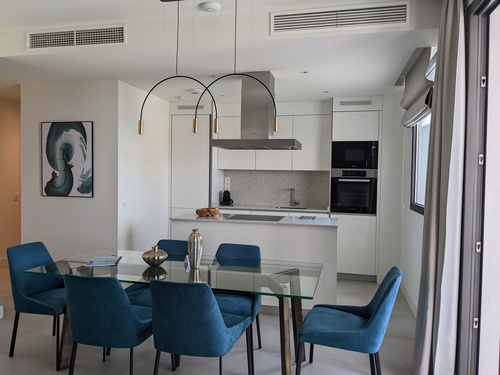 The kitchen was fitted with Miele oven, hob, and dishwasher, all of which looked barely used.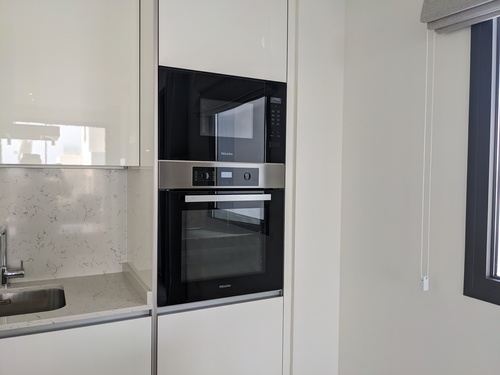 Everything you would have needed for a week's stay was provided such as crockery, cooking utensils and cutlery, but also additional gadgets like a juicer and a Nespresso machine.
Living / dining room
The living room was bright and open, with views across the huge balcony to the sea from two angles. A glass dining table seating six six separated the kitchen area from the living room section and had plush teal velvet chairs and an eye-catching light fixture.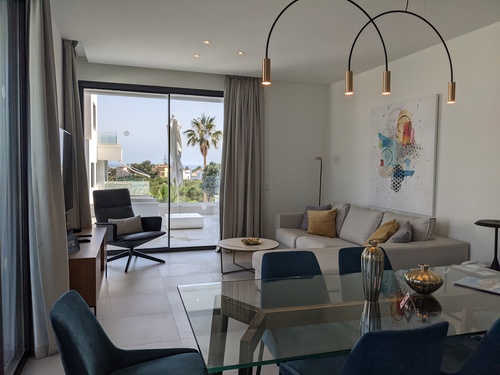 The living area had a very comfy L-shaped sofa looking towards the Samsung 65″ Ultra HD 4k Smart TV, set up with streaming providers like Netflix. A PlayStation 4 and additional speakers were also provided.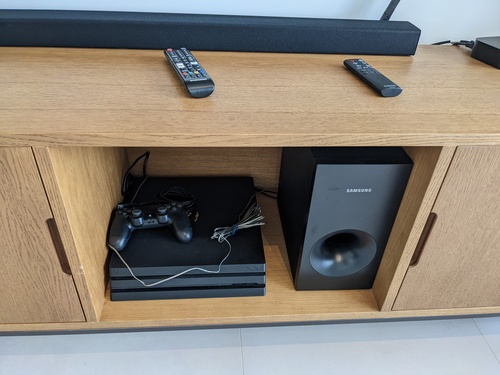 The suite has air conditioning throughout, with a high-tech control panel in the sitting room and bedrooms. I would say that the suite would have benefitted from a how-to guide for the AC, as the control panels weren't particularly easy to use, and we struggled to cool the bedrooms at times.
Outside area
All the apartments in Wyndham Grand Residences adults-only accommodation come with large terraces. However, because of the placement of our apartment in the corner of the block, our terrace was approximately three times the size of the others.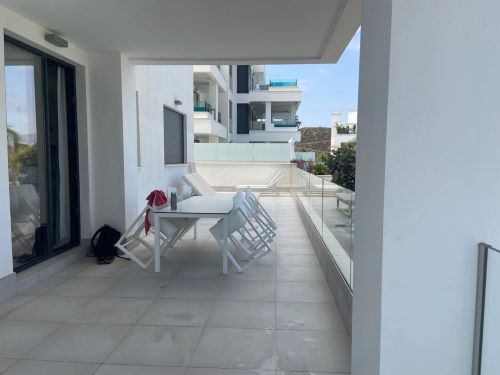 Wrapping around three sides of the apartment, the terrace received plenty of sunshine and came complete with a sofa lounge set, a large dining area and several sun loungers. However, the star of the show was, of course, the private plunge pool.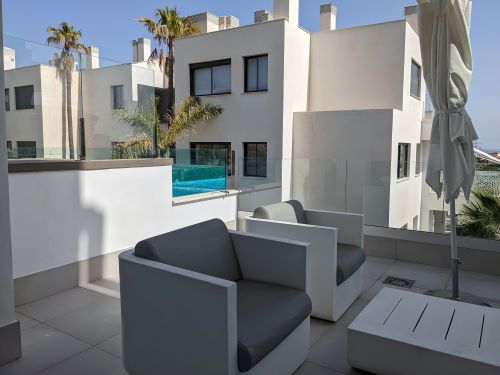 Each suite in Wyndham Grand Residences has a private pool and it really does elevate the accommodation. The pool wasn't heated so was a little cool, but it was perfect to dip into after a bit of sunbathing.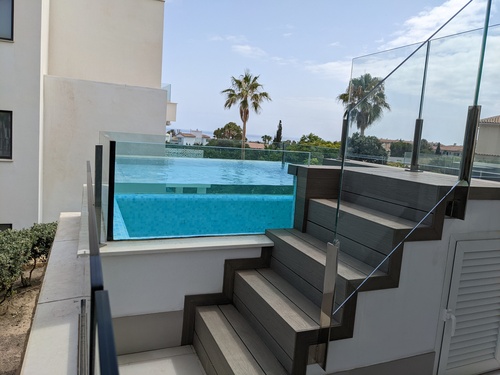 The views from the terrace are stunning, with hillsides running to the sea ahead, and the manicured lawns and pools of the apartments below.
Pool and fitness centre
There are pools dotted throughout the Wyndham Costa del Sol resort, each attached to a section of accommodation, but it's no stretch to say that the Wyndham Grand Residences adults-only pool is by far the most attractive.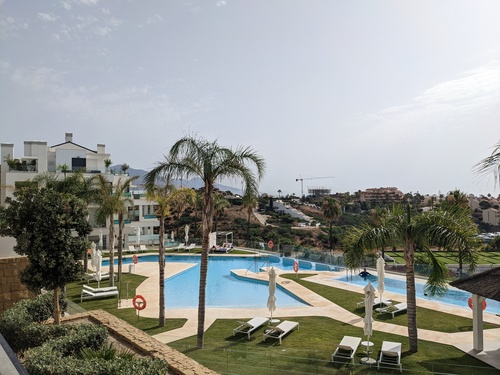 The pool is in a funny three-pronged shape, designed to make the most of the space and sun, with one infinity edge overlooking the resort valley. Lined along this edge were in-pool loungers – a lovely spot to enjoy the views and soak up some sun.
There was a second rectangular pool which I assume was for swimming laps and a small, shallow children's pool.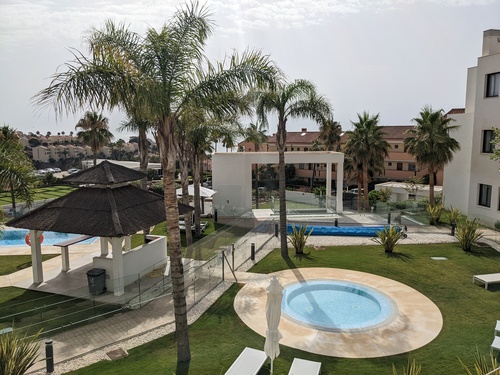 There is no bar or service at the pool, although there is a lifeguard, and there were fridges to store any food and drink you might want to bring with you.
There were plenty of sun-loungers and umbrellas dotted about and although the complex was relatively busy, the pool area didn't feel crowded or cramped. The pool was refreshingly cool, although I understand it is heated in colder months.
Facing the pool area is a small fitness centre.
Food and drink
I was staying at Wyndham Grand Residences on a half-board basis. As I was just visiting for a couple of days, this was the perfect set-up – breakfast and dinner taken care of, with use of the suite kitchen when we needed lunch or snacks.
All meals take place in the Safari restaurant. This is located in a separate part of the resort to Wyndham Grand Residences adults-only accommodation, by the Wyndham Grand reception, but was only a short stroll away.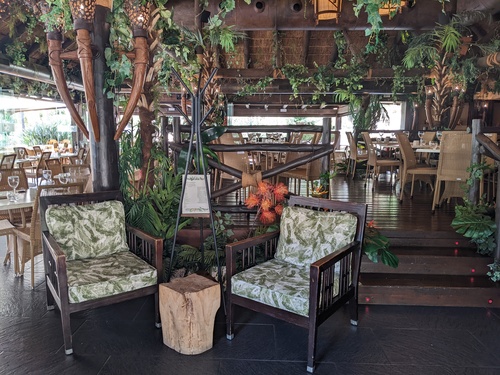 Although called Safari, the restaurant appears to have a jungle theme, but despite not being much of a fan of themed restaurants myself, I found it rather charming and quirky rather than tacky. The inside area is draped in jungle creepers, plants, trees and flowers under what seems to be a straw roof. The outside area isn't themed however and is more of a standard poolside restaurant.
The staff in the restaurant were friendly and efficient throughout our stay, but the food at dinner was a mixed bag. The starters were very good, and we ordered the calamari and prawns on several occasions.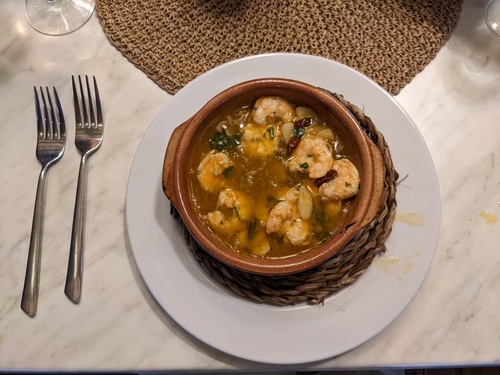 Some of the mains were also good, with the standout favourite being the seafood paella, but the pastas were unexciting and vegetarian options were a bit on the bland side.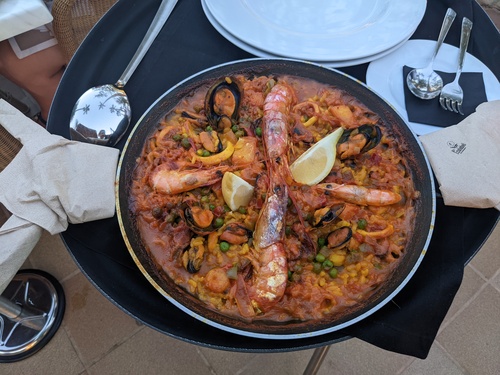 Half-board guests have short version of the main menu, and the more expensive items like sirloin steak are not included on this menu. Whilst overall this makes sense, I found the fact there was only one option for dessert (ice cream) a bit odd and unnecessary.
Breakfast, however, was excellent.
There were plenty of options for hot and cold meals and I liked the pretty layout of the cereals and pastries.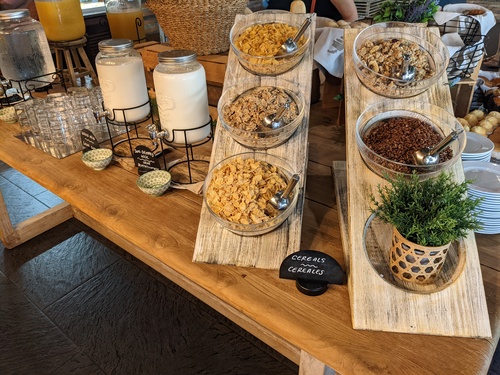 There were nice touches like fresh smoothies and from a practical perspective, the chilled food was well-covered and kept cool. This shouldn't impress me, but some hotels fail to get this right.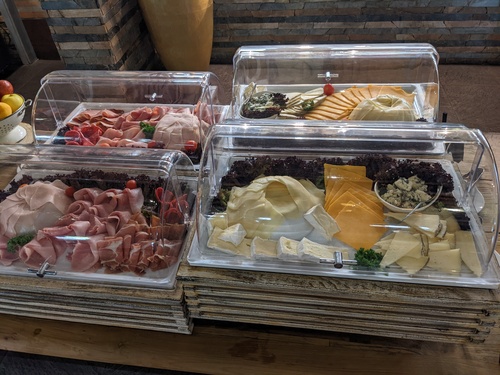 There are a number of other restaurants within the resort, such as an American diner style restaurant called 'Beak and Trotter', and an up-scale Italian restaurant called Mediterraneo. Our stay was too short to eat at them, although I had a lovely cocktail at Beak and Trotter.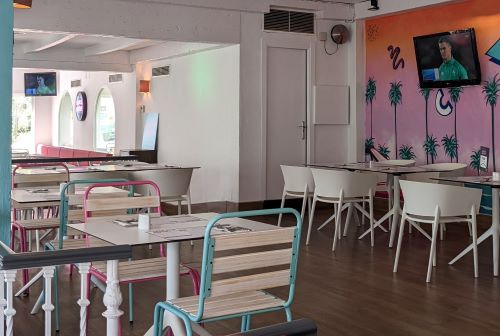 Other resort amenities
This is quite a long review, so I'm going to condense the list of amenities across the resort into a list:
Two small shops for basic groceries
Four restaurants and a café
Four bars
Football
Archery
Mini golf
Horse riding
Basketball
Fitness centres
As there is a second set of Wyndham Grand accommodation, you can also access another pool. Whilst it isn't as impressive as the Wyndham Grand Residences pool, it has a bar that serves drinks and snacks next to it, which is a bonus.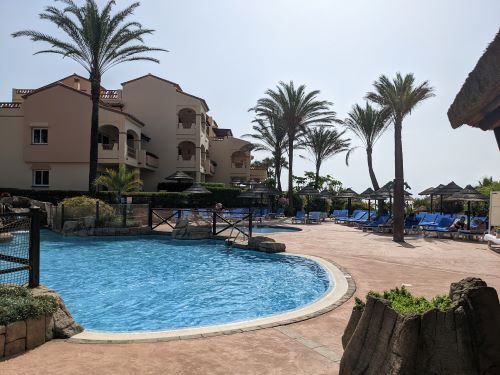 There is a free supervised kids club for ages 4-11. I had a quick look in and the kids club areas were new and well equipped.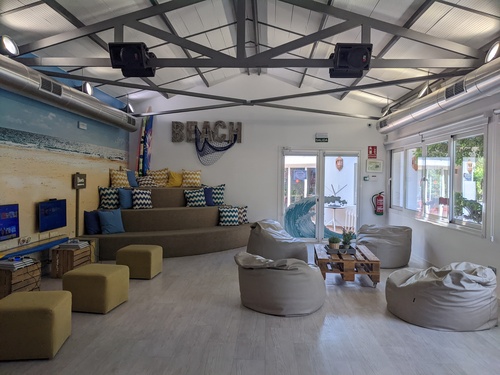 Conclusion
The new adults-only complex at Wyndham Grand Residences Costa del Sol is a promising start to the expansion plans for the resort. The suite I stayed in was high quality and I wouldn't hesitate to recommend it.
However, I had a look round some of the other Wyndham Grand accommodation at the resort and found it a little dated, including beige wall-mounted hairdryers more commonly associated with 1990s leisure centre changing rooms. If you are considering a stay, do check the accommodation you are booking. Whilst the resort is moving upmarket – hence our invitation – you need to pick and choose where you stay.
I suggest hiring a car if you book here. Whilst there is everything you could possibly need within the full resort, a car will give you the option to explore the many beautiful towns along the coast and in the nearby mountains.
A week in an apartment similar to mine is available from £966 in mid-October. To book this, you can use the booking site for Resort Residences by Wyndham 'BookaResidence' , the link is here. The site will show you a range of accommodation, but Wyndham Grand Residences adults-only accommodation should be listed towards the bottom of the list as 'Two bedroom Suite, Private Pool, Sea View' or 'Two bedroom Suite, Private Pool'.
Thank you very much to the team at Idiliq, which runs the resort, for organising my stay and for their kind hospitality.
---
Hotel offers update – December 2023:
Want to earn more hotel points? Click here to see our complete list of promotions from the major hotel chains or use the 'Hotel Offers' link in the menu bar at the top of the page.
Want to buy hotel points?
IHG One Rewards is offering a 100% bonus (some members may see less) when you buy points by 30th December. Click here.
Marriott Bonvoy is offering a 30% bonus when you buy points by 20th December. Click here.