How Plaza Premium has super-charged its growth plans: I interview Mr Song, Plaza Premium CEO
Links on Head for Points may pay us an affiliate commission. A list of partners is here.
I was at the official opening of the new Plaza Premium lounge at Edinburgh recently. In addition to reviewing the lounge (click here) I had the opportunity to sit down with the CEO of Plaza Premium Group, Mr Song (as he is universally known).
If you are an American Express Platinum cardholder you're probably familiar with Plaza Premium, which operate 280+ airport lounges worldwide. Plaza Premium also runs lounges for airlines such as Virgin Atlantic, who handed over management of their non-UK Clubhouses to Plaza Premium during covid.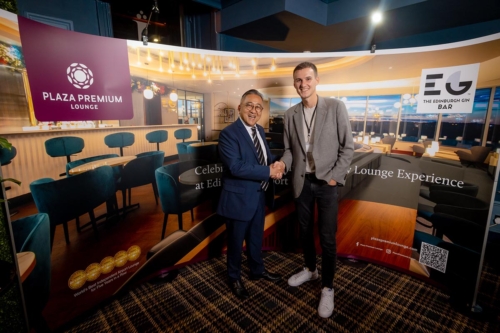 We covered a lot of ground, including:
Why Plaza Premium dropped Priority Pass
Plaza Premium's recent growth
The rollout of Aerotel airport hotels
…. and Plaza Premium's next big bet
Why did Plaza Premium drop Priority Pass?
Plaza Premium caused waves last year when it announced it was blocking Priority Pass cardholders from its lounges.
For almost three decades, the companies appeared to have a symbiotic relationship. Both companies were founded in the 1990s and worked hand-in-hand to develop the independent airport lounge market. Plaza Premium claims to have opened first independent airport lounges when it opened in Hong Kong and Kuala Lumpur in 1998.
"I groomed Priority Pass. They started in the same period of time as we did. They are in the consolidator business. So I groomed them; to me they were a marketing business because they brought us new customers. It was a very good match. But the trouble with Priority Pass is they deviate from what they want. They started a lounge management operation."
In 2006, Collinson started a new subsidiary called Airport Dimensions, which owned and operated lounges such as Club Aspire, competing directly with Plaza Premium.
Obviously, Collinson have their own right to do business.
…. but that doesn't mean he was happy about it. Mr Song compared it to patricide: "Like a father, I feed you. I can make you grow bigger. When you grow bigger, you turn on me."
"Another reason I dropped Priority Pass is that they always squeezed the lounge provider. If you are a single operator, you are price taker. $10, take it or leave it. You have no choice – you do not have the marketing side of the business. For us, we are different, because we have a large network and our own brand. So we ended the agreement. I think the industry was shocked when we dropped Priority Pass. I think they were shocked too!"
Fundamentally, Priority Pass is a high-volume, low-margin marketing scheme, and one that Plaza Premium felt it could ditch thanks to its growing network of lounges.
With 280 lounges worldwide, Plaza Premium still falls far short of Priority Pass's 1,300+ network. The company now has the critical mass to go its own way, and I get the sense that Mr Song is developing Plaza Premium into a true competitor, albeit in reverse. The company is building lounges from the ground up rather than acting as a consolidator, connecting lounge operators with customers.
Plaza Premium's big growth plans
You don't have to search far to see how Plaza Premium is working its way up. Unlike most travel companies during covid, Plaza Premium has been expanding more rapidly than at any time in its history.
"We were expanding before covid but at a very slow place. Getting into airports is not very easy. During the good times, everyone rushes for the lounge space. During the bad times, like during covid, a lot of restaurants and retailers close down, and suddenly there's a lot of space available."
The biggest challenge in growing an airport lounge business is available space. Whilst other companies have effectively been frozen for the past few years, Plaza Premium has taken every opportunity to expand.
A lot of companies have restructured or closed down locations, leaving airports with plenty of empty spaces. That's led to the opening of the new Plaza Premium at Gatwick North, formerly a Virgin Atlantic Clubhouse that was empty when Virgin consolidated at Heathrow. In Edinburgh Plaza Premium picked up the No1 Lounge space.
In addition to launching its own lounge brands, Plaza Premium has been deepening its relationships with other lounge brands, including Virgin Atlantic's global network of Clubhouses.
"We've been repurposing airline lounges too, because they only operate for 2-3 hours around their flights and then they close down for 20. So now we say, let us run your lounge for you, let us repurpose your lounges so that when you're not using them we can bring additional customers in for you. The airlines are happy because they get additional revenue.

Then we put money to renovate because some of the lounges are tired. We're happy because it costs us less money than if we started an airport lounge from scratch. It's a win win win situation where we are operating with the airline."
But Mr Song still has a long way to go to reach his target of opening in the top 100 busiest airports.
"Altogether right now we are at 70-odd airports right now. But our 70 airports are not necessarily in the 100 busiest. Right now I think we take care of around 60% of our target, so roughly another 40 airports to go. That's our target because the network is very important. You need to develop a strong network.

Customers know we provide consistent quality of service. Especially for the airlines, they know us already, they don't have to do due diligence with us again to send us their passengers to us. We can provide global locations too – that is very important too. That's the reason Visa, Mastercard, American Express, and Capital One sign with us. They know we provide consistent quality of service and we have the network."
Just this year, Plaza Premium has opened five new lounges in Europe, including at Edinburgh, Gatwick North, Helsinki, Budapest and Frankfurt.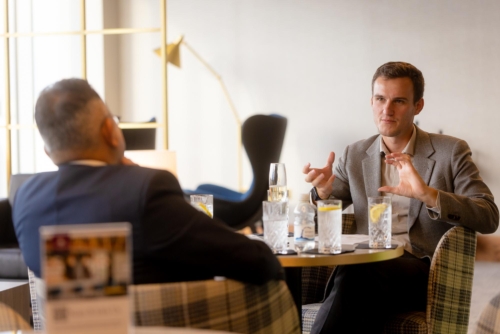 Rolling out Aerotel
Aerotel, Plaza Premium's in-terminal hotel business, has also been expanding, albeit at a slightly steadier pace.
"Aerotel is a totally new concept. Remember we are not a conventional hotel – our hotel is designed for travellers.

At Heathrow for example, right now there's plenty of hotels on Bath Road. But that's not convenient enough. You have to pay £5, take a bus with all your bags, then do it all again in the morning before your flight.

We charge by the hour, rather than a full day, that's the attraction. If your flight is at 5, 6am, think about what time you have to wake up – probabyl 2 or 3am. That's the whole day gone.

So we say, hey look, we're not charging you for 24 hours – just for the time you need a room. You can check in at 11pm or midnight, sleep for four or five hours, wake up, have a shower and check in straight for your flight. You save paying for a hotel for a whole day.
The first Aerotel in the UK opened at Heathrow Terminal 3 (we reviewed it here), where Plaza Premium was lucky that a former office block connected to the terminal became available.
"If T5 have space for me I would immediately build an Aerotel."
Plaza Premium's next big thing – services
Fundamentally, however, Plaza Premium's growth remains restricted by airport availability. Most airports are limited by how much space they can offer to lounge or hotel operators. You can't just build an extra wing at Heathrow T5, for example, to open an airport hotel.
In many ways Plaza Premium was lucky at Terminal 3 that they could repurpose a former office building that was integrated into the terminal. This is not true at most other airports.
But Mr Song is already looking for the next big thing, and privately admits it could become a unicorn.
Over the pandemic, Plaza Premium has spent over $10 million creating a new platform that integrates airport services such as meet and greet, fast track, porter, buggy transfers and baggage wrapping. Right now, these functions are operated by a variety of different third party companies, none of which really communicate with each other. Mr Song wants to connect them all under one roof.
In some ways it's the opposite of how he developed the core part of the business. With the new travel services platform, Plaza Premium becomes a consolidator itself, working with third parties to deliver joined-up services.
"It creates inconvenience to passengers, so we created a platform where we can consolidate them all.

You can book your services anytime, whenever you want on the app. Everything will be done by the time you reach the airport. Everything will be ready for you, rather than you having to call every company to arrange their service."
The platform is also meant to make life easier for the service providers themselves, with dispatch and resource management, which should lead to greater efficiency.
Like almost all developments, it comes down to data.
"Right now, the airport doesn't really know about what their customers are doing. Who are they? What do they do? They know they have a 5,10, 20 million people going through their airport, but that's it. With the platform we have developed, I know that Mr Song loves whisky – he bought whisky before. So if I have a whisky distiller who wants to promote a new product – I say fine, I have members here that like whisky and I can reach them."
In other words, it's a marketing solution.
It's also vastly more scalable than a lounge or hotel operation, where you're dependent on space being available. Plaza Premium's new technology platform can be white-labelled to countless airports worldwide, for whom developing something like this would be far too expensive by themselves. Instead of a lounge company, Plaza Premium is looking to become a tech company.
Thank you to Mr Song and the Plaza Premium for their time – and for taking the photographs! – and for the invitation to Edinburgh.