Which UK airport has the most passenger arrests?
Links on Head for Points may pay us an affiliate commission. A list of partners is here.
As you can imagine, our inboxes overflow daily with the results of spurious 'surveys' and 'research findings', all conducted by companies who think they can get a bit of cheap publicity. We delete virtually all of them.
This one, though, made me sit up with its sheer originality and I felt we should share it.
Which UK airport has the most passenger arrests? Where are you most likely to find shoplifters, pickpockets and people keen to commit assault?
Here are the results. Note that Scottish airports are excluded because Police Scotland refused to co-operate with the enquiry. Would that have changed the results?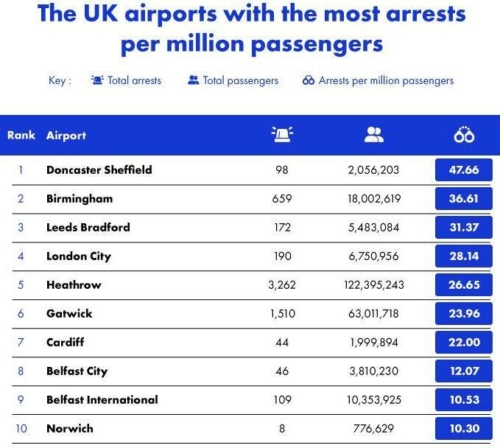 Yes, it is the people of South Yorkshire who won the 'top crims' award for 2019-2021.
The top offences at Doncaster Sheffield were shoplifting, theft, and 'assault without injury'. The good news is that the crime statistics in Doncaster as a whole are now likely to drop following the closure of the airport at the end of the month …..
Over at Birmingham, potentially due to the greater number of long haul flights, the top cause of arrest was passengers trying to do a runner having had a warrant issued against them.
Leeds Bradford picks up the third spot due to a substantial number of violent attacks inside the terminal, which was the No 1 cause of arrest. It also scores highly for fraud-related arrests
The study was put together by luggage storage company Bounce. Freedom of Information Act requests were made to the relevant police forces serving each mainland airport for the period 2019 – 2021. Police Scotland did not provide any data. As this covers periods of covid closure, the 'arrests per million passengers' number is more relevant than the total number of arrests.