Review: How easy is taking the Elizabeth Line from Heathrow to central London?
Links on Head for Points may pay us an affiliate commission. A list of partners is here.
On Sunday, Transport for London finally started running direct Elizabeth Line services from Heathrow and Reading all the way to Abbey Wood and Shenfield.
This means the 'swap from the underground Elizabeth Line platform to the above ground Elizabeth Line platform' is a thing of the past – and should make getting to and from Heathrow a lot easier for many people.
As it happens, I was on my way back from Tampa after the Virgin Atlantic A330neo inaugural on Sunday night and needed to get home on Monday morning, so I thought I would see what it's like.
I'll be up front here – it is reassuringly boring ….
After a quick breakfast in the Virgin Atlantic Revivals arrivals lounge at Heathrow (review here) I made my way down to the Heathrow T2 & T3 train station downstairs. The platforms are really deep, which means you either have to wait for the bizarrely slow lifts or take multiple escalators down.
I opted for the former as I had a larger suitcase with me. This turned out to be a mistake, as I ended up missing an Elizabeth Line train by about 10 seconds. I had to wait 15 minutes for the next one, which was slightly frustrating.
I'm not sure where the train had come from (either T4 or T5) but it was fairly empty and I managed to get a seat. Unlike Heathrow Express trains there are no luggage storage racks, so you need to hold on to your suitcase if it has spinner wheels. I always sit in a group of four seats which helps to stop it rolling around quite so much!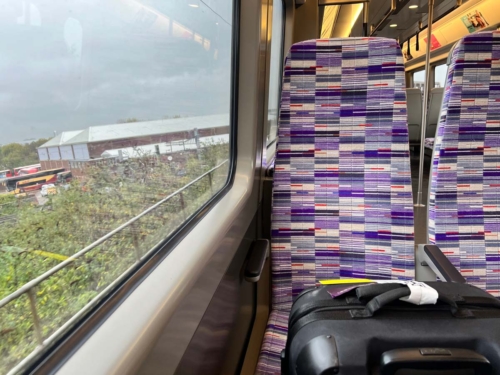 The train did start to fill up as we headed towards central London but it was never busy with plenty of seating always available.
Just before Paddington, we ended up waiting for a couple of minutes before entering the central tunnels as apparently we were ahead of schedule. At the moment, the Elizabeth Line and National Rail schedules are not fully aligned so the final service pattern might be a bit tighter come next Spring.
I stayed on for a few more stops until I got off at Liverpool Street. If I was going into the office I would have taken the short walk from here, but with Rob and Sinead out at World Travel Market I headed home. I changed to the Northern Line via the station connection to Moorgate. In total, it took about 45 minutes from Heathrow to this point.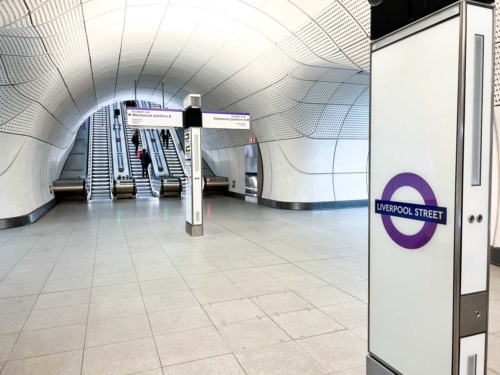 Interestingly, despite the multiple stops, it is now showing via Citymapper as one of the fastest options home for me. It seems to be often as fast (or even faster) than the Heathrow Express to Paddington before changing onto a longer tube journey. It is also far more pleasant of course, as I can spend more time in the spacious, air conditioned Elizabeth Line trains.
In total, my journey took just under an hour plus the short walk from the tube station to my flat. It cost £12.80, which would be reduced to £8.50 with a Railcard. It's good to have another option for getting to Heathrow.