To anyone else thoroughly bored by all this just scroll past and ignore the sun icon in future.

Not bored at all – thoroughly enjoying it 🙂

Just to chime in with my 2p. I'm inclined to agree with your assessment, @StillInTheSun. Having taken both BA to CEDR (and won, which cost them £10k's worth of replacement flight) and Creation to MCOL (settled after hearing), I would absolutely go to CEDR for a risk of £25 and a potential win of £1000 at 40% chance. I'd probably even do it at 20%, hell even 10% just for the heck of it 😉 Assuming of course that I felt confident in having a strong case, and wasn't just acting out of anger or indignation in the heat of the moment etc, and was prepared to be sanguine about it if I lost.

But I do think an important consideration is how much spare time someone has, and the value they place on that. I was fortunate to have plenty of free time I could devote to both my cases, and was willing to do so for the experience as much as anything else. Plus the principle. And I feel confident in my ability to write a clear well-structured argument. But I imagine many (most?) simply won't have the spare time and so either won't pursue it, or would end up putting themselves under extra pressure and stress trying to fit it in around other commitments. We shouldn't underestimate the amount of time these things take up, not just in actually preparing documents etc but also the mental preoccupation – it does tend to consume you, I found, and one has to compartmentalise to avoid it taking over. I think also that if I had actually put a notional hourly rate on the time I spent on my cases, eg if I was sacrificing billable hours or taking time off work etc, the equation would be very different. Had I been time poor and had my MCOL claim been for a much larger amount, I might have outsourced to a solicitor, but the economics of that wouldn't stack up in my case.

But all that said, having experienced both CEDR and MCOL first-hand, I think my advice generally to anyone would be Yes to CEDR if you have time, inclination, and a genuine case (and ability to present it clearly), but I would hesitate to rush into MCOL unless you really are willing to go the whole hog – as @points_worrier said above, things can escalate (not so much in terms of money, though there is perhaps some risk, but in terms of the time and effort the case will require of you – but do I regret it? Absolutely not! ;-)).
You must be logged in to reply to this topic.
New to Head for Points?
Welcome! We're the UK's most-read source of business travel, Avios, frequent flyer and hotel loyalty news. Let us improve how you travel. Got any questions? Ask them in our forums.
Win 1 million Avios when you apply for a Barclaycard Avios credit card by 2nd April. Exclusive to HfP readers.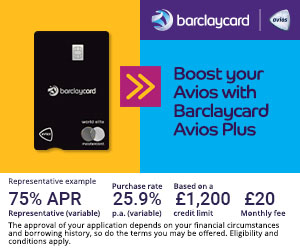 Check reward flight availability instantly for free!
Booking a luxury hotel?
Our luxury hotel booking service offers you GUARANTEED extra benefits over booking direct. Works with Four Seasons, Mandarin Oriental, The Ritz Carlton, St Regis and more. We've booked £1.7 million of rooms to date. Click for details.