They're coming soon(-ish) – BA's A380's!
Links on Head for Points may pay us an affiliate commission. A list of partners is here.
There are a hundred blogs out there for people who want to know all about new planes, building planes etc – this is not one of them! However, it is worth being aware of the major changes that the BA fleet will be experiencing in 2013.
In May, the first Boeing 787 will be delivered. I haven't flown on one of these yet. There are real benefits – bigger windows, composite material construction, far higher on-board air quality etc – but as they basically look like any old long-haul plane, it is hard to get too excited about them.
In July, though, BA is due to receive its first Airbus A380 (mock-up photo below).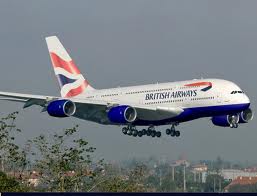 Here are links to a photo of No 1 – click here – and here is the fuselage of No 2 – click here. For copyright reasons I do not want to reproduce them directly. (Thanks to the Flyertalk posters who posted these links originally.)  Business Traveller has a suite of pictures of No 1 here from a trip they did to Toulouse recently.
Flightglobal reports here that the first A380 will join the Winter 2013 timetable, launching late October 2013. However, during the Summer of 2013, it will be flying on short-haul routes from London! This means that you will have a great opportunity to have a weekend away flying the A380, and getting a fully flat Club World bed in business class for those 2-3 hours!
No-one knows yet where the plane will be rostered, and of course with only one to play with at first, you will never be able to guarantee that it will be flying a certain route, even if timetabled. It is definitely something to keep an eye out for, though.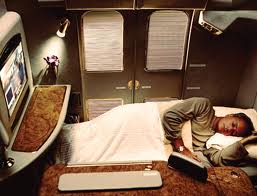 I was lucky enough to fly First Class on an Emirates A380 a couple of years ago. It was, frankly, the most amazing flight experience I have ever had – the full size bathroom, the in-flight shower, the private 'suites' that Emirates have in First Class (see above), the onboard bar etc etc. Unfortunately, BA will not be importing most of these feature into its A380's, but it will still be a real experience climbing those stairs for the first time.