Redeeming Star Alliance miles for Lufthansa First Class
Links on Head for Points may pay us an affiliate commission. A list of partners is here.
For anyone with a stash of miles with a Star Alliance airline, I wanted to flag up this very informative post from US site Points Miles and Martinis.
Lufthansa First Class is one of the best First Class products out there. OK, so you don't have a private suite to yourself. You do, however, now get a seat AND a separate bed – see below – plus outstanding food and drink: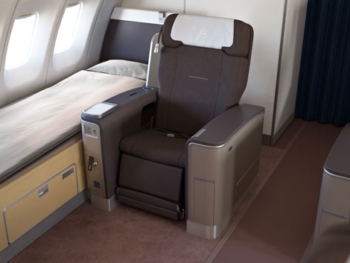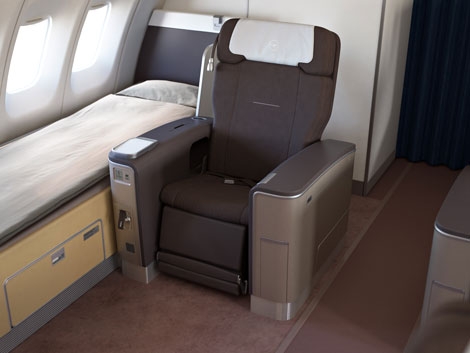 More importantly, though, it offers possibly the best 'ground' experience anywhere in the world. One which I have been lucky enough to do a few times.
You fly from London to Frankfurt (or Munich, but Frankfurt has better facilities). As you pull up on the tarmac (London flights rarely get a gate at Frankfurt because of Shengen issues) you will see a Porsche or Mercedes pull up alongside it. 'Wow', you think, 'there must be some movie star or politician on the plane'. Then a bus arrives to take everyone else.
When you walk down the steps, though, you discover that the Porsche is for you. You are whisked off across the tarmac to Lufthansa's First Class Lounge. Your passport and tickets are taken from you, and you are free to relax with some of the best free food and drink available.
When your flight is boarding, someone comes to find you, takes you through a private no-queue security checkpoint, pops you into another Porsche or Mercedes and you are driven off to your long-haul plane.
Slightly embarrassingly, when you arrive, they ask whether or not they should halt general boarding for the other 300 people onboard whilst you board. (I always say No!) You then jump out of the car, climb into the airbridge through the back steps and board.
All very cool, and worth doing once in your life!
However …
When Lufthansa brought in the separate bed and seat combo, it cut the number of F seats on its 747's from 16 to 8. To compensate, they drastically reduced the seats available for miles redemptions.
If you have Lufthansa miles, you are OK. If you have miles with a partner airline (US, United, Thai, Singapore, SAS etc) then you had to wait until near departure.
The post I have flagged claims to have found, to the exact minute, when Lufthansa releases those seats. The answer is 15 days out.
Unfortunately, 15 days advance notice is not great for holiday planning. It does, however, let you book on other airlines – or Lufthansa business class – and then know when to check to see if you can switch to Lufthansa First.