'Deluxe Family' hotel rooms … a real luxury hotel innovation
Links on Head for Points may pay us an affiliate commission. A list of partners is here.
In a couple of days I will publish a full review of the Jumeirah Zabeel Saray hotel on the Palm in Dubai, a thoroughly modest little hotel where all of the room corridors are lined with gold leaf!
I wanted to separate my discussion of the hotel from my discussion of my room, because the room was in some ways the most interesting bit.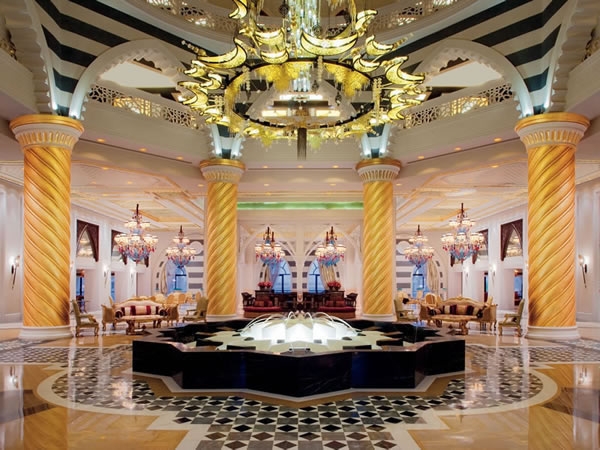 If you've got a couple of young kids, your options when it comes to hotel rooms are limited.
You can try to squeeze two kids into a standard hotel room. However, fire regulations or lack of physical space often make this impossible, and who wants to spend 8 nights in a hotel room with zero free floor space?! And what do you do at 7pm when the kids go to sleep?
You can book a suite. This lets you squeeze the kids into the bedroom with you – its a tight squeeze, but at least they can go to sleep at 7pm and you can watch TV, order room service etc. And you have spare floor space. The downside is that most hotels charge – for a suite that is twice the size of a normal room – 3-5 times the price!
You can book two connecting rooms. This can work OK – the kids can go to sleep early in the other room – but you waste a lot of space. You don't need two mini-bars, two desks etc.
The Jumeirah Zabeel Saray in Dubai, which opened in 2011, has introduced 'Grand Deluxe Family' and 'Deluxe Family' rooms. These are very clever pieces of work, and something which I would like to see other high-end hotels pick up.
The 'Grand Deluxe' version of these rooms run from 65 to 80 square metres – I think ours was at the top end of that. To all intents and purposes, the room looks like a normal shoebox shaped hotel room. The genius of it, though, is that when you walk in there is an additional small room at the top. This is just big enough to squeeze in two single beds, with a small bathroom and a wardrobe.
The second bedroom and bathroom combined were only about 15 square metres. This is perfectly OK when only used for sleeping. That meant that the rest of the room gave us a huge 65 square metres of space.
Here is the kids bedroom: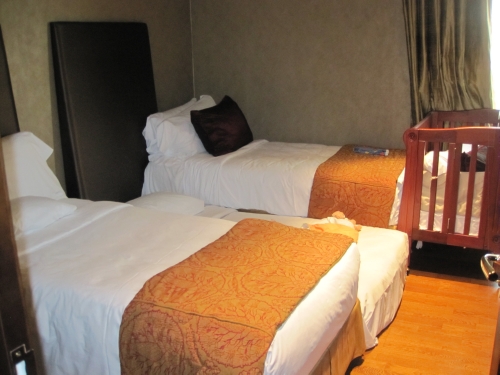 And here is the main room – look at all that space. If we'd had two interconnecting rooms of 40 sq metres each, we wouldn't have had even a fraction of this space.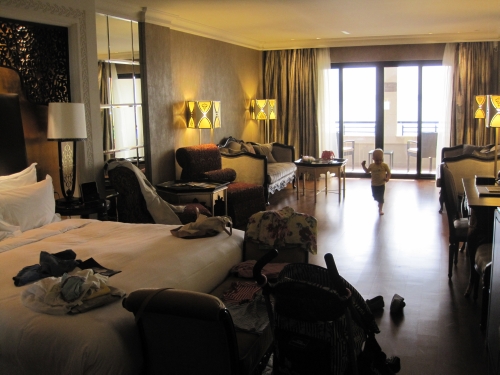 These rooms are only on the sides of the hotel. They have to be, because that is the only way that you can have a window in the small second bedroom. This limits how many you can fit into a hotel, of course.
The other clever thing about this room is that you could, if necessary, sell it to a normal couple with no kids. The main area, at 65 sq m, is as big as a standard room anyway so a couple wouldn't lose out – and they would have the extra bedroom for storage etc.
I was very impressed with this concept. In a couple of days I will tell you what I thought of the rest of the hotel ….
If you are looking to book Zebeel Saray, you should contact our booking partner Bon Vivant. Bon Vivant is a Jumeirah Preferred Partner agent and can get you additional amenities, including free breakfast and a food and drink credit, with your booking. You can contact Bon Vivant via the form on this page on Head for Points.
---
Hotel offers update – October 2022:
Want to earn more hotel points? Click here to see our complete list of promotions from the major hotel chains or use the 'Hotel Offers' link in the menu bar at the top of the page.
Want to buy hotel points? There are no special offers currently running for buying hotel points.