How to avoid long lines at US immigration
Links on Head for Points may pay us an affiliate commission. A list of partners is here.
There was an interesting piece in The Independent recently (see here) in which Simon Calder analysed the average waiting times at US immigration by time of day and by airport.
US immigration is a painful fact of life for most UK travellers to the USA.  I was not amused – to put it mildly – when I was met by a Lufthansa 'special services' agent after my First Class flight to Newark in February.  The rep spent five minutes telling me and the other First Class passenger that he couldn't help us get through immigration any faster – by which point the rest of our 747 had run past us and was ahead of us in the queue!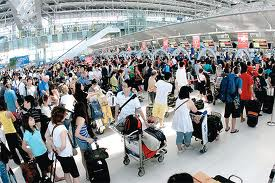 Annoyingly, the article does not list all of the source material they use.  However, some of the numbers quoted are frankly scary, especially if travelling with young children:
Miami, average wait for landings between 8pm and 9pm, 3 hours 6 minutes
New York JFK Terminal 4 (the Virgin one), average wait for landings between 4pm and 5pm, 2 hours 31 minutes
Dallas-Fort Worth, average wait at peak times, 2 hours 22 minutes
Luckily Calder makes some good suggestions to beat the wait, including using Newark instead of JFK in New York (the average wait is halved) or arriving on BA115 which arrives at the quietest time of day at JFK Terminal 7 (36 minutes average wait).
If flying to the US, of course, one option is to fly via Ireland.  This means taking a direct flight from Dublin or Shannon or using BA1 from London City Airport (the '100% business class' service, often available on Avios points) which stops to refuel in Shannon.  These allow you to clear US immigration in Ireland.  You land in the US as a domestic passenger, and if you have no checked luggage you can immediately walk out of the airport.
Do not take BA3 from London City, though, as that arrives in Shannon too late for US pre-clearance.