On Monday, IHG Rewards Club sent the following email to a lot of its elite members (except, erm, me, for some reason!):
As a token of our appreciation, we'd like to extend a very special offer to our [Gold / Ambassador / Platinum] IHG® Rewards Club members. Purchase IHG Rewards Club points between 12 August and 26 August and you'll get 100% more in bonus points. That's right—double the points to use on Reward Nights, car rentals and much more.
Now, however you cut it, a 100% bonus is big. Here are the standard purchase rates:
1,000 – 10,000 points for $13.50 per 1,000 points
11,000 – 25,000 points for $12.50 per 1,000 points
26,000 – 60,000 points for $11.50 per 1,000 points
So, adding in the 100% bonus and converting to £, you could get – for the sake of easy maths – 100,000 points for £372.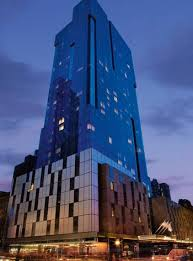 At the top end of the IHG Rewards Club portfolio, you have InterContinental properties which top out at 50,000 points per night.  That's what I paid in New York last month, whilst Boston was just 45,000 points.  InterContinental London / Paris / Sydney etc will come out at 50,000 points. IHG is effectively selling you a night at these properties for £185 all-in.
There is no doubt that this could be a great deal – taking a random night in September (18th), IC London is £302, IC Paris LeGrand is €540 and IC New York Times Square, pictured above, is $518 + tax.  All three had reward nights available. Of course, I could run a different list of low season dates at the same properties – or other hotels in the group – where this would not look like such a great deal. You also run the risk of IHG changing their reward scheme before you spend the points.
I bought some Hilton HHonors points last year and was caught out when they massively devalued their programme earlier in 2013, going from 50,000 to 80-90,000 per night at the top end. However, this is also the cheapest I can ever remember seeing IHG Rewards Club points. 
Given that you can no longer transfer Amex points to IHG, this is not a bad opportunity to top off your account if you are a few short of a target reward.  It may even be worth buying enough points for an entire stay – but do the maths. Note that – based on my experience – if you didn't get the email, you can't get the discount ….