A new £20 coin for £20 available at Royal Mint – good for hitting card spend targets
Links on Head for Points may pay us an affiliate commission. A list of partners is here.
The Royal Mint, at the end of October, will launch this rather snazzy £20 coin featuring St George and the dragon.
Why do I mention this on Head for Points? Well:
The £20 coins are being sold for £20
Postage is free when you buy the maximum number of three
They are full legal tender and can be paid into any bank
EDIT: As per comments below, it seems you CAN now use Amex on the UK Royal Mint site even though the logo does not appear on the initial payment page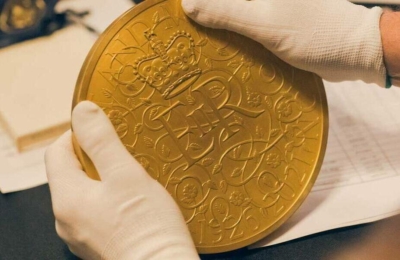 We have looked at Royal Mint deals before.
Historically, whilst Amex is not accepted, you could do it by selecting 'United States' as your country of residence – which brings up the Amex option – and then changing your address back to UK. However, this product is blocked for overseas sales.
Your options here are very limited, unfortunately.
You cannot use 3V cards because you cannot get a £25 balance. You would need to pay the £1.75 transaction fee to merge together 3V cards, which costs money.
All you can do, therefore, is use a Visa or MasterCard where you are trying to hit a spending target. Assuming they let you mix billing and delivery addresses, you could send £60-worth to various households in your family, on your credit card.
(If you had, say, the old BMI MasterCard paying 2.5 Avios per £1, you may also think it is worth ordering £60-worth to get 150 free Avios. Personally, though, I wouldn't.)
This is probably not worth the trouble, unless you are really struggling to hit a Visa or MasterCard spend target. However, it is worth being familiar with it as an example of what can be done to manufacture spending.