3V cards no longer accepted by National Savings, utilities, council tax and HMRC
Links on Head for Points may pay us an affiliate commission. A list of partners is here.
Since I first wrote about them in June, a minor cottage industry has sprung up around the purchase of 3V Virtual Visa cards.
Basically, you can purchase these Visa gift cards in Tesco stores for face value.  The main reason for doing this is to take advantage of the '150 Clubcard points for spending £50 on gift cards' promotion.  It can also help you meet the sign-up spending target on a new credit card.
Once you have your 3V card, you can use it for purchasing goods ONLINE.  If you have a few pounds left on any particular card, you can buy an amazon.co.uk gift certificate for the exact remaining balance.  You can add these onto your Amazon account without having to make a purchase, so the money is there next time you buy something.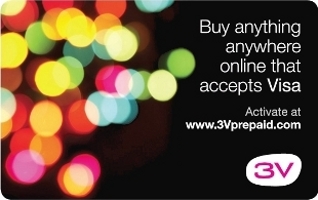 The most common ways of using 3V cards were, however, NOT for purchasing 'things' online.  They were used for paying off bills, eg:
Council Tax
Gas and electricity
Inland Revenue
Mobile phones
Sky / Virgin bills
The most impressive use was to pay them into a National Savings Direct Saver bank account.  This was basically free Avios points.  You would go to a Tesco and spend £50 on 3V cards on your (say) BA Premium Plus Amex.  You would earn 75 Avios for the credit card spend and 360 Avios in Clubcard points.  Pay the money into National Savings and withdraw it.
As of yesterday, though, the game has changed.
3V cards are being declined for internet transactions where you are not buying 'things'.  Council tax, Inland Revenue, National Savings, gas and electricity companies, Virgin – all dead.  Only Sky still appears to be working.
(EDIT:  Some council tax sites ARE still accepting them, based on feedback.  You may also find they are accepted if you say you are paying with a credit card, not a debit card, albeit that you will normally incur a fee that way.)
For a few people who had bought a large quantity and had yet to pay them into their account, they have a problem – albeit not a disastrous one.  They still seem to be accepted at High Street Vouchers, and Amazon still lets you buy gift certificates with them to add to your Amazon account.  They also, apparently, work for buying gift cards via TopCashBack's TopGiftCard site.
If you are sitting on a pile of cards, you can also withdraw the balance to your bank account.  The smartest thing to do is pay £1.75 per card to merge the balance onto another card (max £1,000 balance) and then just pay one £3.50 fee to transfer the entire sum to your bank.
It is possible that this is some sort of IT bug.  However, as transactions to Amazon are still going through OK, it does seem that 3V has decided to strictly enforce the ability to only use the cards for 'things'.
All 'miles and points' bandwagons like this come to an end eventually.  Something equally lucrative will be along again soon.  Luckily, because you can cash out to your bank account – albeit for a fee – no-one is going to lose a lot of money on this.
Interestingly, the last straw for 3V may have been people who were buying 3V cards in Morrisons – where they were far more easily available – instead of Tesco.  Morrisons was giving out vouchers for 1p off a litre of fuel for every £10 spent on gift cards.  Assuming that your car takes 70 litres of petrol, you were getting 70p off a full tank for every £10 of 3V cards you bought.  Add in the value of the credit card points and it was pretty lucrative.
3V cards are still worth buying in small quantities, if only to fund your Amazon purchases.  It is worth noting that the 'other' Virtual Visa cards sold in Tesco (the ones with the £3.95 fee per £50 card) ARE still being accepted by National Savings, HMRC etc so this is definitely a move instigated by 3V.