Why I like my little Zipcar (London car clubs explained)
Links on Head for Points may pay us an affiliate commission. A list of partners is here.
My annual £59 Zipcar membership fee hit my credit card last week, which made me realise that I have never mentioned it on here before. And yet, in terms of travel 'value', it is one of the best deals around if it suits your circumstances.
Having a car is inconvenient in Central London. Having off-street parking is rare, and even being able to park outside your own house is not something you should take for granted. Even if your street is free of yellow lines, the chance of grabbing a spot is not great. You then have all of the usual bills of car ownership.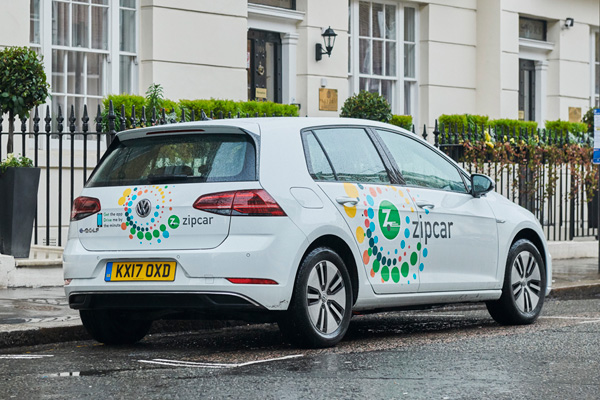 For the last six years or so, we have been using Zipcar (nee Streetcar), which is now part of the Avis empire. It is a huge business, with 860,000 members globally. They are in Bristol, Cambridge, Maidstone and Oxford apart from London.
If you live in London and have never given Zipcar a try, it is worth logging on to their website and doing a search for cars in your area. Frankly, for many people, you will be overrun by them.
There is a perception with car clubs that you will not be able to get a car when you want one. I can honestly say that it has NEVER been an issue. Within 0.75 miles of my house, there are 18 Zipcars. Within 1 mile, there are 35. Within 10 minutes walk there are at least 10.
The running joke, because these cars have permanent parking spots allocated on the street, is that our nearest Zipcar is actually nearer our house than we could realistically expect to find a parking spot for our own car if we got one. Our 2-year old even thinks it is our car.
Booking a car is simple – you use their website or app and can search by time required or by specific car. The price is usually £6.95 per hour for a Volkswagen Golf – they have a few Corsa's at £5.95 as well as well as Transporter minivans for £10. The cost is charged to your stored credit card when you book, although you can cancel for a refund up to 3 hours before pick up.
You get into the car using an Oyster-style and Oyster-sized card. Hold it against a reader on the windscreen and the doors open. The key is in a secure locking device in the glovebox. The car should have at least a quarter tank of petrol – if it drops below 25%, you are asked to fill it up using the Fuelcard provided (you can get some Clubcard or Shell Drivers Club points for yourself at the same time!).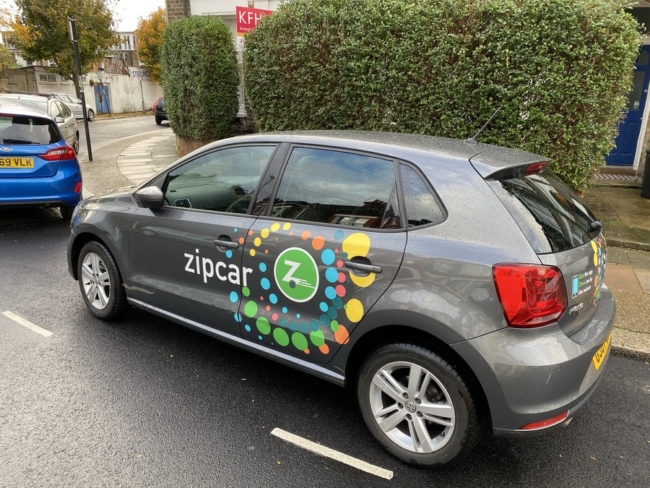 What are the downsides?
Well, for a start, you obviously cannot permanently install car seats if you have kids. We need to install them and remove them each time.
There is a cap on the mileage you can drive for free, which is 60 miles per rental. This means that they are not practical for, say, a day trip to Brighton – although the daily rate of £64 means that they are also uneconomical. The scheme is not designed for that sort of trip. We use ours primarily for trips to Ikea and friends in the home counties.
If you are late returning the car (and with London traffic, that can happen), you are fined £50 if someone else has booked it. This is shared with the affected driver. Zipcar has a good system, though – you get a text about an hour before the car is due back with the time of the next booked user in it. If the car is not needed immediately, you can extend your rental by simply replying to the text and including the number of extra minutes you want. Very, very straightforward. The car is usually available because people rarely book a car immediately after another user, just in case the car is returned late.
(Here is a little Zipcar tip. The rules state that you can actually access the car 15 minutes early, for no extra charge. As long as no one has booked the car immediately before you, you can therefore get 15 minutes added on for free.)
I also once had a Zipcar develop a flat tyre on us. They are fine about it, though, and were happy to send a pick-up truck to the middle of Surrey to pick it up whilst we took a train back home. It was dealt with very efficiently.
Joining up
The standard Zipcar membership is £59.50 per year, although they also offer a £6 per month plan for anyone who may only want to join for a short period.
All in all, we are happy with our little Zipcar, and it works well for us. Including the membership fee, we probably spend around £400 per year with them – a fraction of what we would pay if we owned a car. Obviously we also have additional taxi and rail costs as well due to not owning a car, but even then it is still a substantial saving, both in money and (in terms of maintenance etc) time.