So, the story of what happened on Monday with HotelTonight in Amsterdam ….
Links on Head for Points may pay us an affiliate commission. A list of partners is here.
As I explained on Monday, I was flying out to Amsterdam for the night to test out the Hotel Tonight 'last minute booking' app. I had earned some credit from signing up and from referring a few HfP readers and I wanted to try it out.
I did have a kind of plan. I had been watching Hotel Tonight for a couple of weeks and I knew roughly what hotels they featured in Amsterdam. I had also picked my preferred target for the night. I guessed that trouble was brewing, though, when I checked cash prices last Friday and saw the top five-star hotels coming in at £600 for Monday night.
HotelTonight loads its offers at '9am local time'. I assumed this was 'hotel time' so at 8am, on the train to Gatwick, I fired up my phone – to be told to come back in an hour. It seems that '9am local time' means 9am in the country you are in – this is a bit odd, frankly, as anyone living in France, Germany, Netherlands etc gets a 1 hour head start on booking Amsterdam hotels.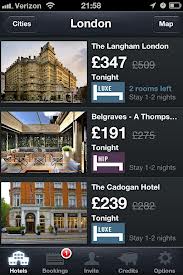 At 9.15 I was in the British Airways lounge at Gatwick. Before I go on, let me explain what I needed. I am a family guy in my 40's. My plans for a night in Amsterdam involved getting a meal in my hotel, watching TV and working on the blog in a comfortable room. I was not after a 'crash pad' which I would hardly see after a night of hard drinking and other stuff ….
These were the offers at 9.15am London time:
'Espresso' – 'Basic' quality level, 12 square metre room, £106 – rejected on quality and room size
'Albus' – 'Solid' quality level, 18 square metre room, £170 – rejected on room size
'NH Carlton' – 'Basic' quality level, room size n/a, £283 – rejected as laughable value for money vs quality
'NH Caranso' – 'Basic' quality level, room size n/a, £258 – rejected as laughable value for money vs quality
'Vondel' – 'Hip' quality rating, 15 square metre room – rejected on room size and TripAdvisor reviews. They warned that some rooms are in the basement and have massive noise issues from the hotel kitchens etc. I was pretty sure this is where my room would have been.
'NH Museum Quarter' – 'Solid' quality rating, room size n/a, £235 – rejected on value for money grounds
I rejected the above pretty quickly. This was not necessarily the fault of HotelTonight – on a busy day, there is less distressed inventory to be had and it will still fetch a good price. In some ways HotelTonight is more useful on very busy nights as you know the hotels they feature will be available – if you're willing to pay. The hotel I wanted to book for the night was not there at all.
Half an hour later, The College Hotel appeared. This was better – 29 sq m rooms and £155. A quick look at TripAdvisor found many complaints about major falls in service levels and, more importantly since I wanted to work, that the rooms were very, very dark.
I could have gone with the College and, if it had been there at 9.15, I probably would have. In the 30 minutes before that hotel popped up, though, I had started looking at other options using my hotel loyalty points. Some of these options looked a lot better.
Starwood has 'last room availability' so I tried them first. The Pulitzer was sold out so that was off the list. Perhaps luckily as I have had bad experiences there twice before.
Hilton had the brand new Waldorf-Astoria. At 80,000 points this seemed like a serious hit even with a cash rate of €595 – and at 28 sq m (before any Gold upgrade) the room was smaller than the College. The standard Hilton was not a contender at 70,000 points (€299 cash). The Doubletree by the station would have done at 50,000 points if I was desperate.
I moved on to IHG. I finally got lucky. The InterContinental Amstel, one of the finest hotels in the chain, was available. There is a picture below. For cash, they wanted €729 for a 35 sq m room. For points, it was only 40,000 – only 5,000 points more than you would pay for some Holiday Inn Express hotels in London.
I also have InterContinental Ambassador status, which meant (as long as they honoured my benefits on a reward stay) 4pm check-out and an upgrade. I stayed at the Amstel about eight years ago so I knew the location was good for the Rijksmuseum – the only bit of sightseeing I definitely wanted to do.
HotelTonight got the push. I still have my credit and I hope to use it over the next few months. I booked myself into the Amstel – review to follow – and then also decided to give the pretty poor BA First Class lounge the elbow as well. I wandered downstairs to No 1 Traveller – more on that tomorrow …..
PS. There is an ironic postscript to this story. At 6pm, in the Amstel, I took another look at HotelTonight. The hotel I was hoping to get – Banks Mansion – was now available. It wasn't even at an inflated price, just the usual £170. If they had loaded this at 9am then my night would have been very different.
---
IHG One Rewards update – October 2022:
Get bonus points: You will earn bonus IHG One Rewards points on stays between 13th October 2022 and 31st December 2022. You can choose between 2,000 points for every two nights or 10,000 points for every four nights (not cumulative). Read this article for full details. You can register here.
New to IHG One Rewards? Read our overview of IHG One Rewards here and our article on points expiry rules here. Our article on 'What are IHG One Rewards points worth?' is here.
Buy points: If you need additional IHG One Rewards points, you can buy them here.
Want to earn more hotel points? Click here to see our complete list of promotions from IHG and the other major hotel chains or use the 'Hotel Offers' link in the menu bar at the top of the page.