New York Stories #2 – Comparing Lufthansa short-haul to BA's new tighter leg-room
Links on Head for Points may pay us an affiliate commission. A list of partners is here.
As I wrote yesterday in my initial article in this series, I am not planning to write a traditional series of trip reports from my travels in recent days.  I am going to focus on a few particular themes which I found interesting and topical.
There has been a lot of commentary in recent weeks about the new British Airways short-haul seating which is being rolled out.  In particular, the decision to reduce the seat pitch in Club Europe from 34 inches to 30 inches.  Business Traveller recently reviewed the new seat on a flight to Kiev and were not over enthusiastic.
Lufthansa has been doing something similar for a number of years – although, in general, when other airlines start using Lufthansa as a role model then we really are in trouble!  This is the airline which decided to order its A380s with last-generation sloping seats in business class and has only just started introducing Premium Economy, a modest 15 years after Virgin pioneered it.
A Lufthansa A320 now has exactly the same number of seats – 168 – as the new British Airways A320 aircraft.  Logically the seat pitch should therefore  be the same.
This is how thin the Lufthansa seats are now – if you compare this to the current British Airways seat the difference is huge.  Look at how thin it is on the lower back: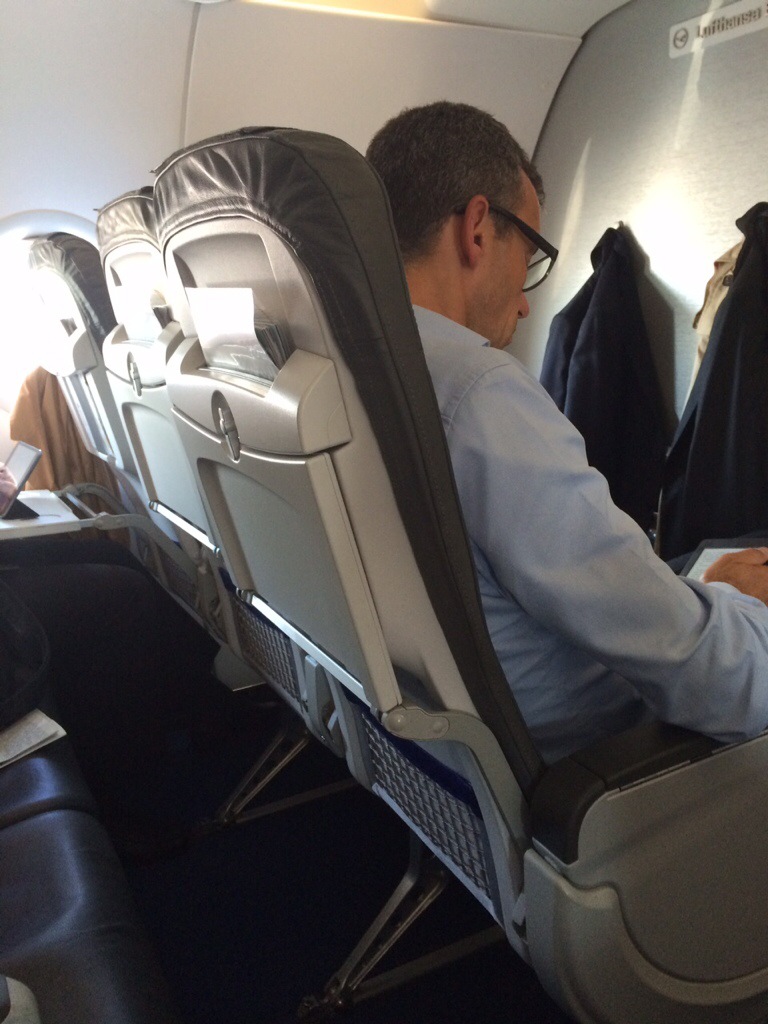 These are NOT the same seats that BA is installing, although they cannot be substantially different even though they are coming from a different manufacturer.
This is how my knees fitted in.  I am 6 foot 2 inches for comparison.  This is not terrible, by any means.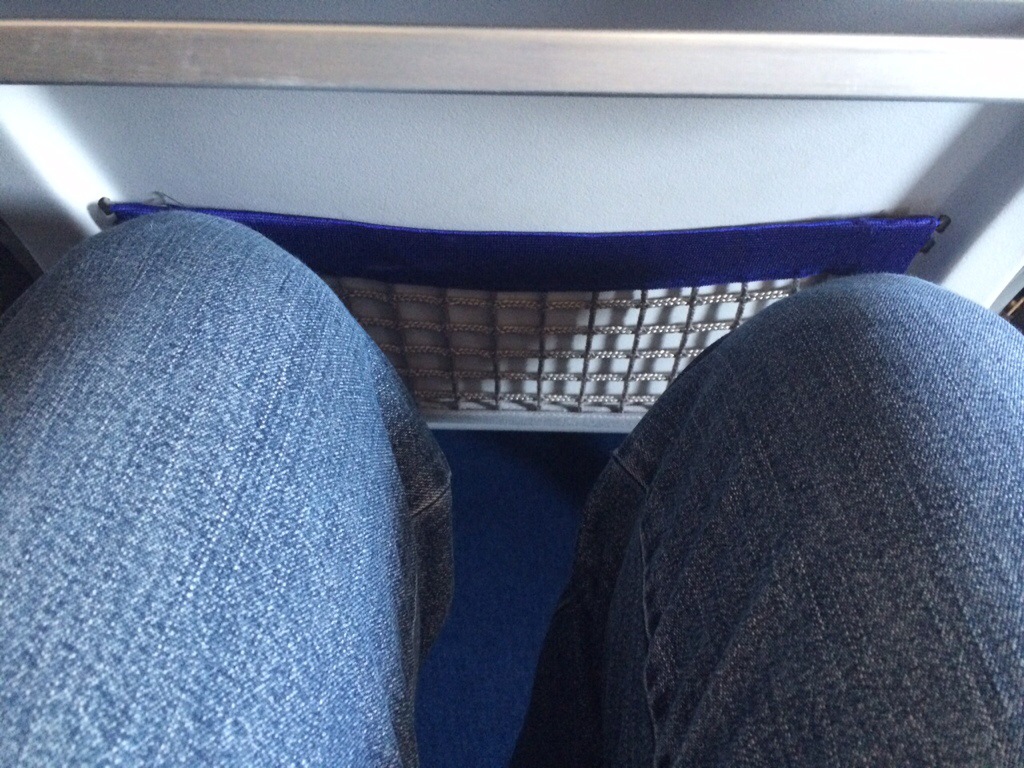 As with the new British Airways seat, the magazine rack is moved to the top.  This creates a substantial amount of extra knee room
If you click on the Business Traveller review, you can compare my knees with Tom Otley's knees in the new BA seat!  Tom is three inches shorter than me but he seems to be wedged in more tightly than I was.
All in all, despite what I imagine is an identical 30 inch seat pitch to the new BA seat, it was not entirely awful.  I was, however, travelling on my own.  If my kids had been with me, it would have been very difficult – for example – to lean forward and help them with their seat belts.
It is worth adding that my flight was totally full.  When I looked down the plane it was not pretty, to be frank.  With a very tight seat pitch and every seat taken you are really into cattle truck territory.  It was good to be at the front and with my blocked middle seat.
Finally, I leave you with a picture of what Lufthansa serves as a meal on a 5pm flight.  This was not bad at all – remember it was a domestic flight.  For the record, that huge bread roll was perfectly soft and fluffy inside unlike the standard BA offering.
On the other hand, I am not a massive fan of Luthansa short-haul breakfast which, unless it has changed in the last couple of years, remains a plate of cold meat.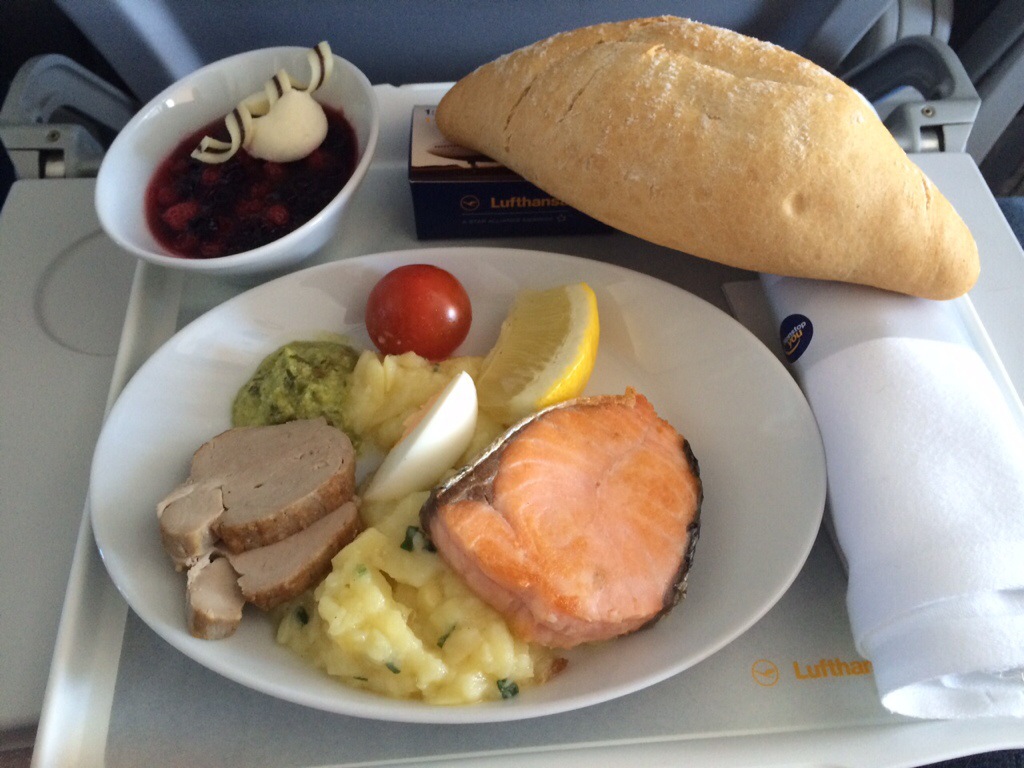 The next part of this series will explain how I was treated at the Hilton Munich City Centre hotel when I booked via Hotels.com rather than directly …..