Review: Singapore Airlines A380 First Class Suite – New York Stories #8
Links on Head for Points may pay us an affiliate commission. A list of partners is here.
This is my review of the Singapore Airlines A380 First Class suite, flown from New York to Frankfurt.
There are a few First Class products which have a reputation which sets them apart from the rest. British Airways does not often feature on such lists, unfortunately.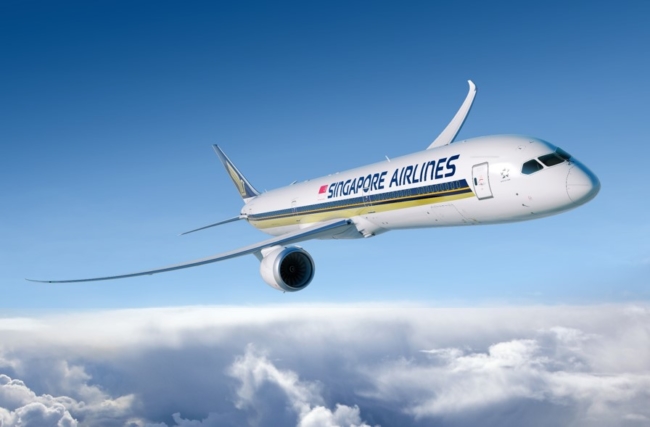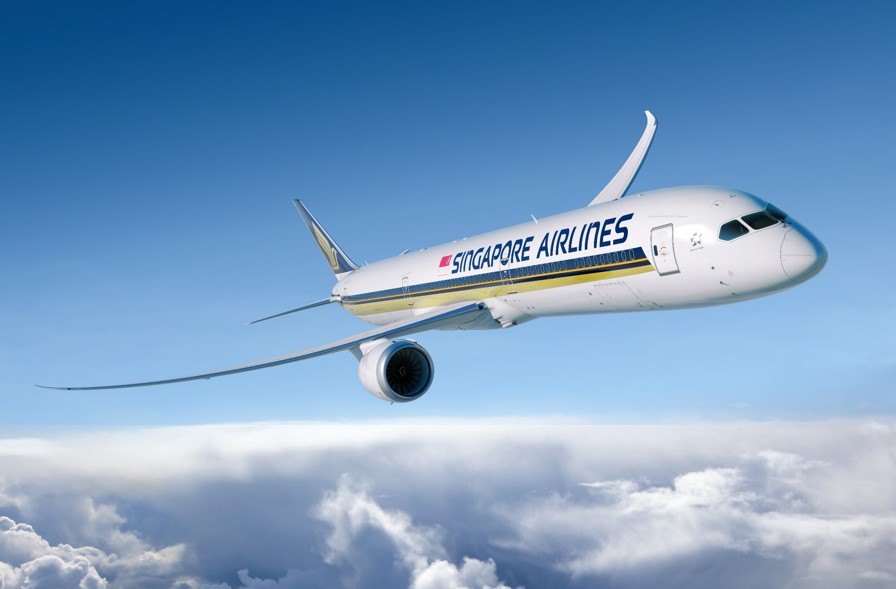 In terms of 'hard product' (ie seat) you have Emirates and Etihad setting the benchmark. In terms of food and drink, I have always found Lufthansa and Swiss to be excellent. One airline that is generally seen as getting both the seat and service right at the moment is Singapore Airlines.
I had flown Singapore Airlines First Class once before, about six years. This was a flight from Singapore to Tokyo. It used a very old plane with (amazingly) non-fully flat seats – it was a bit like the British Airways cradle seat of the early 1990's. The food and drink were excellent though.
Singapore Airlines has raised the bar substantially since then. With their A380 fleet, they introduced the First Class Private Suite.
There are 12 suites per A380. Technically it is called 'Suites Class' and not 'First Class' but I use both terms here for clarity. Intriguingly, they are situated on the lower deck in the nose (business class is upstairs) so you board with economy passengers. Because of the huge staircase on the A380s, the seat layout looks like this (from seatguru.com):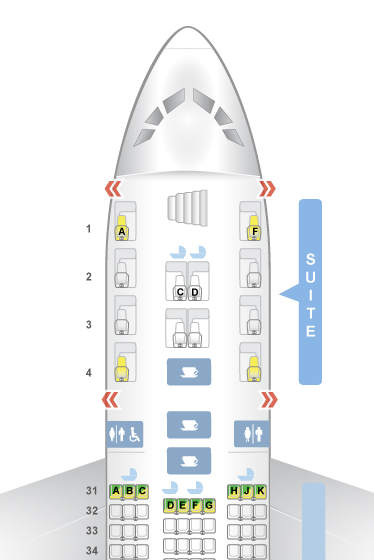 I took a First Class suite last week from New York JFK to Frankfurt. This is an overnight flight, leaving New York at 8.55pm and arriving in Germany at 10.45am. (The plane carries on to Singapore two hours later with a new crew.)
I would have preferred to fly Singapore on the outbound flight to New York but seats were not available. It was available for my return trip so I booked it, even though I was only awake for part of the flight! I am keen to try it again for a longer sector.
I will look at the food and drink in a separate article later this week. Today I want to share a few photographs of the plane interior.
Here is the huge A380 at the gate. I had only flown an Emirates A380 before this one – I also have a BA A380 flight in the diary for September: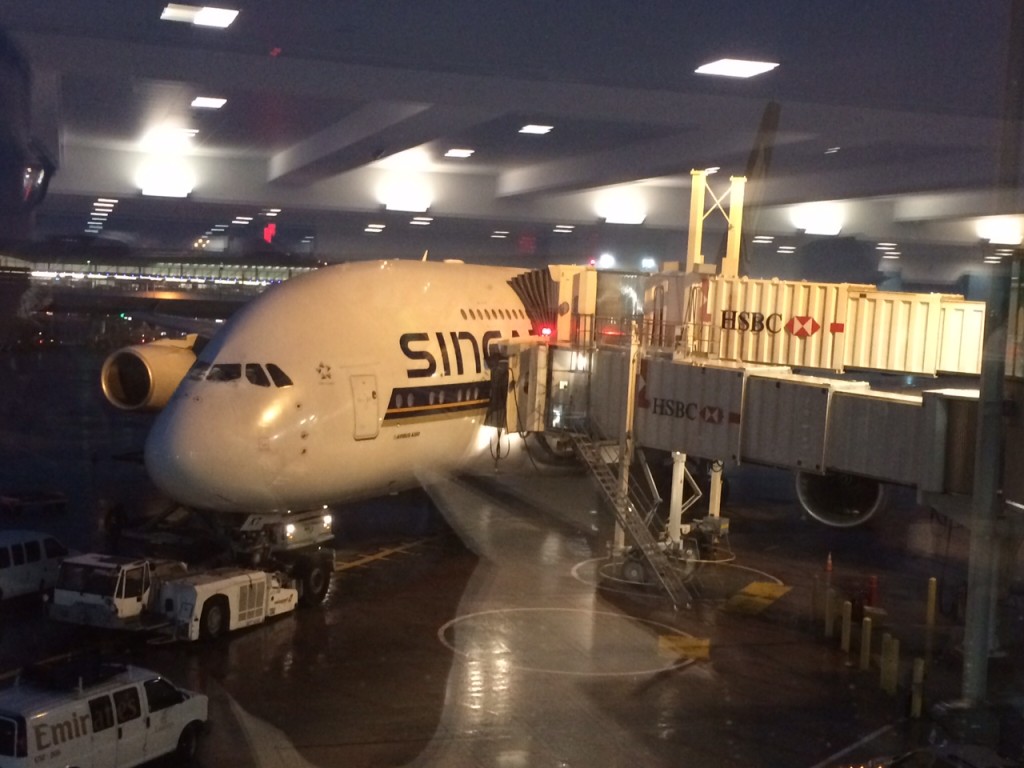 Luckily I didn't have to worry about my suite not being clean, thanks to Temoi: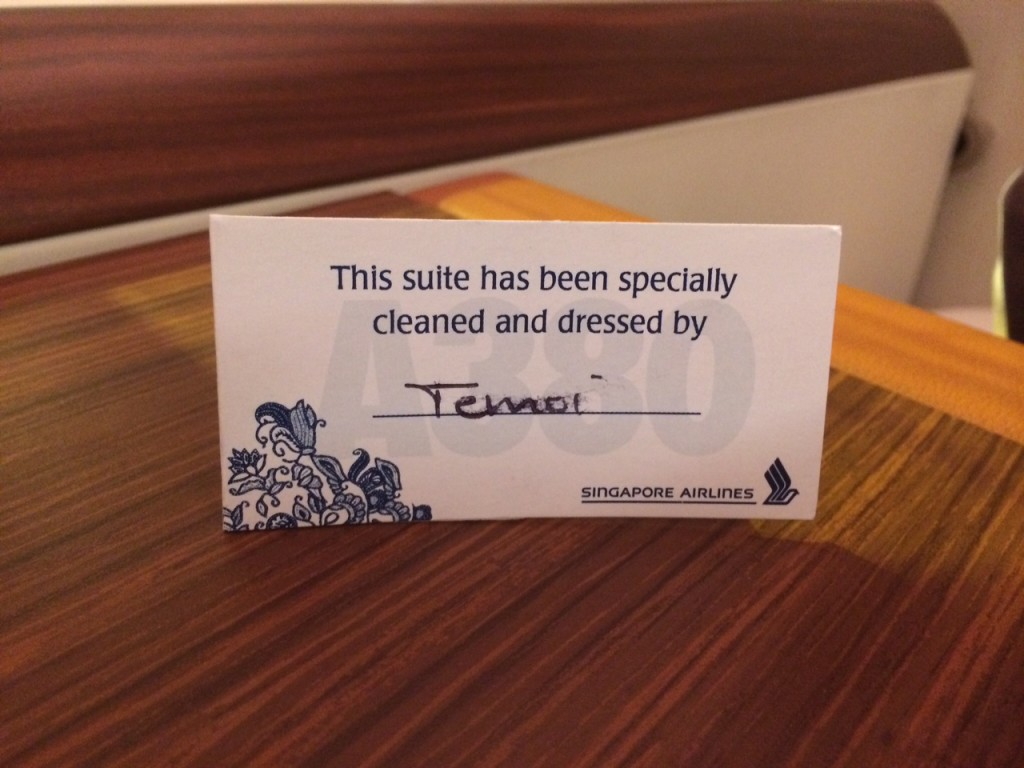 This is how the suites look from the outside. To the left of the photograph is the staircase leading upstairs to business class.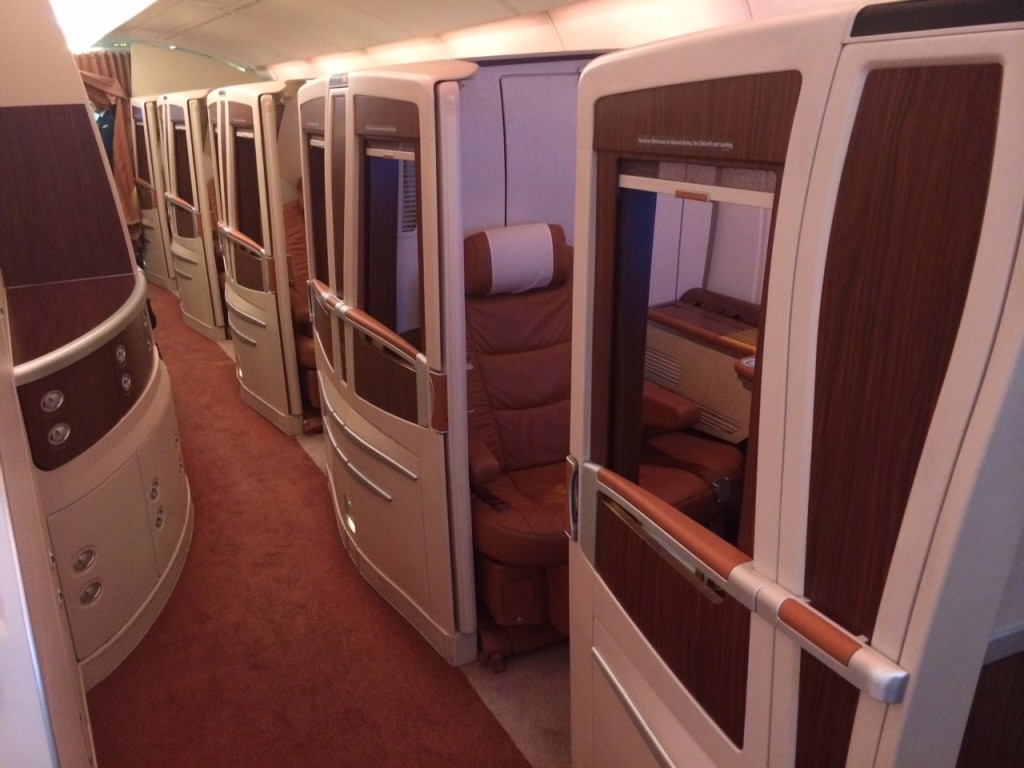 The colour scheme, to be honest, feels a bit 1980s with a lot of brown dominating. It is a l-o-n-g way away from the 'blingy' approach of the Emirates A380 suites. On the other hand, the Emirates suites do feel distinctly more modern. Not necessarily better, but more modern.
You can see the interior layout better here. The seat is in the take-off position (apologies for the lighting but it was a night flight). The TV is quite high when you are seated. There is not a lot of storage space inside the suite but there are two cupboards on the outside which are big enough to hang a jacket inside (which I did) or store a bag.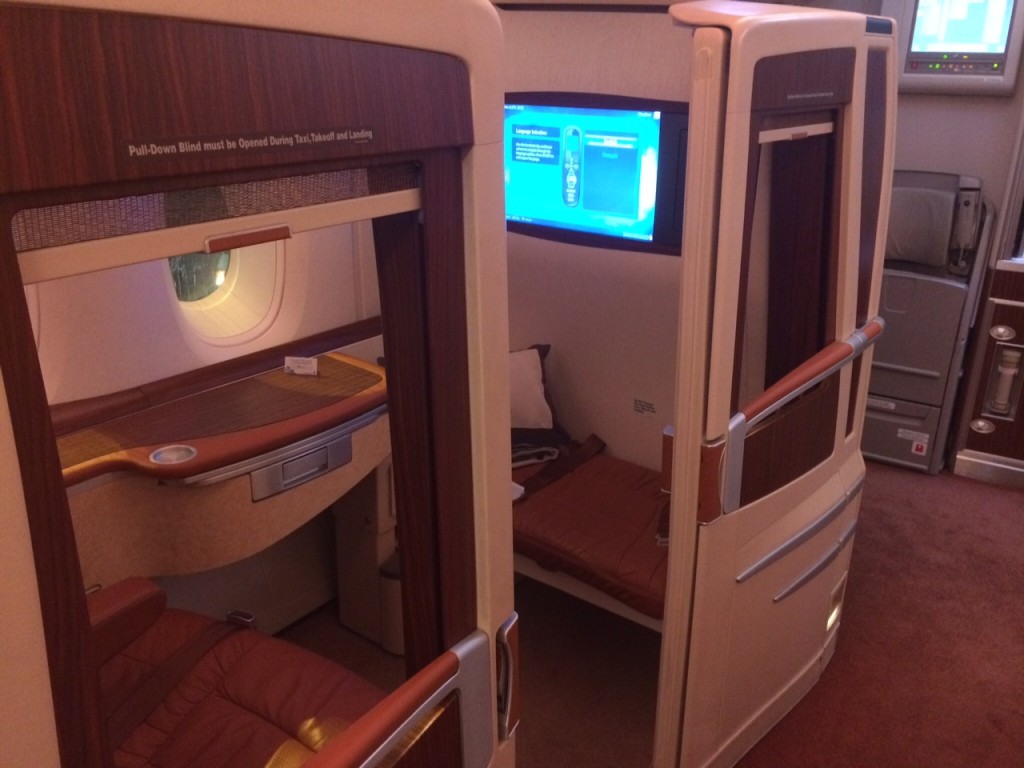 After a couple of hours, the crew – delightful to a man (and woman) – came along and made up my bed.
Annoyingly I didn't see how they did it because I went to sit in the next suite forward which was empty. You will notice that the bed goes right up to the window, with a gap near the door for a drink, a book etc. However, the seat goes right up to the door, with the ledge / table by the window.
It is NOT a simple case of the seat becoming a bed. All of the interior is reconfigured.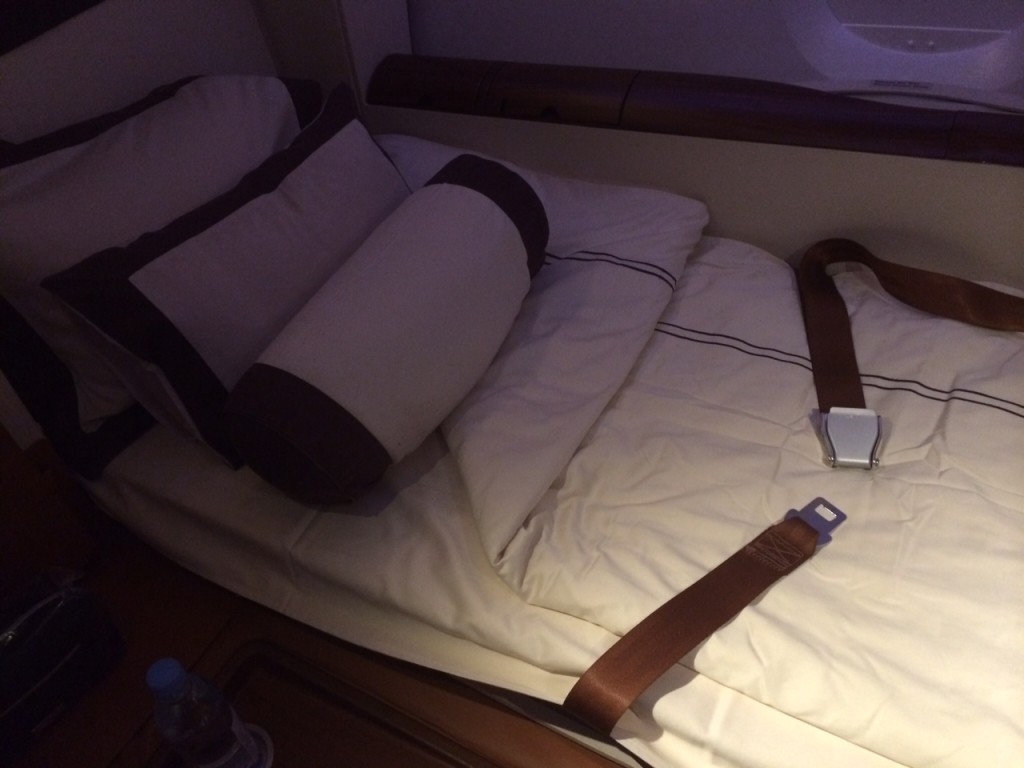 The doors of your suite close and the window blinds come down – although they do not close entirely as you can see: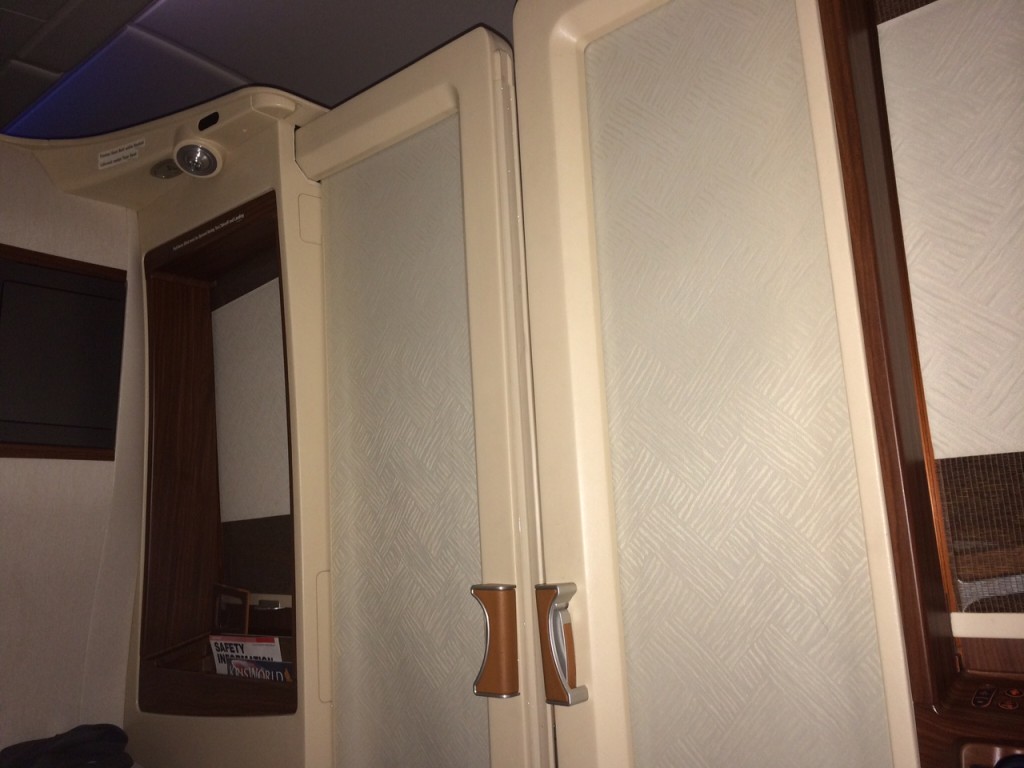 Of course, compared to my outbound flight – where I had an entire First Class cabin on Lufthansa to myself – this suite felt positively crowded. I think there were 5-6 suites occupied out of the 12.
How to book one
For a l-o-n-g time Singapore Airlines did not release First Class suites for redemption. They do now, but generally only for members of their own Krisflyer programme.
Luckily, Krisflyer is a partner with American Express Membership Rewards. It was very straightforward to open a Krisflyer account and transfer across the required points. I would have been in trouble had the seat I wanted disappeared during the 3-4 days it took to transfer the points as I had no date flexibility, but luckily I was OK.
Krisflyer allows one-way redemptions. If you can find a day with 'Saver' availability, it is just 57,375 Krisflyer miles each way between New York and Frankfurt. The headline price is 67,500 but you receive a 15% discount for booking online. This is, obviously, a steal compared to 60,000 miles each way for British Airways First Class between New York and London.
If there is no 'Saver' availability, you can pay a rather pricier 130,000 miles each way (110,500 after the 15% online discount) for a 'Standard' redemption. If you want effectively 'last seat availability' it is a crazy 460,000 miles each way.
I'm not sure if Singapore now makes more than one Saver and one Standard seat available per flight.
As far as taxes are concerned, Singapore does add fuel surcharges. On a one-way from New York to Frankfurt you pay $222.
On a one-way in the other direction, you pay €255. Note the outbound is an 08.20 departure so you would need to spend the night in Frankfurt first.
In a couple of days I will share the food and drink menu with you.