My targets for the IHG "Into The Nights" promotion
Links on Head for Points may pay us an affiliate commission. A list of partners is here.
The website for the very impressive new IHG Rewards Club promotion, 'Into The Nights', is now live.
If you log in at the site, you will see your targeted offers. There were some problems with the site yesterday which stopped some people logging in – I can only hope that they have been resolved overnight.
To be honest, it looks pretty good for me and my family. Whilst I am an Ambassador and my wife is Platinum, we have done few paid IHG stays this year. My Mum has no IHG status and has no stays on her account since the last 'Big Win' promotion last year.
I will show you what we have got as it may help you understand your own targets better.
These are the assumptions I use:
IHG Rewards Club points are worth £5 per 1000 (based on using 50,000 for a £250 5-star)
A 'Free Night Voucher' is worth £250 to me because I will use it at a high-value InterContinental
I am making an assumption here that the 'Free Night Voucher' will be the same as the one given with the IHG credit card. This would mean you could use it within a year, anywhere, as long as reward nights were available.
If it turns out there are restrictions on the validity of the free night vouchers then I would need to reduce their perceived value. I will not be making speculative bookings for this promotion until the small print of the free night vouchers is published.
Case Study 1: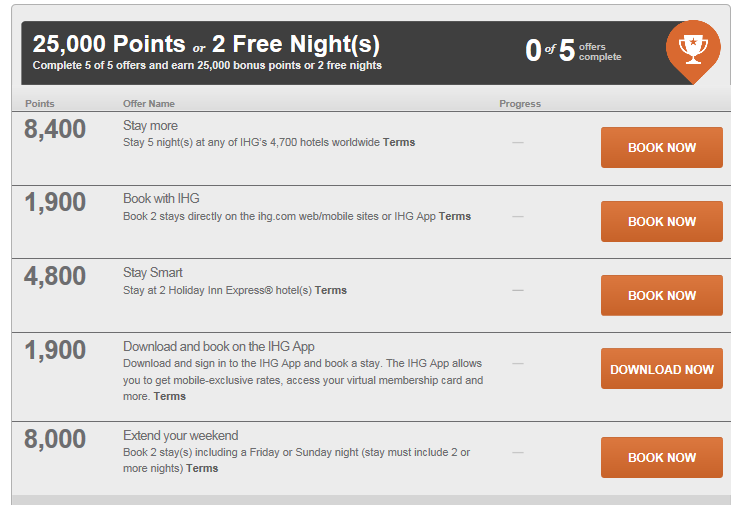 This is my Mum's 'no status' account. If she completes all five tasks, she will earn 25,000 points plus the 2 free night vouchers. That is £625 of value using my valuations.
The easiest way to get this would be:
1 x 2-night stay and 1 x 3 night stay at two different Holiday Inn Express hotels, ensuring each stay included a Friday or Saturday night
Central London Holiday Inn Express hotels are not exceptionally cheap. However, I reckon I can find something for £60 per night (Croydon, potentially). That would be a total cost of £300 at worse. I am definitely 'in' on this basis, given that it only requires two different hotel visits.
Case Study 2: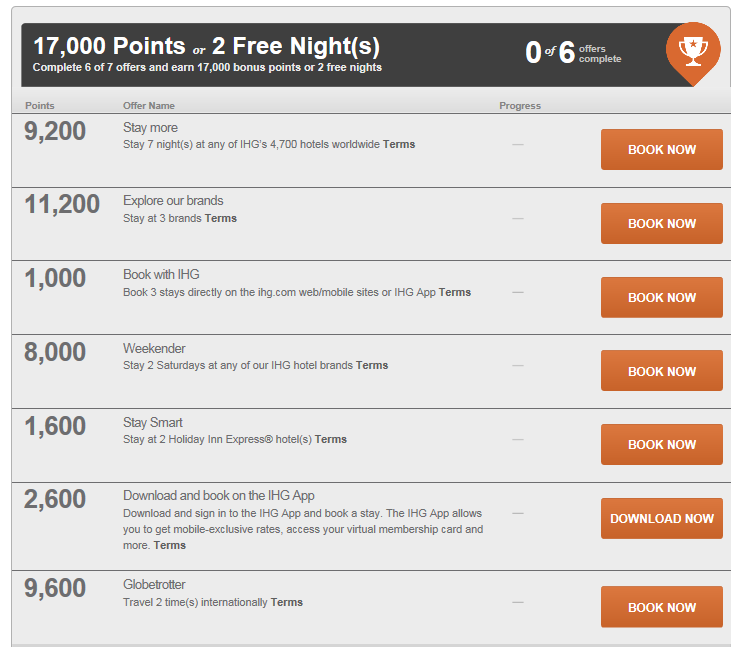 This is for my wife. This one is a bit trickier and would depend on whether we could trigger the two overseas stays. Let's assume that we can't.
Hitting the first six targets on the list would probably involve:
1 x Holiday Inn Express stay for 2 nights, inc a Saturday
1 x a different Holiday Inn Express for 3 nights, inc a Saturday
1 x Holiday Inn night (assuming I want a cheap brand)
1 x another brand to hit the 3 brands target (Crowne Plaza Heathrow?)
In total, that would earn 33,600 points (£168) plus 2 free nights (£500) for a total of £668. Whilst this is achievable, it would be a lot of trouble to do the four stays necessary. I will give this a miss unless a couple of business trips outside the UK come up to hit the 'Globetrotter' target.
Case Study 3: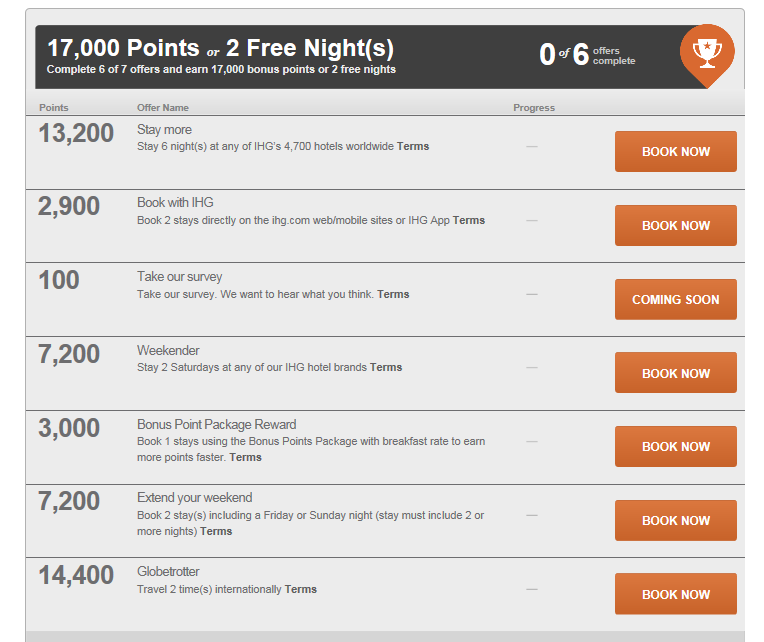 This is mine. There are no brand caps on this which makes it a bit easier.
If I do it all in the UK, I would need:
2 x 2-night stays over a Fri/Sat or Sat/Sun
Another 2 nights anywhere, anytime
One of these stays to be on a Bonus Points Package with breakfast (not sure how easy these are to find, and not available at Holiday Inn Express hotels as they give free breakfast)
That would net me 33,600 points (£168) plus 2 free nights (£500 of value) for a total of £668. This might be possible.
However, I have two overseas trips coming up. I am not booked into IHG properties but I could find a suitably cheap local one for a mattress run. Note that the stays must be in two DIFFERENT countries. As I only need to hit 6 of the 7, I could then exclude the '7 nights target'.
That would let me do:
2 x 2-night stays outside the UK, each comprising a Fri/Sat or Sat/Sun, one of which is a Bonus Points Package with breakfast
This looks attractive. I would only need to do 2 check-ins, for a start, which saves time. My earnings would be 34,800 points (£174 of value) plus 2 free nights (£500 of value) for a total of £674. There would also be a slug of base points. This should be possible for under £300 of expenditure.
The link to check your own target is here.
(Want to earn more hotel points? To see our complete list of promotions from the major chains, click here to visit our 'Hotel Promos' page or use the link in the menu bar at the top of the page.)