Want to keep your middle seat free? BA increases the cost
Links on Head for Points may pay us an affiliate commission. A list of partners is here.
British Airways sent out an announcement recently regarding the pricing of 'extra seats', often known as 'comfort seats'.
The archetypal user of an 'extra seat' is a musician with a priceless cello or violin, a bride-to-be with her wedding dress (see photo below!), an ex-skier with a foot in plaster or a critically obese individual.
In reality, they are also often used by people who want to work on confidential documents (according to BA, although I'm not sure why such a person would not book into Club Europe) and – for the enlightened – people who want to create a Club Europe-type experience at a discount price!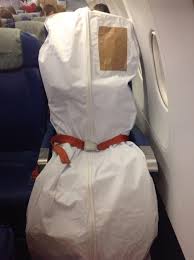 The old pricing
Until last month, you could book an 'extra seat' for the ex-tax price of a standard cash seat.
Because of BA's crazy 'taxes and charges' this would often be as little as £5 on a short-haul flight.
You may be wondering why, if you could pay so little to book an empty seat next to you, more people did not do so. Apart from the fact that British Airways keeps them low key, the airline is woefully poor at administering them.
You can only book an 'extra seat' by telephone. Once done – and you need to find an agent who can do it, which is not always easy – you cannot relax. Because of the way they are treated in the system, you remain reliant on the ground staff at the airport to block out your additional seat properly and to not move a passenger into it.
I also know people who have turned up at the gate to find that their extra seat is now five rows back from where they are seated themselves. Just about acceptable if it is for your wedding dress, less acceptable if it is for your own personal comfort or privacy!
The new pricing
The days of the £5 'extra seat' are gone.
As of a couple of weeks ago, the minimum price is now £40 return for short-haul flights and £300 return for long-haul flights. The price will be higher if the ex-taxes and surcharges price of the 2nd seat is greater than £40 / £300.
There is one upside to the new pricing. The 'extra seat' is now based on the price you paid for your own seat. Under the old system, the price you paid was based on the price at the time the extra seat was requested.
This makes a big difference to, say, accident prone skiers or brides who only decide at the last minute to take their dress onboard. Booking an 'extra seat' at the last minute was always very expensive as it was based on the last minute ticket cost. It is now based on what you originally paid for your seat many months ago.
There is one more downside. In long-haul economy BA can no longer guarantee that your seat will have armrests which fully lift (it is not clear which aircraft this refers to) which means that 'people of size' are wasting their money buying an additional middle seat. British Airways put out a specific release last week addressing this as it is clearly causing some embarrassment at airports.
You can also no longer buy a spare seat for a double bass if travelling on a short-haul flight, as they will no longer fit due to the 'enhanced' legroom in the refurbished planes!