My review of the Hotel Amigo, Brussels – a sad decline
Links on Head for Points may pay us an affiliate commission. A list of partners is here.
This is my review of the Hotel Amigo in Brussels, run by Rocco Forte Hotels, where we spent an eventful couple of days last weekend.
It has been impressive to watch how Rocco Forte has built up his chain of luxury boutique hotels over the last 18 years.  Hotel Amigo was one of the first to join the group.  I had only stayed with them once, in St Petersburg, but I also have the occasional drink in Browns in London.
They have good-looking hotels, without a doubt, and I include Hotel Amigo when I say that.  The company overstretched itself financially in the run up to the financial crisis, however, and it has lost a couple of properties.  At one point it was thought that the entire business may collapse but a recent equity injection seems to have stabilised the ship for now.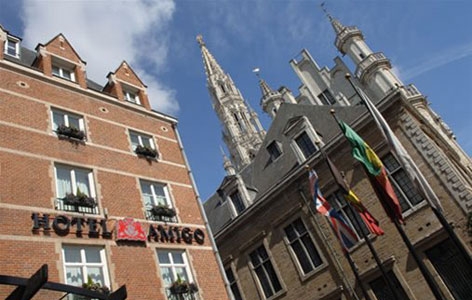 Unfortunately, the lack of money in the business appears to have had an impact on the hotels themselves.  There is no other explanation for the string of issues which befell us last weekend – when the Hotel Amigo was, note, was charging €339 per night for a standard room.  Let me review what happened.
This will not happen to you
When reviewing a hotel you need to separate out events which are unlikely to happen twice from things which impact every guest.  The following story will hopefully not impact you but it is symptomatic of the management approach.
We arrived at Hotel Amigo off a Brussels-bound Eurostar at 9pm with two interconnecting rooms booked, one for me and my wife and one for the kids (6 and 3).  My online booking confirmation noted interconnecting rooms.  More importantly, I had spoken to the hotel directly after booking and they had blocked out our rooms for us.  In theory they were 'locked' and could not be touched.
Not so.  The Hotel Amigo had given away our rooms – in fact, despite written proof, they claimed to have no record of our request for connecting rooms.  The only rooms left were on opposite sides of the building which was obviously impractical.  The only solution was to put two mattresses on the floor in one of the rooms.
This is obviously not what you expect from a five-star hotel.  What I REALLY did not expect, though, was to be told that I still had to pay for the 2nd room at €339 per night even though it would be left empty.
In 20 years of staying at 100+ luxury hotels, I have never come across such an astonishing position.  It beggared belief.  After one hour – yes, one hour – of standing at the desk and disputing this, with my little kids having to sit in the lobby, they reduced it to effectively 50%.  I would have to pay for 3 room nights (across 2 days).  Take it or leave it – except I was with two small children and if I left they would charge me anyway.  I had no choice but to agree to pay 3 x €339.
As it turned out, an unexpected reallocation of rooms meant that, on Saturday, we were given a second room which connected to the one we were in.  (The hotel did not, of course, bother to remove the mattresses from the floor of our original room.  They sat there for the remainder of our stay.)
This was not on the cards the night before when I was forced to agree to pay for an empty room.   Rather like my stay at the St Regis in Doha, this 'unexpected reallocation' of rooms only happened after the hotel found out what I do for a living.
This will happen to you
None of the above should happen to you if you visit the Hotel Amigo, to be fair.
The following will happen to you:
Very poor in-room wi-fi – room 233 had an exceptionally bad connection, even in the dead of night when nobody else would have been on the system.  In other parts of the hotel it was better
A faulty TV remote control
Lots of street noise from drunken youths in the early hours (the hotel is one road back from the Grand Place)
No newspaper delivered to my room in the morning, despite ordering one (at the suggestion of reception, ironically)
A long queue for breakfast in the 'too tiny' breakfast room
More importantly, the Hotel Amigo had the WORST breakfast buffet I have ever seen in a five star hotel.  The selection is laughably poor, even if you can find some food left.
On Saturday there was no egg at 10am: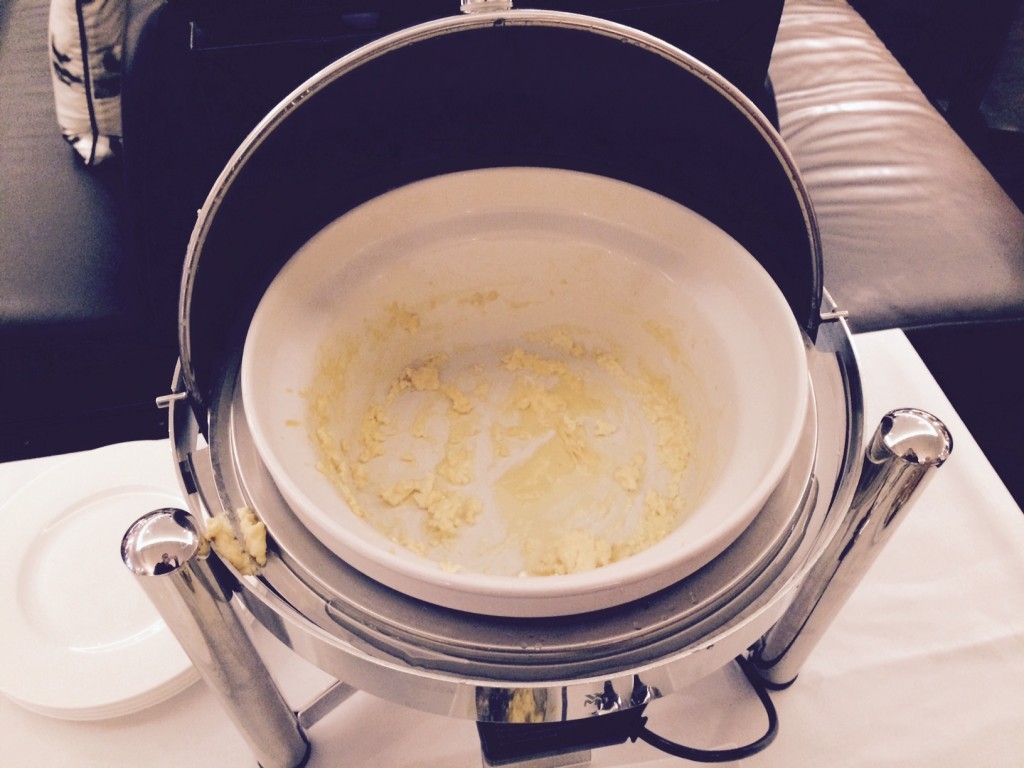 and no pastries (although as the pain au chocolat were rock hard, I was possibly not missing much):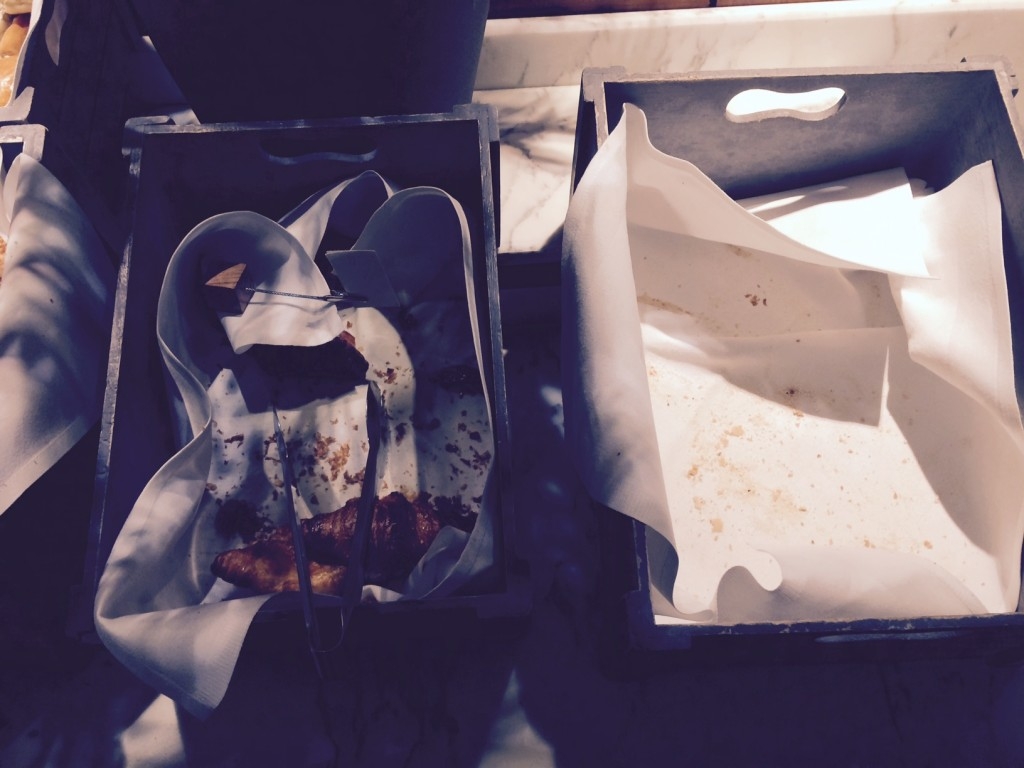 and no glasses if I wanted juice: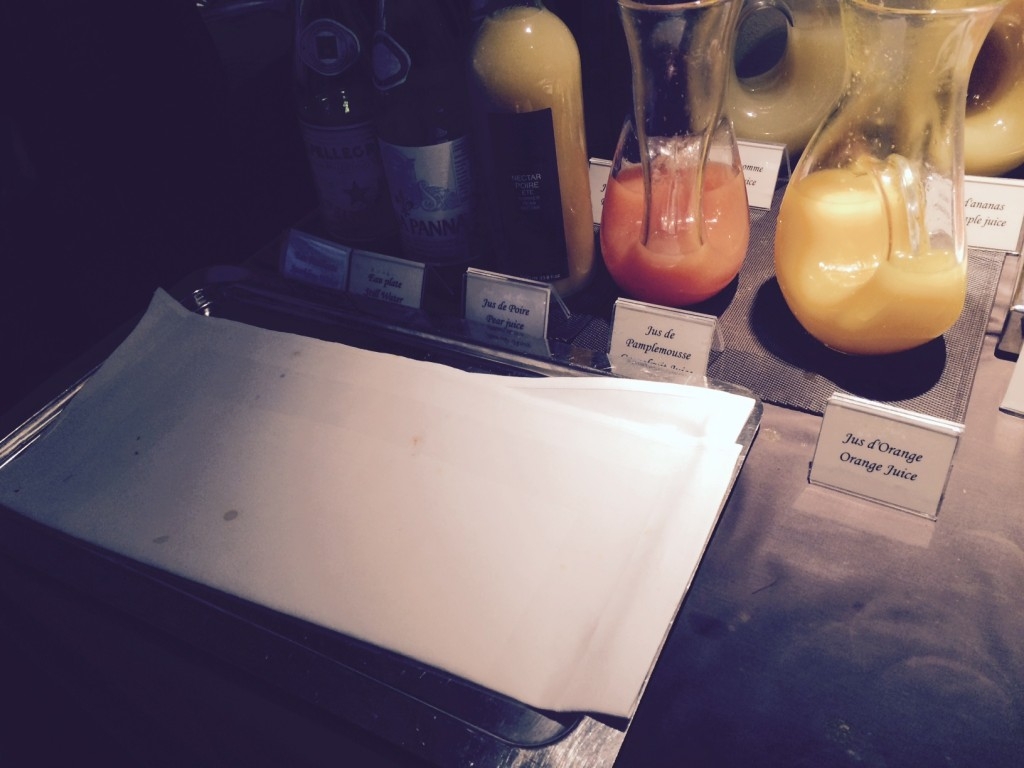 Breakfast cereal consisted of four different types of muesli because, of course, everyone loves muesli.  In particular, small children.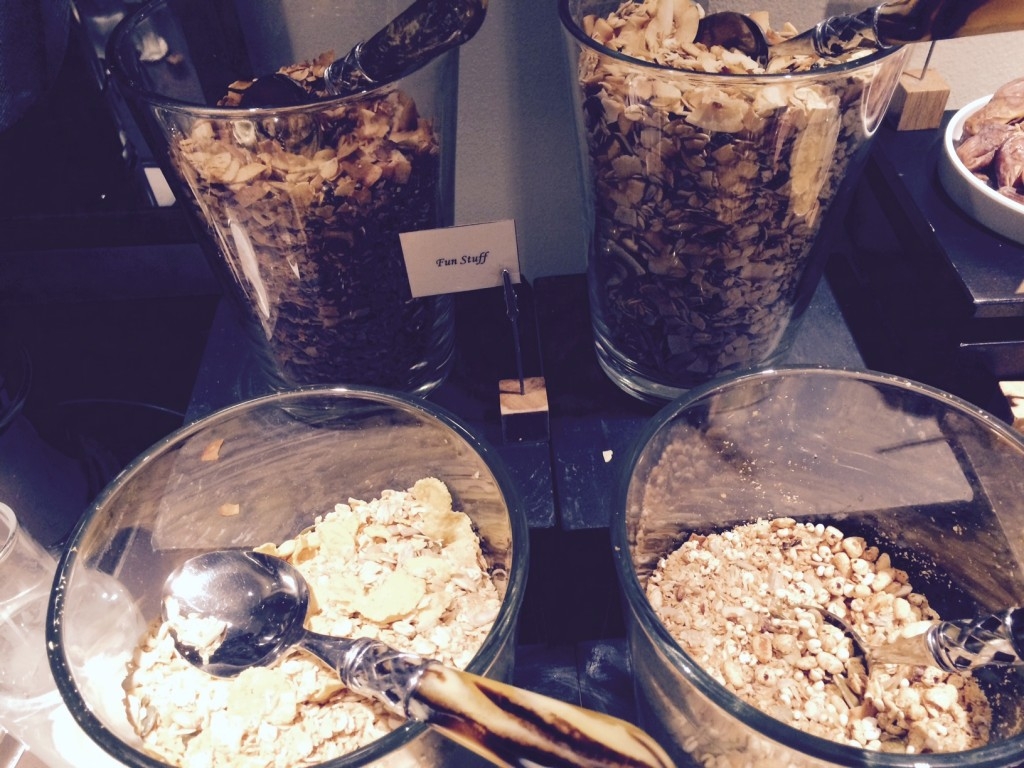 There was egg on Sunday morning but this was probably because the hotel had not put out a serving spoon so no-one could eat it.
There IS a decent 'cooked to order' breakfast menu at the Hotel Amigo.  The problem is that, as the buffet is so bad, everyone is forced to order from the menu or risk going hungry.  This puts a huge strain on the kitchen which it cannot handle.  My wife waited over 30 minutes for a pancake on Sunday, by which point my kids had eaten and I was forced to take them back to the bedroom before they caused chaos.  The only time the staff ever showed any sign of speed was when we tried to leave on Saturday after forgetting to sign for our additional items.
My wife was also disappointed that their Christmas tree was fake although I did not check this fact personally and cannot verify it!
Conclusion – avoid
It is sad to review a grand hotel like Hotel Amigo in Brussels and find it so wanting.  It is clear that the financial problems at the group have led to scrimping and saving which has brought down the service level considerably.
None of the issues I highlighted are life-threatening, of course.  The fact is, though, that when you are paying €339 per room (x 2 in our case) per night none of these things should happen at all.  My newspaper still did not appear even after I complained about not receiving it, which is unforgivable.
There is a new Novotel just north of the Grand Place, in an equally convenient location (for a tourist) to the Hotel Amigo.  That would be my first point of call next time.  It is unlikely that it could be any worse.
---
Hotel offers update – June 2022:
Want to earn more hotel points? Click here to see our complete list of promotions from the major hotel chains or use the 'Hotel Offers' link in the menu bar at the top of the page.
Want to buy hotel points? There is:
a 80% to 100% bonus when you buy Hilton Honors points by 19th July 2022 (buy here)
a mystery 40% to 55% bonus when you buy Marriott Bonvoy points by 15th July (buy here)
a 30% bonus when you buy 5,000+ World of Hyatt points by 1st August (buy here)