Year-end musings on British Airways sparked by Emirates new Birmingham service
Links on Head for Points may pay us an affiliate commission. A list of partners is here.
Emirates announced just before Christmas that it was launching a third daily service into Birmingham International from 1st August 2015.  Operated by a Boeing 777, it will be the first EK service out of the airport to have a First Class cabin.
The march of the 'big 3' Middle East carriers continues apace.  Qatar launched Edinburgh this year and has announced plans to go from five flights a week to seven.  It is also doubling its Manchester service to twice daily next year.  Etihad has just announced an upgrade of its in-flight service as it launches its first A380 service to Heathrow.
If you read my review of my Qatar Boeing 787 business class flight this Autumn, you will know I hold them in high regard.  We have also switched – at the insistence of my wife, ironically – to Emirates business class for our regular trips to Dubai to visit my sister-in-law and her family.
Meanwhile, over at British Airways, here is a photograph which tells you everything you need to know about the current state of the airline: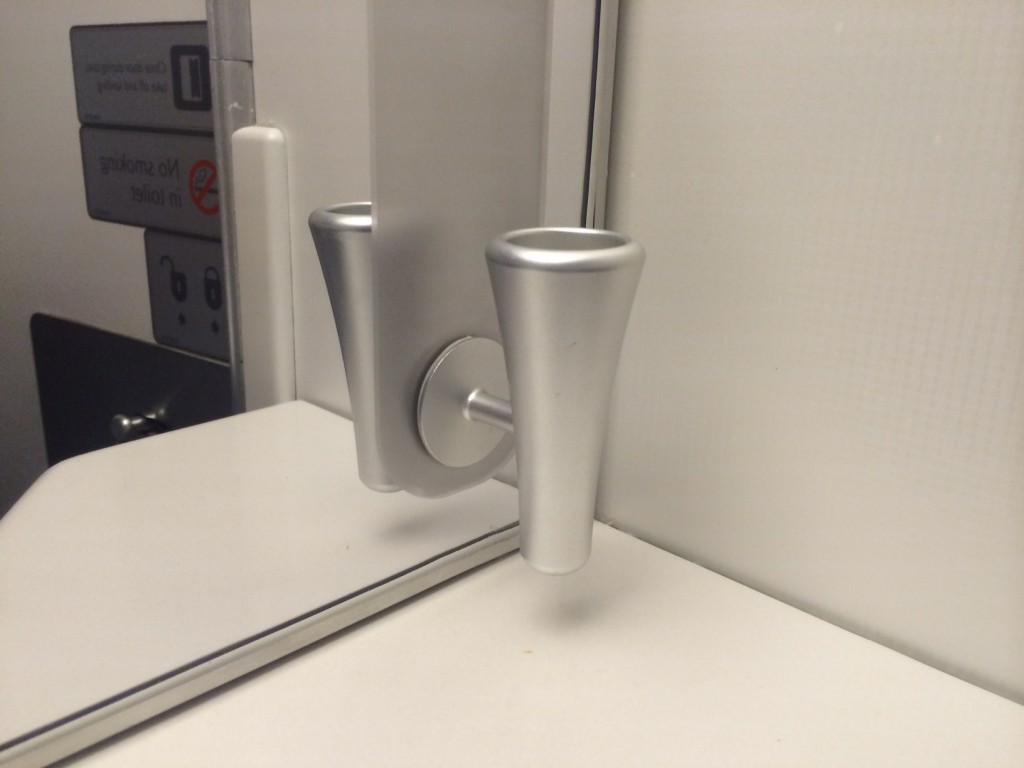 I took this photo in a Club World toilet in October.  If you don't know what it is, it is the flower holder.
'But where is the flower?' I hear you say.  The answer is that flowers have been culled by BA management because they cost (let's guess) £2 per flight.  They were meant to be retained in First bathrooms but I know that was also on the list for culling.
We could put together a long list of other penny-pinching measures, even down to the cancellation of the British Airways Open Day this year.  The downgrading of World Traveller meals and the removal of sparkling wine, for example – although you rarely read about that online as forums tend to be focussed on travellers in premium cabins.  You may remember my course-by-course comparison of Qatar, Emirates and BA business class food this year, which did not end well.
This is before we get to the ludicrous new short-haul interiors, where the Club Europe seat pitch has been slashed from 34 inches to 30 inches.  At the back of economy on some short-haul planes, legroom is now less than you get on Ryanair (29 inches vs 30 inches).  Ryanair is retaining a 30 inch pitch on its recent order for 200 new Boeing 737 aircraft.
Can this really end happily for BA?  The current problems at Tesco seem very relevant, a business which turned to capex freezes (and allegedly dubious accounting, of course) to shore up profits instead of responding positively to Aldi and Lidl and is now paying the price.
It is not difficult to see a scenario within five years where Qatar, Emirates and Etihad – all of whom offer a service vastly superior to BA in premium cabins – are flying 50 planes a day out of the UK.  I imagine it is already close to 30.
Even BA's oligopoly on North American routes could be under threat.  Historically a lot of people would fly from the US to Heathrow and then transfer to Paris, Frankfurt etc because they valued the flat-bed Club World product.  Flat beds are currently being installed by Air France, KLM, Lufthansa, Aer Lingus, Finnair etc.  airberlin, Iberia, LOT and others are already 100% there – and in general they are better seats than Club World.
Why fly in an inferior BA Club World seat with inferior food to face the overrun transfer desks at Heathrow and a 30 inch seat pitch on your connecting flight to Germany?  Again, look forward five years and British Airways will have the worst long-haul business class product of any major European airline.
There is no doubt that the lower oil price will flatten the British Airways numbers in the short term.  In the longer term, though, the current penny pinching mentality of the airline is going to lead it into a corner from which there is no obvious exit.
(PS.  Since I wrote this last week, I have discovered that Emirates is feeling the pinch as well.  Via One Mile At A Time, it seems that Hennessy Paradis – £525 a bottle at The Whisky Exchange – is being removed from First Class and the business class bar.  Tough times indeed ….)