How I used miles and points for my Abu Dhabi trip this week
Links on Head for Points may pay us an affiliate commission. A list of partners is here.
One piece of feedback from my New Year reader survey was for more details on my own redemptions and how I justified the choices I made.  I'm happy to oblige.
I am in Abu Dhabi for a few days this week.  I thought it would be interesting to follow up my review of the Qatar Airways Boeing 787 business class service with a look at Etihad.  A window opened up where I could get away for a few days without inconveniencing the family so I thought I'd try it out.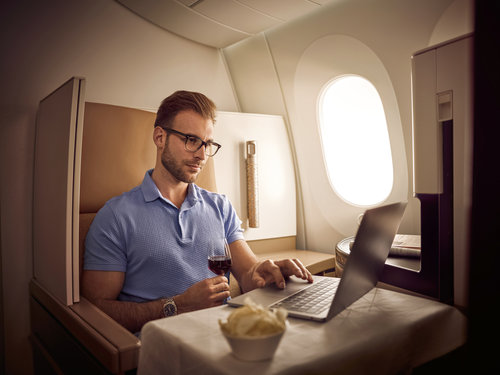 This is how I planned the trip and the cost in miles and points:
Trip to Heathrow
Free.  Etihad provides a complimentary chauffeur service to premium passengers and this includes those on redemptions.  Oddly, it has recently stopped offering it to those on deeply discounted business class sale tickets.
Overnight at Hilton London Heathrow Terminal 4
Because of the early flight and my desire not to wake the entire household at 4.30am, I booked into the Hilton Heathrow Terminal 4.  My flight departed from T4 so it made sense.  I considered the new Hilton Garden Inn but the first tube from Hatton Cross is quite late and I wasn't going to wait for a bus at 6am in January.  I also rejected the hotels which required the Hoppa bus for the same reasons.
Hilton Heathrow Terminal 4 was £105 for cash.  The alternatives were 50,000 Hilton HHonors points or 20,000 points plus £55 cash.
I value Hilton HHonors points at 0.3p.  The full redemption was therefore very poor value indeed.  The cash and points option was also below my threshold at 0.25p per point (£105 – £55 / 20,000 points).
However …. my wife had 22,000 points in her Hilton account.  They were going to expire in a couple of months unless I bought some points to keep them active.  It made sense to empty her account and book a cash and points room in her name.
Usually I would also factor in the value of any points earned back if the number was large enough.  However, the Hilton promotion for January required 2 stays to kick-in so I would have not have qualified.  I could have earned 1,500 Avios via another Hilton promotion but that had not launched when I booked, and still may trigger even on my 'cash and points' stay.
Etihad A380 Business Class to Abu Dhabi
Etihad First Class redemptions are far better value than Business Class.  Business Class one-way from Heathrow is 44,013 Etihad Guest miles + £185.  First Class is 55,312 + £185 and clearly worth the extra.
That said, I booked Business outbound because I wanted to experience both the Business and First Class products.  I would have preferred to do First Class on the A380 but at the time of booking Etihad was blocking A380 First Class redemptions.  This block has now been lifted and you can redeem for the amazing First Class Apartment.
Last Autumn, Etihad offered a 20% bonus on transfers from American Express Membership Rewards.  Knowing this trip was on the horizon I moved a chunk across.  Adjusting for the 20% bonus, my one-way A380 Business Class flight cost me 36,677 American Express Membership Rewards points and £185 in taxes and charges.
I could also have booked this flight for 30,000 American Airlines miles, if I had any – which I don't!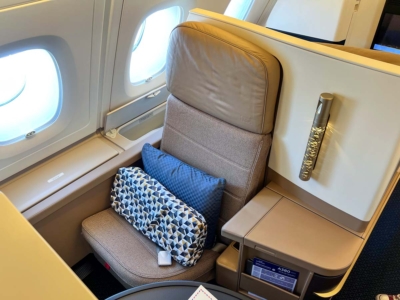 Transfer to hotel
Free with the Etihad chauffeur service
Jumeirah at Etihad Towers, 2 nights
There are plenty of high-end redemption options in Abu Dhabi – St Regis (SPG), Park Hyatt etc.  However, I am a fan of Jumeirah and wanted to give this beach-side property a try.  I also have a Silver card from our Dubai trips last trip which meant I would receive free breakfast.
Two nights cost 2,000 Jumeirah Sirius points.  I had these in my account anyway, but I could have transferred 40,000 Amex points from my International Dollar Card Membership Rewards account.  Note that Jumeirah is NOT a partner of the UK Membership Rewards scheme.
40,000 IDC Amex points is equivalent to roughly 26,000 UK Amex points.  The room would have been £350 for two nights so this is an excellent value Amex redemption.
When Amex Travel launched its '£100 cashback on a £300 transaction' offer I considered switching to a cash room. However, paying for breakfast for 2 nights would have wiped out much of the saving and even adjusting for the £100 cashback it represented a good use of Sirius points.
Transfer back to airport
Free via the Etihad chauffeur service
Etihad Boeing 777 First Class to London
This was such a great deal it was laughable.  The flight was 55,312 Etihad Guest miles + £14.  £14 is not a typo.  Because of the 20% Amex transfer bonus, it cost me 46,093 Membership Rewards points.
This gets me a private First Class suite for the seven hour flight back.
I could also have booked this flight for 40,000 American Airlines miles, but I don't have any.
Transfer to my house
Free via the Etihad chauffeur service
That is how I did it.  A series of lounge, flight and hotel reviews will start next week.