What SAS taught me about how they decide which new routes to fly
Links on Head for Points may pay us an affiliate commission. A list of partners is here.
When I was at the SAS HQ in Stockholm last week (photo from their lobby below), I sat through a lecture on route management.  In particular, how SAS – with a fleet of 12 long haul aircraft – decides which new routes to serve.  I thought you might be interested to know how they approach such a project.
At present, SAS serves 11 long-haul routes to 8 countries.  Their 12 aircraft fly for an average of 13 hours per day, compared to 8 hours for their short-haul fleet.
Opening a new route – as opposed to switching a plane from an existing one – is a huge decision.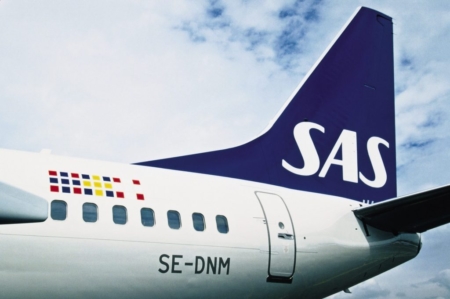 An additional A330 or A340 aircraft will cost around £75m, or alternatively the airline must sign a 12-year lease with a similar total cost.  In addition, running costs will be £50m per year.
On the revenue side, assuming 200 passengers per flight, the average annual load is 140,000 people. For SAS, that limits their options – only a certain number of cities attract 140,000 people from Scandinavia every year.  The airline factors in price DEFLATION when modelling whether a 12-year lease makes sense.
On the upside, there is 'market stimulation'.  If SAS opens a new direct route to a country which previously did not have one, the market will grow by 25%-35%.  Many people have a preference for visiting places they can fly non-stop.
On the downside, SAS can never command more than 70%-75% of a route when it is the only non-stop option.  Some people, whether based on price or frequent flyer benefits, will always choose to travel indirectly on another carrier.
The SAS long-haul strategy is based on locations in the Northern hemisphere.  They do not, if possible, want to fly to places where changing planes in London or Frankfurt would not slow down the journey too much.  The ideal SAS route would require a major diversion to go via another hub.
The routes must be viable from the local market.  (We saw charts showing every major global city and how many Scandinavian residents fly there each year.)  SAS is not willing to rely on 'feed' from outside Scandinavia when assessing viability.  On the other hand, a destination which has a lot of Star Alliance short-haul traffic IS attractive because it allows for onward connections.
With a fleet of A330 and A340 aircraft – to be replaced by A350 aircraft over the next five years – there are also issues of range.  Cape Town is too far to operate all year round – Winter headwinds would make the distance too long.  Singapore, Brazil and Argentina are too far.
The minimum number of flights per week to get traction for business travellers is five, they feel.
As you can see, there is a lot to it.  The newest SAS route will be Hong Kong, launching in September, and which is replacing Bangkok.
PS.  There was one interesting anecdote which slowed how glacially slow the travel industry can be at times.  Last year, SAS introduced a new top tier in its EuroBonus programme called Diamond.  However, Amadeus – the centralised airline reservation system used by SAS – requires 18 MONTHS to make the necessary software change to add a fourth category and allow a flyer to be marked as Diamond.