Book review: 'Skyfaring – A Journey With A Pilot' by Mark Vanhoenacker
Links on Head for Points may pay us an affiliate commission. A list of partners is here.
If you are a Radio 4 listener you may – apart from hearing me on 'You and Yours' (!) – have recently heard British Airways pilot Mark Vanhoenacker reading his book 'Skyfaring – A Journey With A Pilot'.
The publishers kindly sent me a copy to review a few weeks ago.  Vanhoenacker, I should add, is a good friend of a good friend of mine, although we have never met.
Our Easter holiday, my extended trip around Europe and the general issues of having two little children meant that it took me a good few weeks to get around to cracking it open.  I was glad I finally made the time.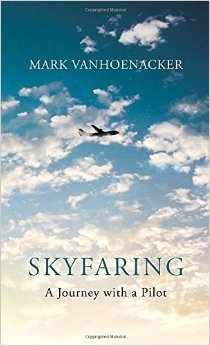 For many people, flying is no longer fun.  I always say to people that I was lucky that my corporate career never involved intensive travel, because it meant I always enjoyed flying off on holiday.  I still get a bit of thrill as my taxi pulls into Heathrow.  If flying has lost its thrill for you then this book is worth a read, because Vanhoenacker has the impressive knack of getting across how magical it is to take to the sky.
His own background is interesting.  Whilst currently a Boeing 747 pilot at BA, this is actually his second career after initially joining a management consultancy from university.  His writing career developed on the side, writing pieces for the New York Times and Slate, before ending up here at his first book.
Starting with scene setting pieces on his early career, you soon find yourself darting around – between philosophical paragraphs on the wonders of life from 38,000 feet to the day-to-day life of a BA pilot to hard scientific paragraphs on how the plane got into the air.
"Flight, like any great love, is both a liberation and a return" he writes.  Strangely, despite the combination of autobiography, philosophy, career manual and science, it all works.  That isn't to say that you will find all of it equally compelling – my brain tended to tune out whenever we got to 'the science bit' – but you always feel the authors love for his job shining through.
You will learn about 'place lag' – the weird feeling a pilot gets when he never has time to explore the cities he is in for just a few waking hours.  The way that air crew treat capital cities "as little more than different districts of the earth metropolis", discussing places for breakfast tomorrow 6,000 miles away in the same way as you may discuss which local pub to visit.
More than that, you will also – by the end of the book – have a pretty good idea of how a 747 flies and what a pilot has to deal with in the average working day.  It is also a paean to an aircraft type that is currently on its way out – by the time my children reach adulthood, it is unlikely that any major Western airline will still have a 747-400 in regular passenger service.
It is clear, at least for Mark, that the romance of flight is alive and well, at least behind the cockpit door.  Life isn't bad for those of us in the pointy end either.  Tonight I will be in a Singapore Airlines flat bed cruising to Asia.  For everyone else, this new US commercial from Emirates pretty much sums it up (YouTube link).
'Skyfaring' has an RRP of £16.99 in hardback.  Support your local bookshop if you can, but otherwise Amazon is currently selling it for £11.89 including free delivery as you can see here.  Using that link also earns HfP a small commission – thank you.