Review: the Singapore Airlines Boeing 777-300ER business class seat
Links on Head for Points may pay us an affiliate commission. A list of partners is here.
This is my review of the Singapore Airlines Boeing 777-300ER business class seat. It is not a review of the flight.
You should be suspicious when you read a review of an overnight flight. When we came back from Singapore last Sunday, the departure time was 1am. As soon as the seatbelt sign went off, I had the crew make up my bed and I went to sleep. I woke up in time for a quick breakfast and we landed. End of flight.
My outbound flight was almost as unproductive. Departing at almost 10pm, I ate in the lounge and only nibbled at what was available on-board before settling down to sleep. I did not watch a single moment of TV during the combined 25 hours of flying time.
This means that I don't feel qualified to give a proper review of the food or the entertainment. There is no on-board bar on the Boeing 777 fleet so I can't review that either. The cabin crew were great but that tends to come as a given with Singapore Airlines.
What I can show you is the seat.
Most people would guess that Emirates was the first airline to get the Airbus A380. In fact, Singapore Airlines was the first airline to take delivery back in 2007/8 and received the first three aircraft to enter commercial service.
The Boeing 777-300ER (the ER stands for 'extended range') aircraft are newer than most of the A380s. This means that they have a more modern business class seat.
Frankly, it is a massive improvement in terms of looks. This is the A380 business class seat which I saw a couple of weeks ago: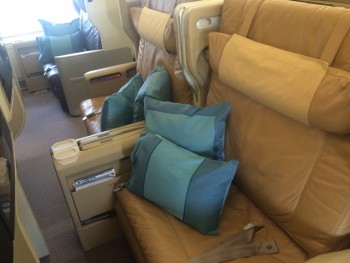 Here is the Boeing 777-300ER version: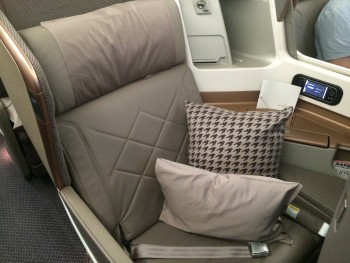 and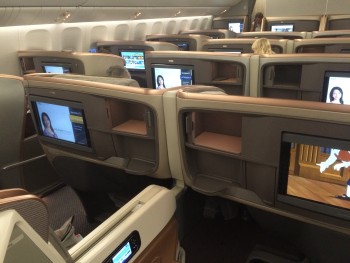 and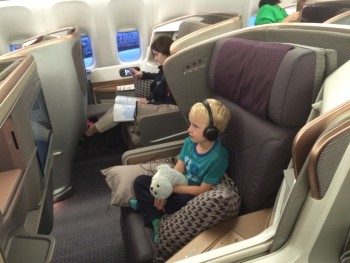 The colour palette is much improved with a mix of warm browns. It feels 'right' in a way that the A380 business class seat did not.
The seats are in a 1-2-1 formation compared to BA's 2-4-2 in Club World. It is the widest business class seat in the sky. My two kids could happily sit side by side and watch TV together with plenty of room to spare.
There is another interesting feature. Most flat bed seats are simply seats which go flat. The Singapore seat flips over to become a bed.
The logic here is that the comfiest seat is a leather seat, whilst the comfiest bed is a cotton mattress. The 'flip' seat allows you to have both – you are not sweating onto a leather seat at night. The only downside is that the process is fairly complex for the novice and you need to ask a crew member to do it for you.
What you can't tell from the photographs is that you CANNOT put your feet under the entire seat in front of you when the seat is in bed mode. There is a relatively small cubby hole to one side where your feet slot in! This forces you sleep diagonally in the seat which is a little odd.
All in all, the business class on the Singapore Airlines Boeing 777-300ER is impressive. I didn't feel that it was the 'best ever', to be honest, but on a night flight you really cannot tell. I have now flown three Singapore Airlines flights in the last 12 months and all of them have been overnight. I really need to book myself on a day service (Manchester to Munich perhaps!) to get the full experience.