If you are heading to the USA this Summer and hold an American Express Platinum charge card, you may be able to visit one of the new airport lounges commissioned by American Express.
A couple of years ago, Amex started to lose its contracts with the major US airlines which allowed Platinum cardholders to use their lounges.  The only arrangement that is still in place is with Delta and is now restricted to the cardholder only and no guests.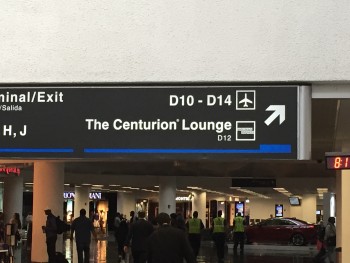 American Express decided to launch its own proprietary lounge network.  They have been seen as a welcome breath of fresh air in the US, where airport lounges are substantially lower in quality than those in Europe and Asia.
US airport lounges also tend to operate on a 'club' system with paid memberships – having status is not enough to get you access. You have the odd situation where a BA top-tier member can use their card to access an American Airlines lounge but an AA top-tier flyer cannot.  You are also expected to pay for food and some drinks in US lounges.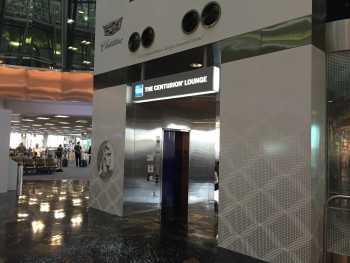 Amex has branded its lounge network as 'Centurion Lounge'.  This causes some confusion because many believe that you need an American Express Centurion card to enter, which is not true.  Access is gained via a Platinum charge card, issued in any country.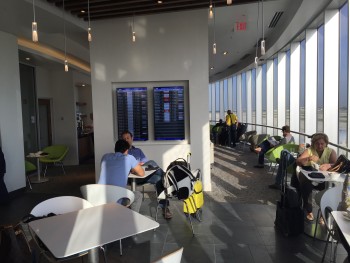 At present, there are lounges at:
Las Vegas McCarran
Dallas / Fort Worth
San Francisco International
LaGuardia, New York
Miami International
Seattle (from Summer 2015, this will be a new format called Centurion Studio and will be smaller than the other lounges)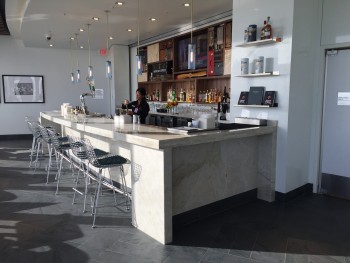 Depending on the airport, you will find a cocktail bar, premium wines, hot and cold food, a family room, a computer bar, a spa suite offering free 15-minute treatments and shower suites.
Just because you are using a particular airport does not mean that you can get to the lounge.  I was hoping to try out the Las Vegas one last year, only to discover that it was not in the part of the airport used by British Airways and I would be stuck in a terrible third party lounge.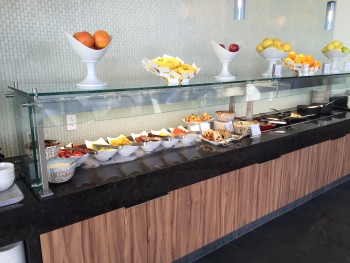 The entry requirements are very generous.  You can bring in either:
your domestic partner and all your children under 18
or
two companions
Simply show your Platinum charge card and your boarding pass at the door.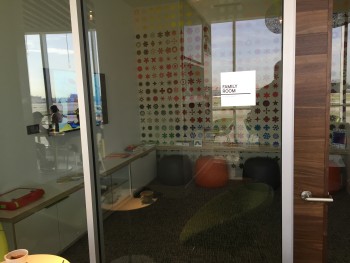 Under US law, you must be 21 years old to enter – unsupervised – a lounge with a self-service bar.  Lounges with a staffed bar accept unaccompanied guests from age 18.
The photographs in the this article was sent to me by reader Jonathan who was one of the first people to use the Miami lounge earlier this month.  He said that he was impressed by what he found.
You can find out more at the dedicated Centurion Lounge website here.
(Want to earn more miles and points from credit cards?  Click here to visit our 'Credit Cards Update' page or use the link in the menu bar at the top of the page.)