Jumeirah Hotels relaunches the Sirius loyalty scheme – what has changed?
Links on Head for Points may pay us an affiliate commission. A list of partners is here.
Jumeirah, the Dubai-based but rapidly expanding luxury hotel chain, relaunched its Sirius loyalty scheme a couple of weeks ago.
If you are a regular reader of Head for Points, you will have learnt to become suspicious of any programme which is 'relaunched' or 'enhanced'.  You will be doubly suspicious when a programme rebases its currency (Jumeirah has effectively done a '6 for 1' gross up of its earning rate whilst increasing existing balances by 760%) as it is usually a way of hiding a devaluation.
Oddly, in this case, not many bad things have happened.  Jumeirah has been quite sneaky in some ways though.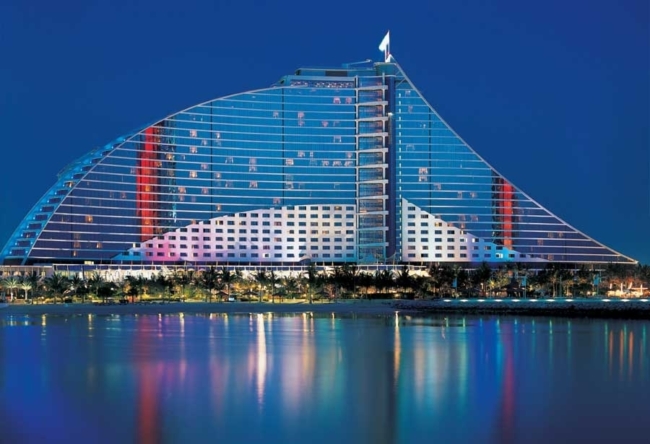 Jumeirah has not provided details of the changes so I have had to tease them out from memory.  This is what I spotted:
Room redemption rates appear to be roughly the same as they were, which is great news.  In fact, some rooms appear to be a little cheaper adjusting for the rebasing of the points structure.
Redemptions for bottles wine at hotel restaurants – a 'loss leader' redemption which was very popular – have disappeared.  All you can do now is redeem points for cash credit against food and drink.  In the UK, you need 8,400 points for a £100 voucher – this is roughly the same as you needed with the old scheme and there has been no devaluation.
Room upgrades appear to be heavily restricted to just one or two options per hotel if the online list is to be believed.  It may be possible that other the call centre can offer other options because what is listed is just bizarre.  In Frankfurt, for example, the only upgrade offered is from a Deluxe Room to a Panoramic Suite.  Nothing else.
The amount of spending required to earn or retain status has not changed, adjusting for the 600% increase in points earned per £.
Elite members – I am Silver – will benefit from a status bonus for the first time.  A Silver member gets a 50% bonus.
Status members now get a free amenity on every stay.  That said, I have always received freebies on my stays and this may simply be formalising what was previously an informal process.
The website is improved and I can now see a list of my existing bookings when I log in.  This was not previously possible, unbelievably.
Airline points transfers seem to have been devalued.  I seem to remember it was 1:5 which, with the 600% increase in points earning per $1, should have become 6:5.  Instead, it has become 2:1 or (effectively) 10:5.
The 'late check-out' benefit has been genuinely improved.  A Gold now gets until 4pm (was 2pm) whilst a Silver now gets until 2pm (was 1pm).  It remains 'subject to availability' which can mean whatever the hotel wants it to mean.
The free round-trip airport transfers for Gold members now requires a minimum four-night stay.  I think this is a new rule.
Here is the main problem though:
The new 'no blackout dates' slogan is a con.  I am amazed at the nerve of Jumeirah in even pretending this is the case.  
Before the changes, Jumeirah effectively already had 'no blackout dates' on all rooms and suites.  Whilst the official redemption chart only covered certain room categories, you would usually be given a price for every room and suite category when searching.  We had some excellent suite redemptions via this route.
Today, suite redemptions are no longer available.  I have this in writing from Jumeirah.  The claim that you can book 'any room on any date' does not apply to suites, which are apparently not 'rooms'.
However, even 'no blackout dates' is not true.  Whilst Jumeirah historically tended to hold back releasing reward rooms until a few months before the stay, this should in theory no longer happen.  However, when I try to book for next Easter, I am told that no redemption rooms are available even though cash rooms are showing.
New members get a good new benefit
Sirius has brought in a good benefit for new members.  After your first stay, you will get a free night on your next stay when you stay a minimum of four nights.
This needs to be booked via their call centre and it is not clear if all room categories included.  If you are planning a stay to one of the more expensive Jumeirah properties, it might be worth first doing a night in one of the cheaper properties around Europe in order to trigger the '4 for 3' discount on your main booking.
---
Hotel offers update – June 2022:
Want to earn more hotel points? Click here to see our complete list of promotions from the major hotel chains or use the 'Hotel Offers' link in the menu bar at the top of the page.
Want to buy hotel points? There is:
a 80% to 100% bonus when you buy Hilton Honors points by 19th July 2022 (buy here)
a mystery 40% to 55% bonus when you buy Marriott Bonvoy points by 15th July (buy here)
a 30% bonus when you buy 5,000+ World of Hyatt points by 1st August (buy here)