Last week, Hilton HHonors published a list of hotel reward category changes on its website.  The list is here.  A few of these impact the UK so they are worth mentioning.
The most annoying one is that Hampton by Hilton Corby, photo below, has moved from Category 1 (5,000 points per night) to Category 2 (10,000 points per night).
Of course, even at 10,000 points per night this hotel is very good value for a redemption.  The reason it was a great deal as a Category 1 is that Hilton reward nights count towards status.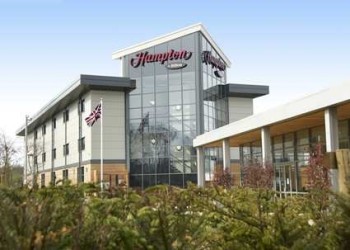 If you lived near Corby and registered for the recent 'Gold after three stays' promotion run with airberlin, you could have completed the task with three bookings costing just 15,000 points.
For people trying to earn Hilton HHonors Diamond status, it was also a good way to complete a 'Diamond Challenge'.  If you send Hilton details of your top tier status with another chain, they may offer you a challenge such as '21 nights within 90 days' to achieve top tier Diamond status.  You could then book 21 nights in Corby for 105,000 Hilton HHonors points, turn up on the first day to check in and then not show your face for the next three weeks.
Here is a story of how a Head for Points reader did just that.
At 10,000 points per night, it doesn't make as much sense.
There is still one 5,000 point per night hotel left in the UK – Hampton by Hilton Newport East.  The full list of 5,000 point per night hotels globally is here.
Other category changes in the UK
Here are the other UK changes on the list.
Hampton by Hilton Birmingham North – drops from Category 4 to Category 3
Doubletree by Hilton London Chelsea – drops from Category 7 to Category 6 (this hotel uses a very loose definition of the world Chelsea, even Mo Farah would not fancy the jog down to Sloane Square tube station from here!)
Hilton London Islington (the old Jurys Inn Stakis) – increases from Category 6 to Category 7
Of newly opened hotels, Doubletree Woking opened as a Category 5 and the refurbished and rebranded Doubletree London Docklands Riverside is a Category 6.
Details of changes in other countries can be found here.
These changes do not take effect until October 14th so you can still book for 2016 at the old rates for the next few days.
(Want to earn more hotel points?  To see our complete list of promotions from the major chains, click here to visit our 'Hotel Promos' page or use the link in the menu bar at the top of the page.)