The "Avios Redemption University" series is a good starting point for beginners, although I hope everyone will learn something from them.  Click here to see the other articles.
When an Avios collector in the UK looks for a long-haul redemption, British Airways is the obvious choice of airline. However, the taxes and charges can often be very high – up to £500 per Club World seat.
Two ways around the taxes problem are to redeem on Aer Lingus and airberlin, both of whom are the subject of future articles. Often overlooked in the hunt for low taxes, though, is BA's sister company Iberia. Taxes on Iberia flights are often a fraction of those charged by BA.
Iberia is extending its UK connections network.  Manchester to Madrid and Edinburgh to Madrid were recently launched.  This makes it a lot easier to use Avios to connect to an Iberia flight in Madrid.
An obscure route network
Iberia has been through a substantial restructuring since being bought by IAG, the parent company of British Airways.
Losing money at the time, the airline cut flights to a lot of places you might want to go (Montreal, Toronto, Washington, Johnannesburg) to add extra flights to places that are probably not top of your list.
To IAG's credit, Iberia has been turned around.  16 new long-haul aircraft – 8 x A330's and 8 x A350's – are on order for delivery through to 2020.   There is a decent new business class seat – see below – and the long-haul network is expanding again.  The most recent addition was Havana.
The other non-European Iberia destinations are:
Africa – Accra, Algiers, Casablanca, Dakar, Lagos, Luanda, Malabo (Equatorial Guinea), Marrakech, Oran, Tangier
USA – Boston, Chicago, Los Angeles, Miami, New York
Americas exc USA – Bogota, Buenos Aires, Cali, Caracas, Guatemala City, Guayaquil (Ecuador), Lima, Mexico City, Montevideo, Panama City, Quito, Rio do Janeiro, San Jose (Costa Rica), San Salvador, Santiago, Sao Paulo
Asia – none
Caribbean – Havana, Santo Domingo (Dominican Republic)
Middle East – Tel Aviv
All of these are flown from Madrid.  Not all of these are long-haul routes – Lagos is flown with an A319 short-haul plane for example.
Improved seating coming on line
Historically, Iberia has had no First Class and a very poor business class seat.
The great news is that Iberia has now installed new fully flat seating across most of its long-haul fleet – albeit there will still be a chance, during 2016, that you end up with the old 'sloping' version.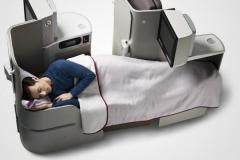 I was lucky enough to fly it on a Madrid to London flight as you can read (and see) here.  Iberia runs a few London to Madrid services a week with long-haul aircraft and flat beds in business class because it needs the cargo capacity offered by the bigger aircraft.
How to price Iberia rewards
This isn't simple following the Avios changes in April 2015.  What a surprise.
Iberia has its own reward pricing chart with its own peak and off-peak dates (EDIT: this is the new 2017 redemption chart):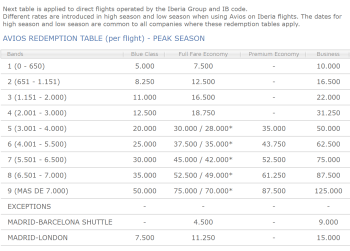 and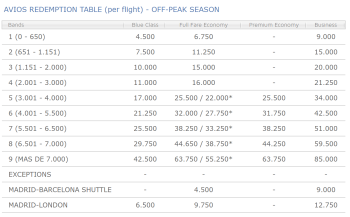 This chart is NOT the same as the British Airways chart: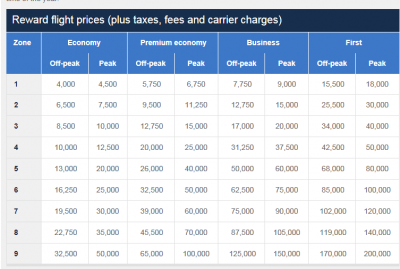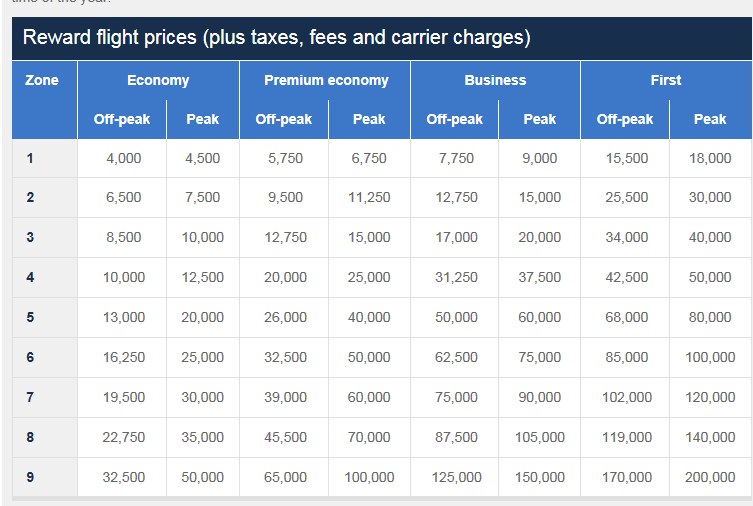 It NEARLY is, but not quite.
Let's take New York as an example.  Both British Airways and Iberia price New York as a Zone 5 redemption.  However:
British Airways charges 100,000 Avios off-peak and 120,000 Avios peak for a Club World flight to New York
Iberia, as you can see above, charges 68,000 Avios off-peak and 100,000 Avios peak for a Business Class flight to New York
There obviously are not many destinations which are served by both BA and Iberia, of course.
A word about peak and off peak dates
Just to make life even more complex when comparing prices with direct British Airways redemptions, Iberia has its own list of peak and off-peak dates.  This is different from the British Airways list.  Here is the chart: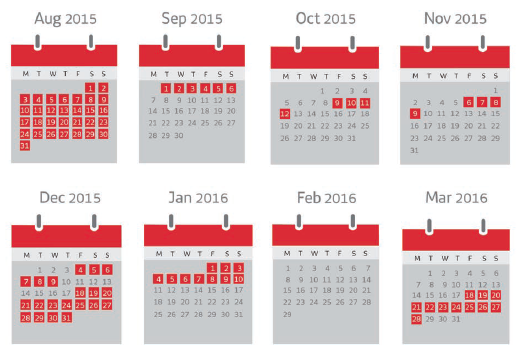 October half-term, for example, is a peak week for British Airways redemptions and peak pricing is in force.  Iberia does not treat this week as a peak week.
And here is the really weird bit …..
ba.com is using the Iberia pricing chart to price Iberia rewards.
Here is the proof from ba.com (the £323 taxes figure is now £309 – this is an old screenshot):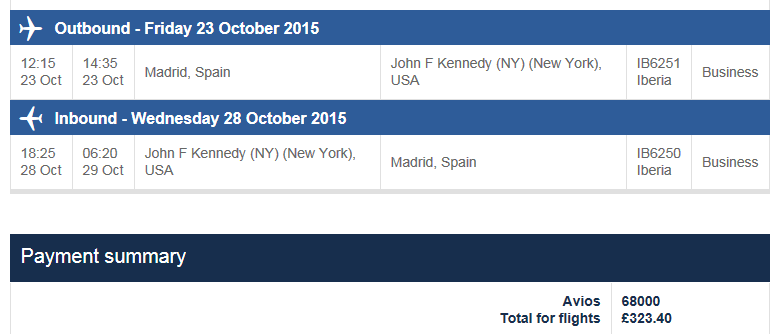 This flight – if priced using the British Airways chart used for BA and all other partner airlines – should cost 120,000 Avios.  However, ba.com is pricing it using the Iberia pricing chart and applying the Iberia off-peak calendar.
Of course, you should still not book this flight on ba.com because of the way Iberia calculates taxes when you redeem on iberia.com.
Iberia – the home of low taxes (but only on the Iberia website!)
Iberia Plus does not charge the full range of airport taxes and fuel surcharges imposed by ba.com.
Let's look at Madrid to New York in Business Class, return. Iberia, when you book on iberia.com, will charge 68,000 Avios plus £135 on an off-peak date.
A BA redemption from London to New York (via ba.com on a BA plane) on the same route in Club World costs 100,000 Avios plus £494 on an off-peak date! That is, by any stretch, a big difference. It makes it well worth heading to Madrid to start your trip if you are price concious.
More interestingly, if you try to book the Iberia Madrid to New York flight on ba.com using BA Avios, it will charge you £309 of taxes! This is for the SAME Iberia flight which costs only £135 of tax on iberia.com using Iberia Avios.
Now, of course all is not plain sailing:
From the UK, you need to fly to Madrid. Howevever, if you are not based in London you will be taking a connecting flight anyway. And the saving probably justifies not flying direct from London.
The London to Madrid flight cannot be booked on the same itinerary as the Madrid to New York flight or you will be obliged to pay UK Air Passenger Duty at the long-haul rate. Since you will have separate tickets, IB is not obliged to look after you if you miss your long-haul flight – although if you fly IB from London, it is very unlikely they would abandon you if the delay was down to them.
A flight from London to Madrid, return, costs 15,000 Avios and £35 in Economy – but that is hardly making a great dent in your £359 saving.
Iberia reward availability is not great as they fly far fewer seats to New York than BA
Note that, to get the £135 of taxes, you must book on the Iberia website and use Iberia Avios. If you try to book this itinerary on the BA website, BA will add fuel surcharges and other 'random stuff' which adds up to £309! This means that you need to open an Iberia Plus Avios account.
Most importantly, you need to open it 90 days before you want to book, since you cannot transfer BA Avios or avios.com points into Iberia Plus Avios if the IB account is under 90 days old. (And this little wheeze is probably why.)
Your IB account also needs to have had an Avios earning transaction put through it (credit a flight segment or a car hire or hotel) to class it as 'active' and thus qualifying to receive incoming transfers. If you cannot put a flight or hotel stay through it, you could transfer some hotel points or Amex Membership Rewards points.
Conclusion
There is no doubt that the Avios changes in April 2015 have made the situation with Iberia redemptions even more confusing that it once was.
The bottom line, though, is that you can make substantial savings in tax – and sometimes in Avios too – if you are willing to fly the much improved Iberia business class instead of British Airways Club World.