Links on Head for Points may pay us an affiliate commission. A list of partners is here.
UPDATE, September 2017:  airberlin is now in receivership and you can no longer book flights using Avios
The "Avios Redemption University" series is a good starting point for beginners, although I hope everyone will learn something from them.  Click here to see the other articles.
IMPORTANT:  Since this article was published, airberlin has announced a number of new US routes which will launch in May 2016.  Full details are in this article.  Additional new US routes for May 2017 are outlined in this article.
Since airberlin joined the oneworld airline alliance in March 2012, it has opened up a new range of long-haul routes from Europe that can be booked with Avios. Along with Aer Lingus and Iberia, they offer you the chance to redeem your Avios for long haul flights whilst paying far lower taxes than usual.
airberlin is an odd airline. It markets itself like a low-cost carrier, but is generally well regarded for its seating and service. It serves a number of long-haul routes, whilst easyJet and Ryanair are strictly 100% short-haul. It also has a business class product, unlike most low-cost airlines.  Aer Lingus is probably the nearest comparison.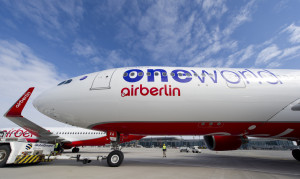 airberlin is still a work in progress. It has lost money for a number of years and has seen frequent changes of management. The good news is that the airline is keeping faith with its long-haul routes.
Etihad, the national airline of Abu Dhabi, is now a 29% shareholder in the airline. It bought topbonus, airberlin's frequent flyer scheme, from the airline (see this post) and it is now part of the Etihad Airways Partners pseudo-alliance, as well as oneworld.
airberlin now has a lot of code share arrangements, most importantly with Etihad. airberlin sometimes makes wild claims about the number of long-haul destinations it serves, but in reality these mainly involve changing to an Etihad aircraft in Abu Dhabi – and these routes are not available for Avios redemptions.
However … strip out the code shares and you are left with a decent selection of routes served with airberlin planes. And there are some good deals to be had!
How many Avios do I need?
Below I have listed the core airberlin long-haul routes, together with the number of Avios needed for a return trip in business class and the taxes required. For one-way business class tickets, halve the number of Avios shown.
Looking at the number of Avios required, some destinations require more than a peak date British Airways flight from London, and some require less. This is because the distance from Berlin, Dusseldorf or Munich to your destination will be different to a similar flight from London, and this sometimes tips the flight into a different pricing band.
(Remember that all partner airline redemptions booked using Avios are priced at peak day pricing, irrespective of when you fly.)
Looking at the taxes required, you will notice that these are a lot lower than flying from London. This is partly due to lack of Air Passenger Duty, and partly due to differences in fuel surcharges. Some of this saving will be offset by the cost of getting to and from Germany to start your trip, of course.
airberlin long haul routes (business class return price plus tax – divide the Avios required by three for economy pricing):
Abu Dhabi from Berlin – 75,000 Avios + £47 (this is an excellent deal when you remember that a British Airways Club World flight on a peak date will now cost 120,000 Avios + £500. You also get access to the Etihad chauffeur service to and from Abu Dhabi airport!)
Abu Dhabi from Dusseldorf – 120,000 Avios + £49
Abu Dhabi from Stuttgart – 75,000 Avios + £47 (short-haul A320 plane)
Abu Dhabi from Vienna – 75,000 Avios + £45 (short-haul plane operated under NIKI brand)
Cancun from Munich – 180,000 Avios + £65
Cancun from Dusseldorf – 150,000 Avios + £63
Chicago from Berlin – 150,000 Avios + £89
Fort Myers, Florida from Dusseldorf – 150,000 Avios + £63
Los Angeles from Dusseldorf – 180,000 Avios + £66  (Summer only)
Miami from Berlin – 150,000 Avios + £61
Miami from Dusseldorf – 150,000 Avios + £63
New York from Berlin – 120,000 Avios + £61
New York from Dusseldorf – 120,000 Avios + £61
Varadero, Cuba from Berlin, Munich, Dusseldorf – 150,000 Avios + £62
'Economy only' routes:
Dominican Republic (2 airports) from Munich, Dusseldorf – 50,000 Avios + £102
Curacao from Dusseldorf – 50,000 Avios + £48
The taxes you pay are, of course, amazingly low compared to British Airways. They are even lower if you just book a one-way TO Germany.  I flew airberlin in Business Class from New York to Berlin twice during 2013. The flight cost was 40,000 Avios, under the old Avios pricing structure … and just £1 in taxes!
How to book
ba.com now shows flights from partner airlines such as airberlin alongside BA availability, so if seats are available it is relatively straightforward to find them. Note that some routes are only flown a couple of times a week and some are seasonal, so check the airberlin website first to see what days to target.
airberlin only seems to release two business class seats per flight for redemptions. There is no real evidence so far of more seats opening up later. This means that it is not an option for a family.
Things to think about before booking airberlin …
As you can see from the list above, some routes are a good deal and some are a bad deal compared with flying directly on BA from London. The stand-out deal is probably Berlin to Abu Dhabi, which is just 75,000 Avios plus £47 taxes in Business Class, return.
Here are the key points to consider before you book on airberlin:
Avios and cash needed: Some destinations, such as Abu Dhabi from Berlin, require fewer Avios than using British Airways from London because it is a shorter flight and this puts it in a cheaper Avios pricing zone. Most airberlin routes need the same number of Avios as a peak day BA ticket, eg 120,000 in business class to New York. Los Angeles, as an example, actually needs more Avios than BA. All routes offer lower taxes, however.
Transit costs: You need to fly to Germany to start your trip. For a destination such as New York, this will mean you end up using more Avios than the equivalent BA flight (since getting to Berlin would be 9,000 Avios return) or spending cash on a connecting flight.
2-4-1: You cannot use an American Express 2-4-1 voucher on airberlin redemptions. If you have one of these vouchers, it will almost certainly be a better deal to stick with a BA flight.  Similarly, if you have the flexibility to travel on an off-peak BA travel date, a BA flight may be better value because you will require fewer Avios despite paying more tax.
APD: If you fly BA or airberlin from the UK to Germany to connect, and have both flights on the same ticket, you will be liable for long-haul business class Air Passenger Duty.  This wipes out a lot of the saving over flying directly on BA to your destination.  You should therefore book your connection separately.
Re-routing: However, if you travel to Germany on a separate ticket to avoid APD and are delayed, airberlin has no liability to you and can refuse to re-route you. You may need to build in an overnight stay in Germany to avoid any risk of misconnecting, which again adds to the cost.  In reality, it is unlikely that the airline would leave your stranded.
Seat: airberlin has a fully-flat business class seat.   There are two versions – a copy of the Etihad seat, which will be used for routes to Abu Dhabi, and some seats they acquired (I think) from Swiss.
This latter seat is the one I flew from New York: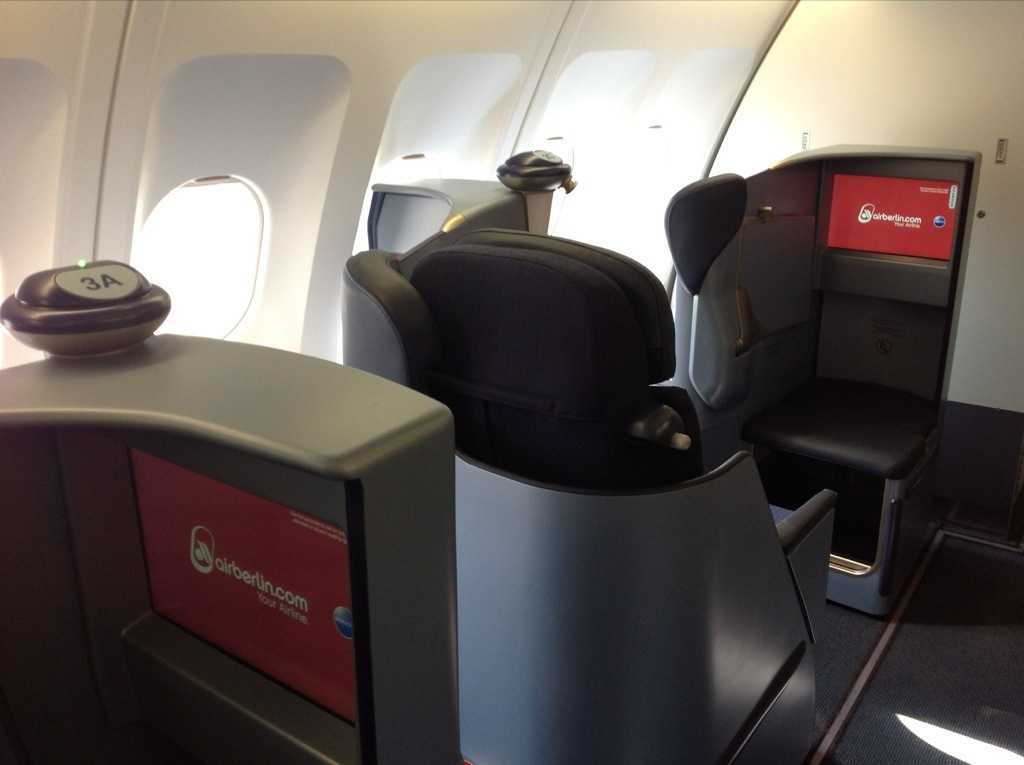 Conclusion
At the end of the day, you need to consider the trade-off between the Avios needed, the taxes required, the extra cost and time required to take a connecting flight, the risk of misconnecting and the comfort of the airberlin business class seat. Oh, and seat availability of course!
There are some great deals to be had – especially Berlin to Abu Dhabi for just 75,000 Avios and minimal tax in Business Class.  Abu Dhabi is a very short taxi ride to Dubai if you are heading there.
Click here to join the 15,000 people on our email list and receive the latest Avios, miles and points news by 6am.